Oh my goodness!  2016 was filled with so many highs and lows… and it seems to have all gone whooshing by in a blink.
In between all that living I wrote 176 posts and today I sharing what I call readers' favorites!  If it were not for you… I wouldn't be here.  It's a joy for me to create and share my inspirations with you.  Thank you for traveling through 2016 with me.  I truly appreciate YOU!!  If your favorite post isn't here… let me know.  Or if one of the posts below was a personal favorite of yours… I'd love to have you tell me.
Right now I'm working on setting up my editorial calendar for 2017.  If there is something that you long to see at An Extraordinary Day… or something you want to see more of… let me know.  Your input means the world to me.
Be sure to stay around, because at the end of the post you'll find links for some of my blogging friends who are sharing their top posts for the year, too.
So without further ado, here are the…
Top 10 Posts of 2016
This year was the second year that I hosted 31 Days of Handmade Christmas Ornaments with a few of my best blogging pals.  It's a bit of work to organize 31 different bloggers and their beautiful ornaments for 31 days, but so fun for me.  The sailboat ornament was my entry in this popular blog hop.  Late last year I decorated a nautical Christmas tree with handmade ornaments, so I decided to share with you how I made my regatta of sailboats.  They have to be my most favorite ornament ever!  And to know that everyone else loved them makes it even more special.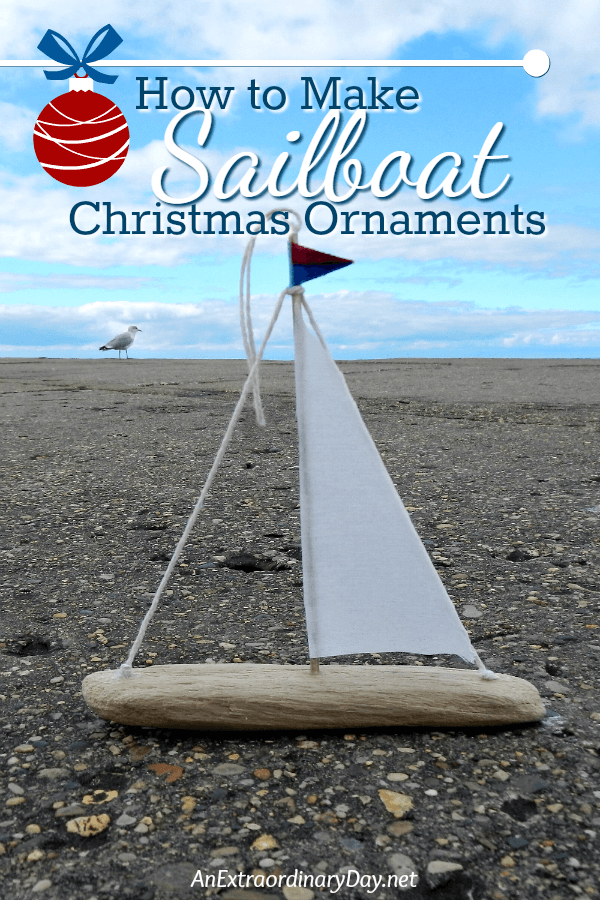 #1 – Sailboat Ornaments
Click for the Tutorial: How to Make Easy Sailboat Christmas Ornaments
Isn't it interesting that my wrap up post of the 31 Days of Handmade Christmas Ornaments was just second in popularity to the sailboat ornament created for the blog hop?  There is some serious inspiration here.  If you haven't already, you'll want to click through and start pinning so you'll be ready for decorating and gift-giving with handmade ornaments, next year!
#2 – Handmade Christmas Ornaments
Click to See: 31 Easy Handmade Christmas Ornaments You will Love to Make
Holiday posts are always a favorite it seems.  This easy s'mores snack mix is perfect for giving to your favorite Valentines or friends and family with whom you want to share a little love.  I love gifts that are easy and this is super easy, especially with the free printables I included for you.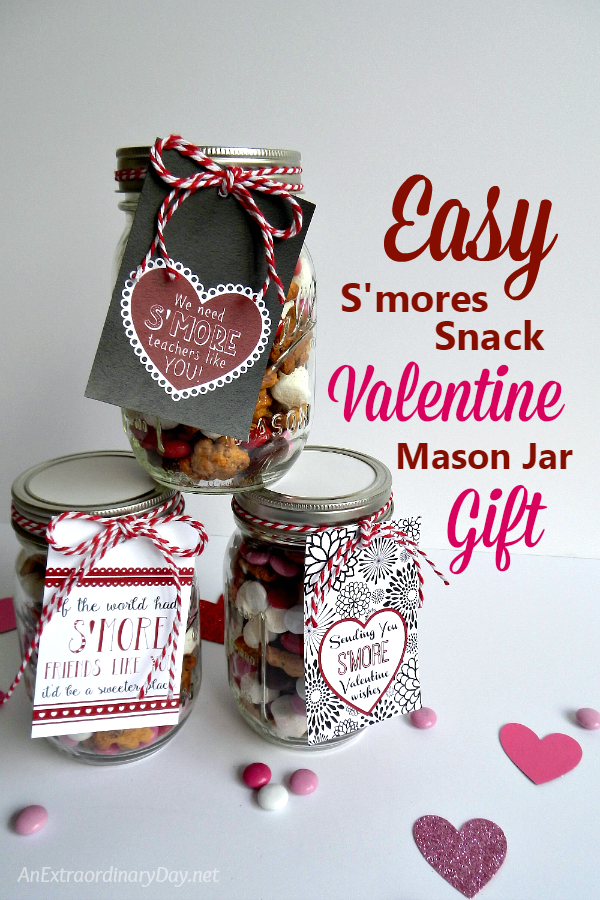 #3 – Yummy Mason Jar Valentine Gift
Click for the Tutorial: Easy S'mores Valentine Gift in a Mason Jar and Printables
I wouldn't consider myself a food blogger by any stretch of the imagination.  But, I did think it would be fun to participate in a food challenge.  This rosemary roasted red potato recipe was my entry and is super easy and just perfect for a casual or more elegant meal.
#4 – Delicious Potato Recipe!
Click for the Recipe: Rosemary Roasted Red Potatoes are Amazing!
This summer we moved into our temporary apartment.  With everything we own in storage a few states away, we wanted to spend as little money as possible on furnishing and decorating it.  This post features our really tiny dining area and some great tips on how to make a small space live BIG.  It really is a happy place and I'm happy it was so well-received.
#5 – Small Space Decorating Tips
Click to Learn How to: Make a Small Space Live Big with these Easy Decorating Tips
This is one of my favorite Christmas decor projects of all time.  I'm a huge fan of using natural items and creating stunning decor for next to nothing.  This checked off every one of those priorities.  I love that it's a fabulous transitional wreath too… going from fall through New Years.  I'm going to miss it as I change up my decor for winter.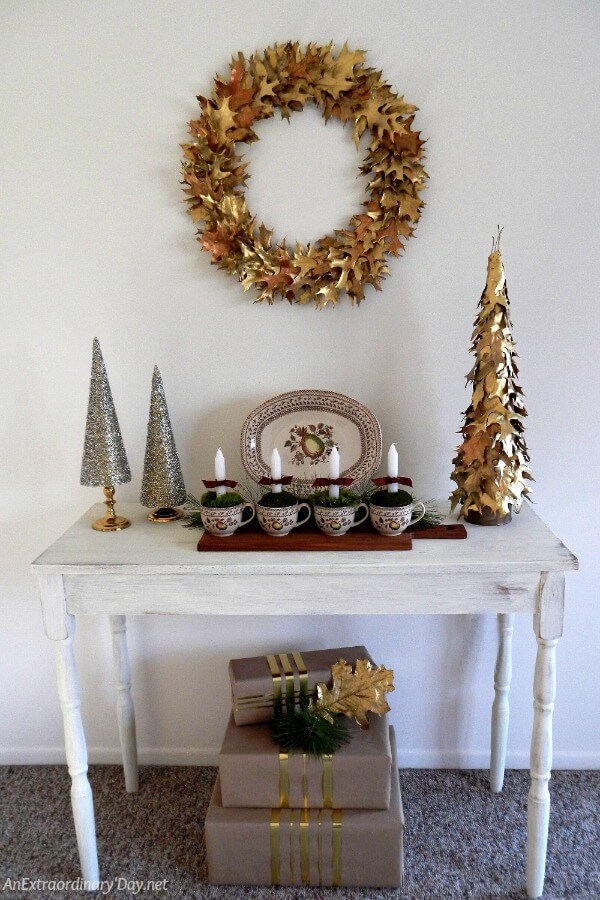 #6 – Gilded Christmas Wreath
Click for the Tutorial: How to Make a Classy Gold Oak Leaf Christmas Wreath
Sometimes I get an idea, and then along the way, I'm not sure if it's going to fly.  This was one of those projects.  I had the concept in my head, but figuring out how to make it look great, that's another story.  You would think that I would learn that perfectionism is over-rated.  Yeah.  Between that and over-thinking a project I can often find myself in a big mess.  Fortunately, this mess was just Mod Podge and it all came off under the faucet. 😉
#7 – Whimsical Easter Mason Jar
Click to Learn How to: Make an Eggstra Special Easter Mason Jar They will Love
We did a lot of garage 'sailing' and thrifting in the process of furnishing our little temporary apartment. This lamp was marked down on the second day of a garage sale to an incredibly low price.  The only thing… the lampshade was in terrible shape.  I couldn't make a replacement shade work, so I revamped the existing one.  It was truly a quick and easy re-do and I like it even more than a purchased shade.
#8 – Lampshade Makeover
Click for the Tutorial: Here's How to Makeover that Tired Old Lampshade
When we were renting the furnished beach apartment, I had fun creating a few coastal or nautical inspired decor items which I left behind for the weekly summer guests to enjoy.  Yes, this is another mason jar project and I absolutely LOVE it!  Again, this is decorating you can do for pennies.  And don't you just love the colors?
#9 – Cute Nautical Buoys
Click to Learn: How to Make Fun Nautical Buoys with Mason Jars
Wreaths have been a favorite of mine… all the way back to my college days.  I wish I had photos of some of the wreaths I made for my dorm door.  I know that wreath-making is a bit daunting for some, so I took the time to break this pretty spring wreath down and show how to put it together along with some tips that really help.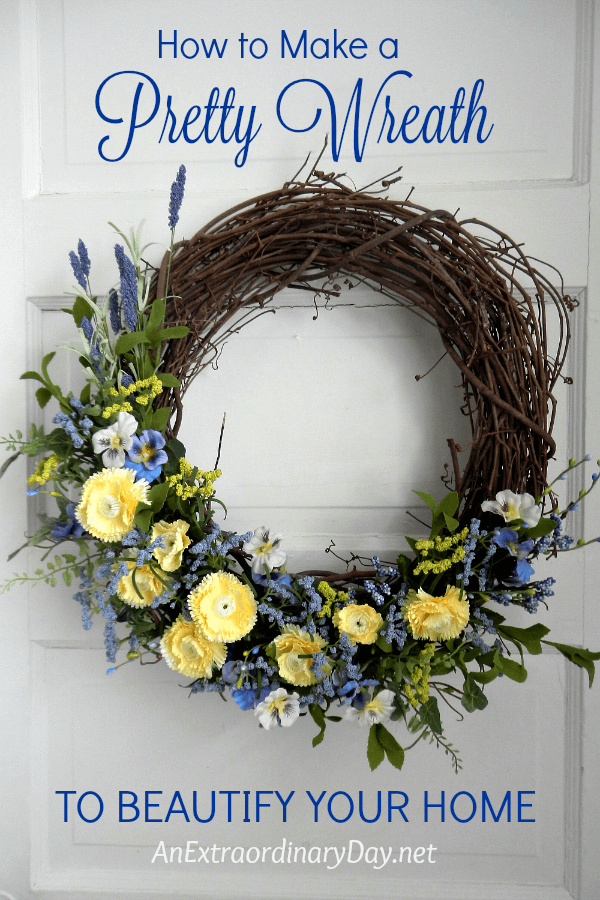 #10 Pretty Spring & Summer Wreath
Click to Learn: How to Make a Pretty Wreath to Beautify Your Home
These were the TOP TEN posts when it came to numbers.
There are a few more posts that I wish to highlight for you as well.
My personal favorite posts….
Click for the Recipe & Tutorial: A Simple Summer Stacked Sandwich Your Family will Love
This post was special to me because it was framed on a special experience I had when growing up… going to the farmers' market with my dad and a fabulous sandwich he would make for me.  Between my photography, the video, and story, I couldn't have been more pleased with the post.
My Sunday series… JoyDay! does not get a lot of reads… so none of the JoyDay! posts will ever rank in the top ten of readers' favorites. However… this one was the most popular. Maybe it was the title.  Don't we all have that day when we just want to crawl back under the covers?  Anyway, I have to say, it's actually one that I felt was particularly well written.  For someone who does a lot of writing, there are days and posts when it just feels like the planets align and the words meld together perfectly.  Like here….
Click to Read: All I wanted to do was stay home.
This was a list of 2016 favorites, but the top read post of this year and all time is actually one from my early days of blogging.  It's a seasonal favorite which continues to amaze me with its popularity.
Click for the Tutorial: From Sweater to Christmas Stocking in 12 Easy Steps
And last… not a top ten by any stretch… but a brief post that I was humbled and thrilled to write…
Click to Read: I'm in a Magazine!
I've always thought it was so exciting to see my fellow bloggers have their work featured in magazines.  So that day I received an email requesting to use my photos for a print article, I was over-joyed.  Now for a little secret… I didn't gain more readers or exposure to my blog from those features that I can tell.  None-the-less… I feel very blessed.  Very.
Thank you for joining me for a brief walk down 2016's memory lane. And thank you for taking the time to leave your comments, join our little community over on Facebook, and follow along on Instagram (which I promise to be more present on).  I LOVE hearing from you.  One-way conversations are not my thing, so when you talk, I LOVE to listen!!
I'll be back tomorrow with some inspiration for the New Year… see you then!
And don't forget to share your thoughts below! 
Here are my Top Ten posts from the past…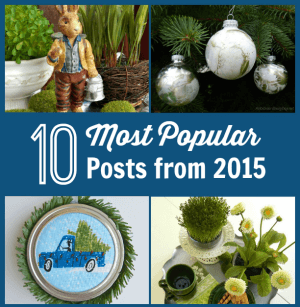 10 Most Popular Posts from 2015
Top 10 Posts for 2014 ~ Reader Favorites!
10 Popular Picks of 2013 | Top Post Awards
Here's, even more, inspiration for you as some of my blogging friends
are joining in the fun with THEIR BEST of 2016, too.
Domestically Speaking ** My Repurposed Life ** Yesterday on Tuesday
Sweet Pea ** Hunt & Host ** Mad in Crafts **Roots North & South
Redhead Can Decorate ** Petticoat Junktion ** An Extraordinary Day
Cupcakes and Crinoline ** Brandywine Cottage ** StoneGable ** What Meegan Makes
Create & Babble ** Inspiration for Moms ** H2OBungalow
Refresh Restyle ** My Uncommon Slice of Suburbia ** 2 Bees in a Pod ** Celebrating Everyday Life