With Easter and Spring right around the corner, I wanted to put together a super fun little mason jar project that would perfect for the season.
It also needed to be colorful and a bit whimsical.
Because I'm always game to experiment with something new, I decided to try something I've never done before… Mod Podge fabric to glass.
Oh my! I am sooo happy with the results!
Isn't this  Easter egg mason jar the cutest thing ever?
I know you'll want to make one, or three, or ten.  Okay, maybe not ten.  They would be darling for your Easter decor, or as favors, or even filled with candies or small toys.  However… if you fill your jar with edible items, be sure to place them inside a cellophane bag first, tied up securely.
Eggstra Special Easter Mason Jar Tutorial…
Supplies
1/4 Yard of Fabric
Fabric Scissors
Pint-sized Mason Jar
Mod Podge
Paint Brush
Easter Egg (I used a Jumbo Plastic Egg and a Stryofoam Decorated Egg)
Knife to cut styrofoam egg (not shown)
Mason Jar Rim and Lid
White Craft Paint (or Spray Paint–my first choice–weather permitting)
Quick Dry Tacky Glue (not shown)
It's helpful to have a plain paper or plastic bag to use under your fabric while applying Mod Podge to protect your work surface.
Additionally, a paper punch and some baker's twine or ribbon is useful for tying on the printable egg tags I created for you.
Directions
Lay your jar on the fabric as a guide for cutting your fabric.
Begin cutting fabric in strips.  I chose to cut around the colorful eggs/jelly beans so that any overlap would be less noticeable, hence the wavy cutting lines.
Lay a cut fabric strip face up on your work surface and "paint" on a coat of Mod Podge.
Using your paint brush, arrange your coated fabric piece against the inside of the jar, with the right side of the fabric which you coated with Mod Podge against the glass, being sure to cover a portion of the jar's bottom as well.
Use additional Mod Podge to coat the back-side of the fabric carefully with your brush, making sure the fabric adheres well to the surface of the jar without bubbles.
Using your scissors, trim the extra fabric even with the jar's top edge.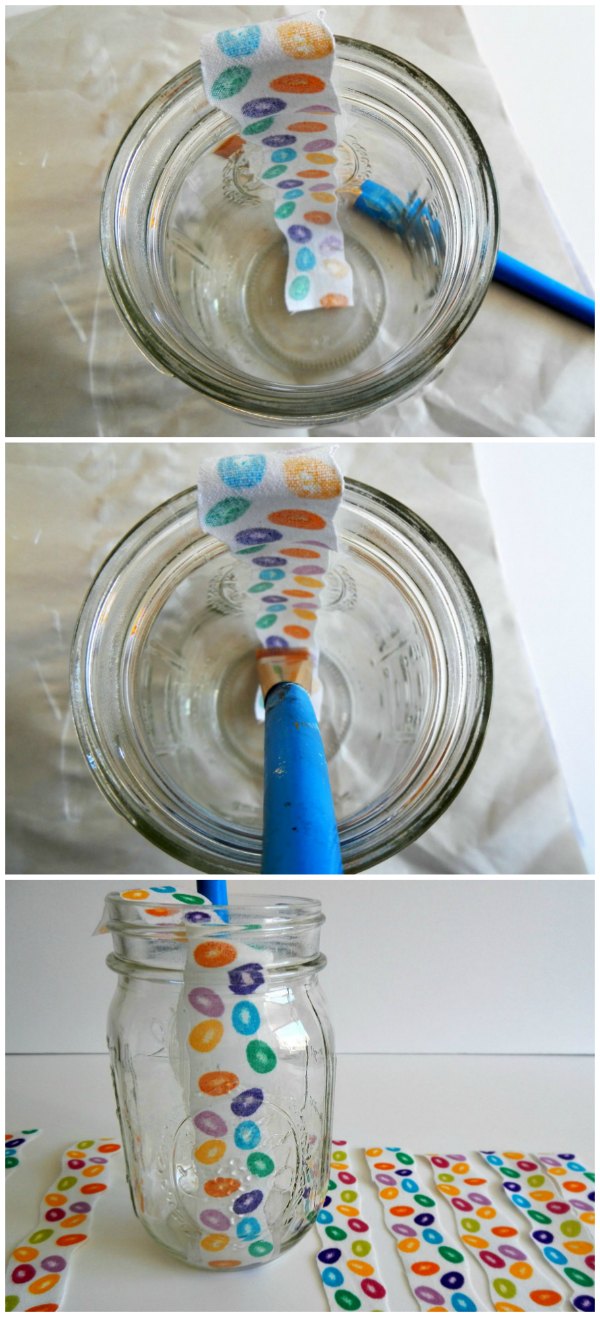 Repeat the process until you have completely coated the inside of the mason jar with strips of fabric coated in Mod Podge.
You may need to trim an additional strip so that the entire inside of your jar is coated with fabric strips as I did here.  I could have used a whole strip, but overlaps of fabric are slightly noticeable, so try to avoid that if possible.
When the jar is completely coated with fabric, it will have a whitish cast until it is dry.
Drying time will depend upon the humidity of your environment.  I let mine dry overnight, but longer may be helpful.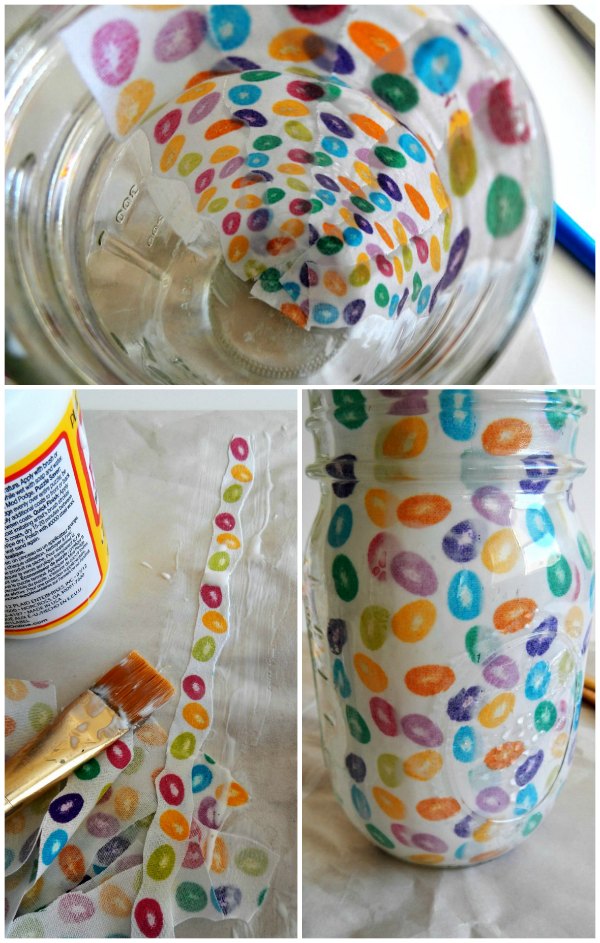 Paint your jar rims and lids with acrylic paint or spray paint and let dry for a few hours.
Prepare your jumbo Easter eggs.  Only the top half is necessary for the plastic egg.  I cut a third off the bottom of my foam egg with a knife as shown here.
Using a Quick Dry Tacky Glue, apply a bead along the edge of both eggs and adhere to the center of each lid and let dry.
If you are a perfectionist… this is not the project for you.  I tried to eliminate as much fabric overlap as possible, while making sure the entire jar was covered with fabric.  It looked great, while the Mod Podge was still wet, but after it dried, I could see tiny areas which I missed.  It's humbling to miss those little details… but I surely tried.  I just want you to be aware of this if this is potentially an issue for you.  However, I'm sure that you and I are the only ones who will notice.  And frankly… we probably need to get over that perfectionism-thing. Yeah?
To make this project Eggstra Special, because YOU ARE…
I created some Eggstraordinary Easter Egg Tags in six designs.  You can download them here and print them out on your printer or take them to Staples, like I did.  Either way… the printable tags are free… but for personal use only.
It's pretty exciting to think an Easter Egg and a Mason Jar got married and lived happily ever after.

I hope you have fun creating your own eggstraordinary Easter mason jar.
It's fun, whimsical, and sure to bring on the smiles.
I'd love to hear your ideas for using yours…
Easter will be here in a flash!  
Check out these extraordinary ideas for your home…
DIY Home Decor | Easy Grapevine and Burlap Easter Egg Wreath Tutorial
Be Inspired By This 10 Minute Easter Vignette
Spring Tablescaping | Bird's Nest Themed Easter Table
Today I'm joining with a wonderful group of bloggers
to bring you our monthly series…
Mason Jar Monday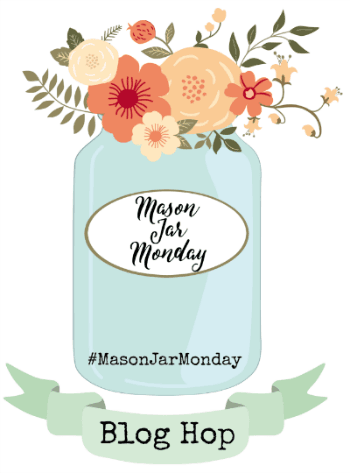 This monthly blog hop is dedicated to projects and recipes in a… you got it!
Mason Jar!
Please visit my friends' blogs to see their Easter inspiration in a Mason Jar!
Thanks for stopping by today… I can't wait to hear your lovely thoughts!

Receive FREE inspiration like this in your inbox!
Sign up Now.