Recently I  did a little thrift and antique store hopping with my good friend.  We had so much fun. One thing Rochelle collects is vintage aluminum trays.  They're inexpensive, they don't take a lot of storage space, and they can be used for all sorts of things.
Serving beverages? Grab a tray.  Serving appetizers? Use a tray.  Serving several kinds of ice cream for a sundae bar? A tray makes a great slop-proof surface. And then my favorite… using a tray to frame a moment (vignette).
After shopping with my friend, we went to her house and played.  Do you do that too?  She got out her Easter box and we experimented with several different elements.  The goal was to have varied heights, texture, and items of interest.
We placed the aluminum tray on her vintage round coffee table.  Two identical sofas flank the fireplace with the table in the space between.  Our next goal was to have the tray and accessories look interesting no matter which sofa you were seated upon or angle you entered the room.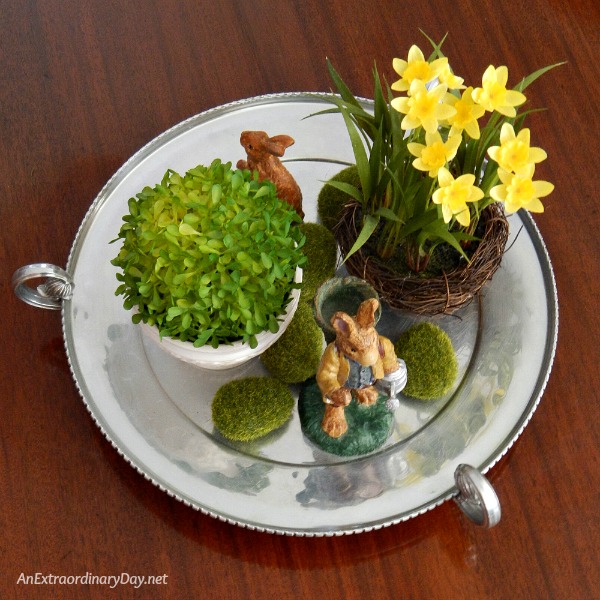 The great thing about a vignette framed by a tray is that it is quick and easy to do.  This was truly a 10 minute Easter Vignette.
When you're trying to decide what to put in your vignette, there should be some repetition of color or theme or texture.  It doesn't need to be exact, but some repetitive element really helps to make the vignette feel complete.  Here the faux greenery in the ball, the leaves of the spring flowers, and the mossy rocks tie the vignette together.  The accent pieces are the two rabbits which though different in size add a repetitious element as well.  The viney container of the spring flowers repeats the rabbits' brown colors.   And though silver and white are not the same… they give a similar brightness to the vignette.  There is even a bit of repetition in the detailing of the handles of the tray and the white container.  It's these little details that help to make a vignette feel cohesive and complete.  
I know all of this sounds complicated, but it's really not.  If you haven't already trained your eye to see these things, it only takes a little practice and you'll be a pro.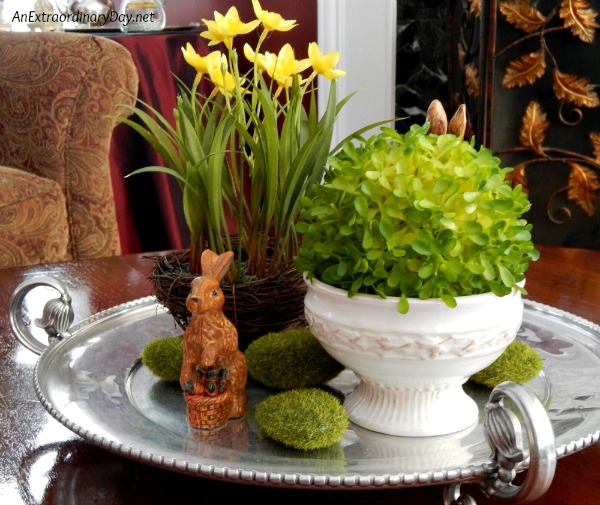 Be inspired by this 10 minute Easter vignette and have fun.  Don't sweat it.  And enjoy the vignette you've created. Hopefully, it will make you smile whenever you pass by it.
Thanks for stopping my today… your comments make my day!

Receive FREE inspiration like this in your inbox!  Sign up Now.