Do you ever find yourself not purchasing something for your home because you second-guess yourself or come up with various objections?

You are NOT alone!!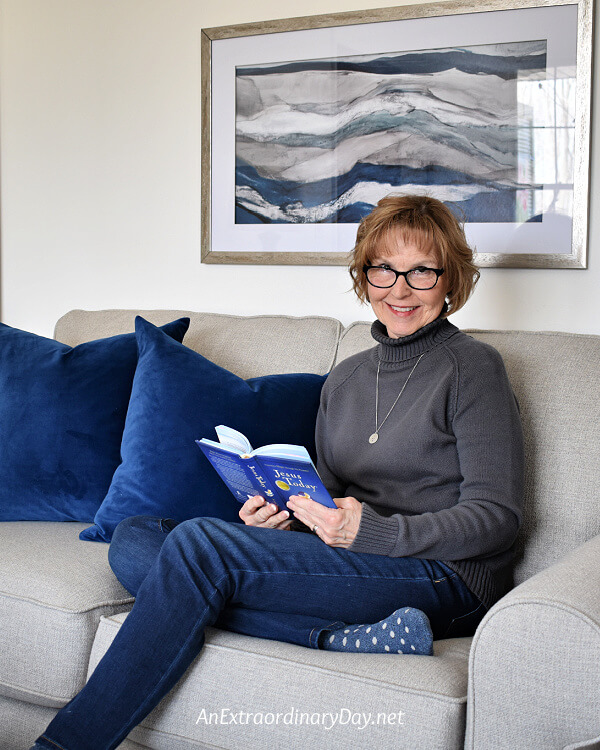 Disclosure: This post contains affiliate and sponsored links.
Scrolling through Instagram and Pinterest, it's easy to feel like everyone else has it together, but really, they don't. Most people have the same insecurities about home decor that you do. Why do you think that there are so many home and garden shows on TV and the checkout stands are filled with decorating magazines? Because nearly everyone, even the pros, is looking for inspiration and affirmation.
Today I hope to help you gain some self-confidence so you can decorate your home fearlessly.
Recently I was given the opportunity to partner with Wayfair and received a gift card to be applied toward my choice of chairs and seating. The timing was perfect. Just days before the email hit my inbox, I was telling my husband that I couldn't hold out until we got a house to replace our loveseat. Though dated, it looked good, but my neck would hurt if I sat on it for any length of time. It really was time to find a new loveseat!
Let's take a little journey together.
I'll share my experience and give you tidbits of hard-earned wisdom for decorating a home you can't wait to come home to.
That's a nice offer Diane, but this is easy for you. You're artistic and always have cute decor. That's not me.
I hear you.
Just because my end results are lovely, doesn't mean that it has always come easy to me. It hasn't. But, I've forged ahead, because just like it is for you, my home is important to me and I don't have money to throw around or waste.
Over time I realized that the biggest trap for me, and I'm guessing for you, too, is overthinking. Overthinking paralyzes us. It causes us to second guess every decision we make. It causes us to put ourselves, our style, our ideas, and who knows what else, down. It's a fear trap where the way out appears impossible. But in reality, decorating freedom, hope, and joy are totally POSSIBLE!
Decorating freedom, hope, and joy?
Yes… freedom, hope, and joy seem like heart issues, not decorating issues, but really you do want the freedom to decorate to please your heart. You want to shop with a heart of hope, not a heavy heart doubting yourself. And ultimately, you want the joy of walking in your door and truly feeling you're at home where ever you call home.
To give you a real-life scenario, let me demonstrate how I navigated choosing a new loveseat for my small apartment.
Scrolling through the sofa options on the Wayfair website I realized that there were countless possibilities. Actually, 31,672 sofas. Instead of getting caught up endlessly scrolling through 31,672 possibilities, I set some parameters for myself. We all do better in life when we have boundaries and it works just as well in home decor as it does with difficult relationships.
When you're going to make a large purchase, one of the best things to do before making choices for large items like furniture, is to clear all horizontal spaces of decor so your room is quiet and you can have the freedom to make the best decisions. When you and your room get a chance to breathe you will see more possibilities and you can set better parameters for your choices.
My large 8'x10' rug fills my living room space and is a visual foundation and focal point of the room, so it makes sense to start there. The rug has a dramatic large pattern in shades of deep blue on a background of creams and grays. And that, my friend, set my color options. Secondly, since my space is quite small, my new loveseat could not exceed 63 inches.
Having a fence to keep me from straying is so helpful. If you like, you can keep tightening the boundaries, it will give you more confidence in making your decisions.

The Wayfair website gives you filter options. Use them. In my case, under the sofa category, I selected, gray, blue, beige, and white for color options. Next, I chose my fabric preference, cotton/cotton blend, polyester/polyester blend. Then I selected the design which was standard and moved on to type where I chose loveseat. And finally, under the size selection, I chose "small" under overall width. You can continue to use the filter to help focus on the features you're most interested in. With my filter selections, I narrowed down the possibilities to 1400 loveseat options. Goodness, that is still a lot, but, but WAY less than 31,000! I was very happy to start there.

Before we go any farther, we need to have a little heart-to-heart talk.
First of all, remember, you are decorating for YOU and those that live with you. You are NOT making your space pretty for Instagram or any other social platform or some invisible imaginary entity. This is your space. You don't need to please others, you are making your home your sanctuary. It's a safe place from the opinions of others, it's the place where you get to open the door and find peace and delight and rest in knowing it's just what your heart desired.
Are you feeling it?
Lately, Tim and I have been streaming a sweet home makeover show where the hosts beautifully improve and decorate houses for a good sum of money and turn them into homes. The results are amazing and I sometimes think it would be fun to have someone design and transform a house for me that reflects me and is perfectly styled and ready for me to move into. The idea of having a designer sounds pretty fantastic. Sometimes.
On my own, some of my very best design decisions were quickly made base on gut feelings — not a style board or sample board or someone's IG account.
The key here is TRUST yourself! Designers trust themselves to make good decisions for you and they don't even live in your skin. Just think, if you would trust yourself, you would make fantastic decisions.
AND… don't overthink things. Seriously, if you need a post-it note stuck up somewhere prominent to remind yourself to stop overthinking things go write it and stick it up now.
Overthinking limits.
It limits creativity.
It squelches fun.
It steals your joy.
Let's get back to my loveseat decision-making and ultimate purchase.
After filtering the possibilities down to just 1400 loveseat options, I started scrolling.

At first, I was drawn to dark blue loveseats and then I saw one that was very traditional in style. It reminded me of our La-Z-Boy plaid family room sofa that's in storage. I saw that the loveseat was a La-Z-Boy and it was a neutral color. Right then and there everything came to a screeching halt, in a good way.
As I checked out the "Weight & Dimensions" and "Specifications" on the website I found all the things that were important to me… cleanability, made in the USA, the length, and removable cushions.
There was one more important factor. What color was "pewter?" To discover that I went to the La-Z-Boy website and saw a large digital color swatch. To be honest, I am given to perfectionism at times… I did go the extra step to check on the color. Did you know that perfectionism is really fear? I won't get into all that right now, but I did something that was very bold for me. After checking the digital swatch and my rug, I decided that I needed to… trust my gut and order it. Yup. Trust.

Granted, a loveseat is a big-ticket item and often as expensive if not more so than a full-sized sofa from the same manufacturer so I'm not being flippant when I say this. Whatever you do, don't get stuck in overthinking. It will suck the life out of you and your decision-making may become perfectionism and in the end not only is the fun and creativity gone, so is the joy, and just maybe you'll be back at square one feeling more miserable than ever.

You know what cozy looks like. You know what colors bring you joy. You know what patterns (or lack of) bring you peace. You know. You really do. Trust yourself.
That's what I did. I followed my heart.
And now, every time I come home or walk into my tiny living room I let out a sigh of joy. I didn't let myself get caught in over-thinking or second-guessing which leads to indecision. I set some parameters and then within those parameters, I followed my heart. Ordered the loveseat. And everything settled in place perfectly.
It will for you, too!

Don't worry about the current trend, or someone else's style, or trying to create a magazine-worthy space. Curate what you love and you'll love your home.
I love my home. And Max loves it too.
Now back to YOU!
How's your self-confidence now? Do you feel empowered? It's time to imagine the possibilities for your home and get to work at transforming it. Where are you going to start? What's the FIRST thing you need to do? Let me know… I'm here to cheer you on and don't hesitate to reach out for a little help.

If you enjoyed this article, please use the sharing buttons to let your friends know and "pin it," too.
Receive FREE inspiration like this in your inbox!
Sign up Now.
Links to items in this post from Wayfair:
Coffee Table
(Note: this is a nesting table and we only assembled and used the small table as it was the perfect size for our small space.)