Welcome!
From the moment you step foot on the brick pathway to my front door, I want you to feel welcome.
For me, hospitality starts outside my front door.
When you come to the door, my goal is for you to already be sensing that you are important and valued.
In addition to laying down the welcome mat
a great way to make our homes look and feel inviting
is to add a seasonal wreath to the front door.  
Beautify the Front Door for Easter with a Burlap & Pastel Grapevine Wreath
As you might guess, I have a few seasonal wreaths that I change out during the year.  Though I have a gorgeous yellow Forsythia wreath for Spring,  I didn't have anything for Easter.   Plus, it seemed a little early for my door to be sporting those twigs of brilliant yellow.   Hmmm.  Since I am on a spending freeze…what shall I do?
Last summer I picked up a tattered Christmas wreath at the Presbyterians' rummage sale for fifty cents.  This was a grapevine wreath and quite large and not perfectly round.  Um.  I'm still working on that perfection thing.   Anyway…the wreath had a bunch of stuff hot-glued on it which I removed….last Fall.
Do you love seeing fields of Goldenrod in the Fall?  I do.  So I cut armloads of it and wired it on my grapevine wreath.  I don't know if the Goldenrod was too wet, or what, but this was not my best project.  My husband disagrees…but it went in my 'fail' category.  However, it did make an appearance here midst some evergreens on my back porch for winter.
I need to confess something.  I blew the spending freeze and spent $1.97 plus tax for some pastel plastic Easter eggs at the big W store.  The rest of the materials I already had in my stash.  Now that we have that out of the way….
Let's start!
A Seven-Step Tutorial for Creating a Welcoming Easter Wreath
Supplies:
*I purchased my burlap last fall at the Agway feed & garden store for just 99 cents a yard, but it's only a yard wide.  If you purchase wider fabric you will require less burlap.
Directions: 
Step 1:  Cut your burlap into strips….as you go.  I 'eyeballed' my approximately 3 inch wide strips.
Step 2:  Take the end of the burlap strip and push it between vines in the wreath. Create a loose loop and then push another section down into the vines and repeat.  You will have several loops running back and forth and around the vine. Repeat with each strip you cut until you have gone around the wreath.  If you like a fuller look…just add more burlap strips and loops.  Be sure to leave a space bare for the bow you will make and tie on later.
Step 3:  Arrange your eggs around the wreath, before gluing, spreading out the colors so you don't end up with blues and purples bunched up together like me.  I attempted to do just that, but still ended up with blues and lavenders lumped together, which I didn't see until I had the wreath wired to the door, and photos snapped.  Note to self: It does not need to be perfect to be beautiful.
Step 4:  Hot glue the eggs to your wreath.  This goes pretty fast.  When I began, I guess I was feeling like I needed to be frugal with my $1.97 eggs and used only half of them.  The next day I reevaluated the wreath and added in the rest.  Do what looks best to you, especially for the size of your wreath.
Step 5:  Cut more burlap for your bow.  I chose to cut my pieces wider than the loops in the wreath….4-5 inches wide…for a fuller look.  My burlap was pretty short, so I had to cut three pieces for the bow.  One for the tails and two for the bow loops.
Step 6:  I am making the assumption that you will be able to make your own bow.   If you're not confident in bow-making…don't sweat it.  Simply layer the burlap strips so that you have four loops and a center and lay it over the tails.  Gather up the strips in the center and tightly wrap a wire around the center.  Arrange the loops to please and then wire it to your wreath.  Or skip the bow all together!
Step 7:  Add a hanging wire to your beautiful Burlap & Egg Easter Wreath and hang.  Easy. Fast. Festive.  And wasn't that fun?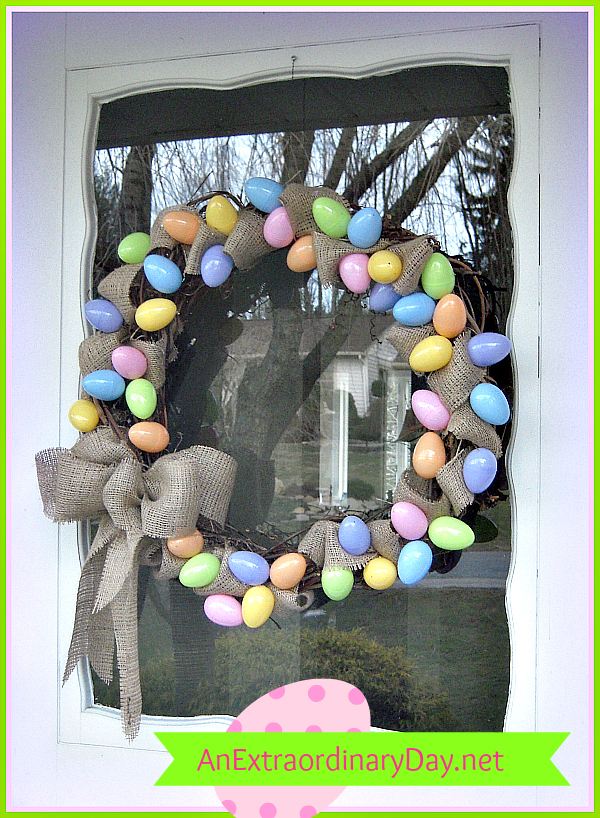 Wondering why we eat and decorate with eggs at Easter?
Good question.
In some cultures eggs were not eaten during the Lenten fast and so they were hard boiled to preserve and then decorated and eaten for the Easter celebration.  Eggs are also considered to be symbolic of the new life we have in Christ because of his resurrection.
So now you know.
Do you have a favorite way of using eggs in your decor for Easter?

How do you decorate your front door for Spring or Easter?
Thank you for coming by today.
You always bless me with your visits and your comments make my day!
If you'd like to take the conversation a bit farther…please take a minute and join the An Extraordinary Day community on Facebook.  Life beyond the blog gets shared there along with inspiring photos…mine and those from around the web.  You are welcome to upload your inspiration, too.
If you'd like more ideas for decorating for Spring & Easter…check out these earlier posts: Decorating A Vintage Window for Spring & Earthy Spring Vignette.
Wishing you an Extraordinary week!
Diane
To receive bits of inspiration like this in your inbox or reader, subscribe now.