Take your cues from Mother Nature and set a bird's nest themed Easter table with these simple ideas.
By now you all know that I'm a big time nature lover.
I truly enjoy creating with the beauties of nature…like I did here and here and here.
So when my friend enlisted my help in creating a tablescape for Easter I just had to add an extra touch or two from Mother Nature.
Creating A Bird's Nest Themed Easter Table
This springy bird's nest themed Easter table all started when my friend picked up a variety of ceramic birds in white, yellow, and blue earlier this spring.  Those sweet birds were the inspiration for this lovely table.
Before Valentine's Day, she had purchased some beautiful eyelet lace-edged chargers from Michael's and wanted to incorporate them into each place setting.  Initially, the idea was to have white, yellow, and turquoise for the table colors.  Her plan was to place yellow daffodils on the table and hopefully find some yellow dinner plates at the dollar store. The dollar store had a few yellow plates in stock, but not the eight or ten she needed, so my friend thought she would wait to see if more came in.
In the meantime, she picked up a white bird cage for the centerpiece of the table.
With the bird theme, I thought it would be fun to add a bird's nest at each table setting.  Did you know that small individual nests run about three dollars each at the craft store?  After gathering vines from the wild and a few handfuls of leaves, twigs from the garden, and some pussy willows, I got to work creating ten birds' nests. I will admit that it was a bit tedious.  But, I saved $30 for my few hours of work!
Another trip was made to the dollar store; no additional plates came in.  However, my friend spied some turquoise plates with a faint white swirl and a brown edge at the store and she decided they fit her color scheme and would look good on the white chargers.  She also liked that the brown edge would play well with the birds' nests.  Things were beginning to come together.
An avid thrifter, my friend picked up some perfectly white napkins at Goodwill for a song.  With their little bit of lace, the napkins sweetly complement the lace-edged chargers.
The table was beginning to come together beautifully with the plain white tablecloth, the white birdcage centerpiece, the white lacy chargers, and lace trimmed napkins.   To continue the repetition of lace, we also placed a paper doily under each dollar store water goblet.
Next, my friend purchased some tiny daffodils, crocus, and sweet alyssum plants.  We needed to work them into a centerpiece.  But what should we do?  In order to bring all the elements of the table together, I suggested that we place the birdcage in the center of the table and place a garden of blossoms on either side.  The unifying element here….birds' nests.  One nest was created to go inside the birdcage, between the sour cream container holding the crocus and sweet alyssum, and the cage.  And then two more nests were created to surround plastic cereal bowls turned spring garden containers.
Creating birds' nests for the table seemed like a great idea.  But, making them of vines is a little bit trickier than making them of twigs and Spanish moss,  for the table as I didn't want any nesting material to end up on someone's plate.  In the end, we were pleased with the large nests for the centerpiece and the nests gracing each napkin at the place setting.
Things were looking good, but I felt that we needed a few finishing details.  Place cards are always a wonderful addition to a table and I wanted to create something celebrating the reason for the Easter feast.  You can find the printable and details on how they are constructed here.  They were very easy to make and my friend's mother took some home after Easter dinner to further enjoy.  Again, I wanted to duplicate the lace of the chargers.  Repetition of pattern and color is a great way to give a tablescape, vignette, or even a room a cohesive feel.  A paper punch was used to create the lacy pattern and cardstock in turquoise replicated the turquoise in the dinner plates and even the ink was brown to pick up on the brown from the nests and the plate edge.
To finish off each bird's nest resting on the napkins, we added Brach's Speckled Jelly Bird Eggs
in blue.   The package comes with a color and flavor assortment and we needed to purchase two packages to have enough eggs for setting two tables.  But, they were perfect as they resemble bird eggs and the color hinted at the color of the dinner plates.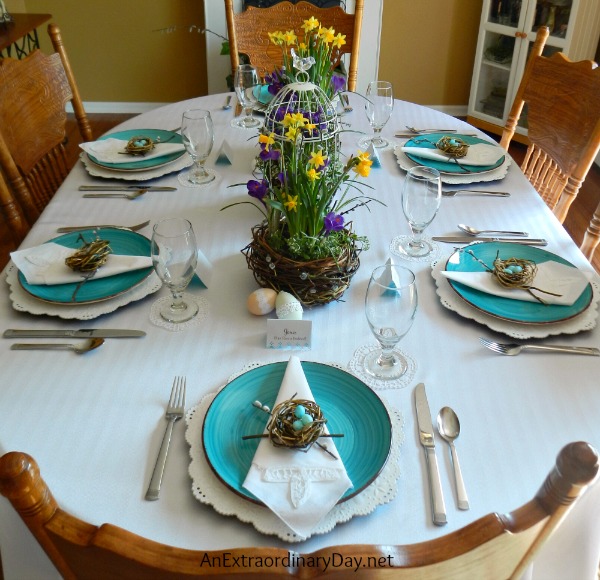 With one more nod to a traditional Easter celebration, I wanted to add blown eggs to the center of the table.  All the eggs were natural egg colors from white to shades of tan and even a few bluish eggs.  In an effort to repeat the lace from the chargers, napkins, place cards, and the sweet alyssum in the mini table gardens, I decided to add lace to some of the eggs.  My friend had a little bit of leftover lace in her stash and I cut and used tacky glue to adhere it to the eggs.  There wasn't enough lace to do all the eggs, so I put that paper punch back to work and punched strips of paper to wrap around the egg.  The strips were decoupaged onto the eggs.  Quick and easy and perfect for the table.
I had a lot of fun putting together the different elements for this table.  The nests required a lot more material than I had planned, so there were a few additional trips down to the river.  And as I mentioned before the nests were time-consuming to make.  So, unless they go home with your guests, you'll have them for years to come, and they make sweet little additions tucked around the house.
To look at this tablescape you'd never guess that it was so inexpensive to create.  Dollar Tree plates and water goblets, thrift store napkins, blown breakfast eggs, free materials from nature, six dollars in spring flowers, a little paper and cardstock, made for a stunning Easter table for around twenty dollars.  That doesn't include the tablecloth and chargers and birdcage, but those are not necessary to the look.  If you like the lace chargers and want to create the look for less, the dollar store has large paper doilies which we used for the secondary table.
Wouldn't you enjoy sitting down to dinner at this bird's nest themed Easter tablescape?
This sweet table would be perfect for Mother's Day or other springtime celebration, as well.  I would eliminate the blown eggs and change up the place cards, but aside from that, you'll have a table to make mom's day.
Which elements of the tablescape do you like best?
Tell me about your latest creative experiment.
Thank you for stopping by today.
I appreciate you and your sweet comments make my day.
Wishing you An Extraordinary Day!
Diane
To receive more FREE inspiration like this
in your inbox or reader, subscribe now.
I'd be delighted if you'd share the goodness here with your friends.
Click any of the sharing buttons at the bottom.