There's something so inviting about a pretty wreath gracing a front door.
We all want to have beautiful, warm, welcoming homes.  But getting there… can sometimes be a challenge.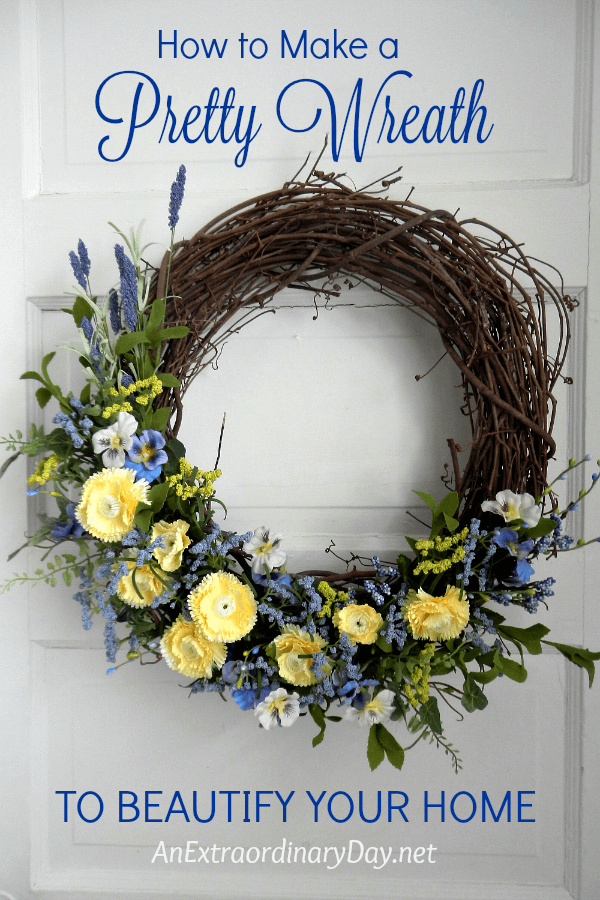 Do you ever watch Fixer Upper or some other home show and think, "She makes that look so easy."  "Everything is so beautifully and artfully arranged." or "I wish I could do that."
You know what?  You can!
It just takes a little practice.
The first time I arranged flowers, created a wreath, or plied my hand at some creative project… usually it was just okay.
The great thing was… I made it.  You know that feeling.
Or… maybe you're like me and instead choose to obsess that it isn't good enough.
Let me tell you… I spent too many hours, days, years thinking what I created wasn't good enough.
Here's the thing.  It was good.  And if created by someone with more expertise it might have been better.  What I missed, is that given my knowledge, experience, tools, and the "ingredients" of my project, I did the best I could.  And if I were able to make it again, I would have that extra experience,  and with that extra knowledge I might have chosen different tools or "ingredients" for my creation.  For every attempt at creativity… I learn and grow and improve in some way and the same is true for you.
Handmade is all the rage right now.  The thing about handmade… it's not perfect.  Sometimes we just need to wrap our heads around the fact that we aren't perfect and imperfect people can't create perfect things.  However… imperfect people can create beautiful things.
Our creativity is an expression of the heart.
From the colors we choose, to the objects we use, to the final outcome, it's a creative expression of something inside us that needs to be expressed.
I yearn for beauty in my life.  As a visual person, I easily get distracted by things that are  in disorder, out of balance, or unseemly.  I need my environments to be orderly, purposeful, and most of all beautiful.  When they are… I feel much more peaceful.
There's plenty of turmoil and ugliness in our world… so I believe that bringing beauty and peace to our homes is a necessity.
Where is the best place to start?
Why not start with your entry?
You may or may not be able to repaint your front door.  But, you can sweep it out, give the door, side-lights, and light fixtures a quick cleaning and make your entry sparkle.  And then, add a pretty wreath to your door.
It's a great way to add beauty, curb appeal, and most of all a welcoming feel to your home.
I've always had a thing for wreaths… as long as I can remember.
When I was first married, I took a wreath-making class from a friend who owned a dried flower shop.  The technique I learned was pretty much exclusive to creating that type of wreath.  But, as time went on, I plied my limited skills, and exercised my creativity… without a glue gun.  I just heard you gasp.  I know…  it's a little more challenging. But, except for this Easter egg wreath, I've created lots of different kinds of wreaths without hot glue.  It's just as well.  Hot glue is finicky.  It, like me, can come undone in in freezing cold weather or sweltering hot weather. Some of us have a rather narrow comfort zone.  Me especially.
Generally I use paddle wire to put flowers and decor on my wreaths.  Working with wire can be a pain, but the beauty is that I can easily take apart the wreath and decorations and I can re-use all the parts in new ways, if I choose.
If you'd like to create your own wreath, like I did here, you'll want to look for flowers that are on sale.  I got all the flowers for this project at JoAnn's for half-price.  Still, I spent close to $20. Also, I picked up the grapevine wreath at Hobby Lobby for just a few dollars with my 40 percent-off coupon.
When making selections for my wreath I generally come up with a color theme.  I had a pretty blue and soft yellow in mind for this project.  Periwinkle and butter yellow are two of my favorite colors.  They're vibrant, yet relaxing.  Happy colors!  It can be challenging to find all the flowers and greenery you want… so be prepared to flex.  I purchased all they had of everything shown except for the yellow aster-like flowers. In a perfect world I might have chosen more of some and less of another… in the end it all worked out. Just think about a cottage garden. Its imperfect mix is partly why it looks so friendly and pretty.
You'll notice that I didn't cover the entire wreath.  That can be expensive.  Also, I like seeing the grapevine and appreciate its earthy brown contrast with the pretty pastels of the flowers.
It's been a while since I created a wreath like this, so I was feeling a bit rusty.  But, after playing around, I got my "feet" under me and things started to come together beautifully.
Before I get started, I usually play around with hanging my wreath.  A wreath may not lay against the door or wall perfectly.  So play around with hanging it and then take a piece of ribbon and tie it to your wreath so you can keep that spot as your top center and your wreath will always hang perfectly.
Generally, when I get started, I take the flowers, just like they come from the store, and lay them around the wreath to see how I might arrange them.  If you like… take a photo at this point for reference.  It's funny how we can get an idea in our heads and then when we go back to arranging the flowers and greens we find we don't exactly remember how we positioned them.  Here's where a photo comes in handy.  Of course, if you're a flexible, run with it, go-with-the-flow kind of person, that probably won't be necessary.
One trick I have discovered is that it really pays to take apart the flower bunches and cut their stems down to a workable length.  Even the shorter stems will get cut down some.
You can see that I used a wallpaper cutter to cut between the wires and cut through the wrappings on the stems.  It's a quick and easy way to disassemble the floral bunches. Often I'll use a wire cutter and a kitchen scissors.  The kitchen scissors works better on the smaller, paper-coated stems. Regardless, I always feel like my hands get a workout trimming stems.
With the long stems of yellow flowers, I actually pulled off the flower heads from some stems and placed them on the top of some cut stems that had leaves.  (I hope this makes sense… if not… let me know.)  This way I had short stems to work into my grapevine wreath which makes it so much easier to arrange.
Remember how I mentioned that I don't use hot glue and I usually use paddle wire?  This time… I used neither.  This grapevine wreath really is more of a fine twig wreath than grapevine, so I was able to weave in the the floral stems easily.  They seemed to stay in place rather well.  I'm all for not doing more work than necessary.  This is possible for me because my wreath will not be in a place where it will get much wind.  And I've created it for myself.  If I were going to give this wreath away… I would certainly need to make the flower placement permanent.  Because another season will come and I'll want to do something different, I'll welcome the flexibility of being able to pull this pretty wreath apart.  Then again, at the end of the season, I just might cover it with a plastic bag and bring it out again next year.  I've used some wreaths multiple years in different spots with or without new additions.  I'm not all about change for the sake of change.  If the colors work and everything stays beautiful and vibrant… roll with it… and next year look for another spot that could use your creative energies.
Make your home beautiful, warm, and welcoming with the addition of a handmade wreath.
If you've never made a wreath before… give it a try.  Use my wreath, one from my Pinterest board, or one I've shared here in the past, as your example and have fun making your own beautiful handmade creation.  Let your creative juices flow.  Your home and all that enter will be blessed.
If you're inspired to create a pretty wreath… please be sure to share it with me on Facebook.  I'm so excited for your new creative adventure!
Happy wreath-making!
Thanks for stopping by today… I can't wait to hear your lovely thoughts!

Receive FREE inspiration like this in your inbox!
Sign up Now.