I absolutely LOVE using natural elements in my Christmas decorations.  And the best part of using nature's gifts… they're usually free!
That's a double win in my book.  Before the leaves even started to fall this year, I knew I wanted to create something beautiful for Christmas with the plethora of oak leaves from the nearby woods and gold spray paint. But, what would that be? I finally settled on making an oak leaf Christmas wreath.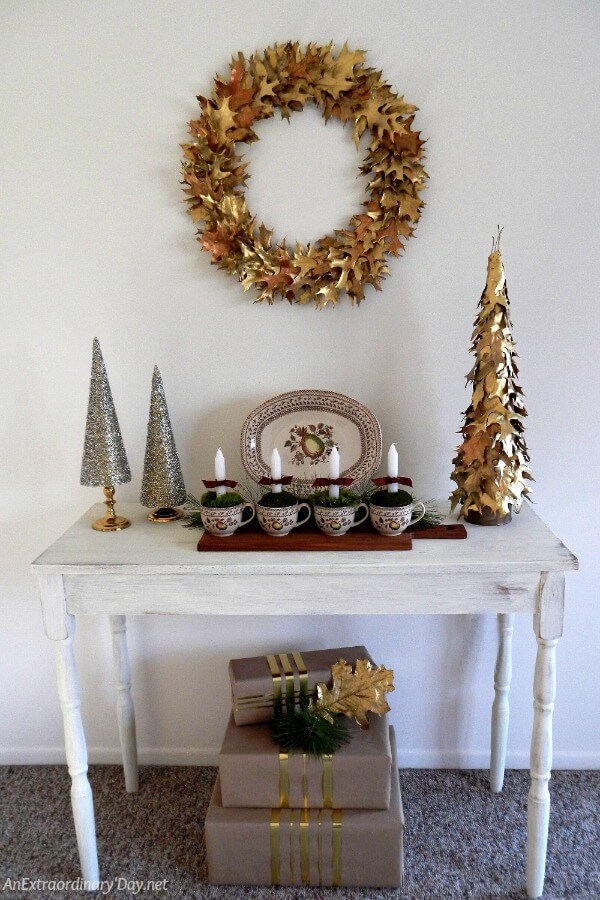 Who knew the humble leaf from a stately oak could become so classy with just a few spritzes of gold spray paint?
I had a pretty good idea.  But, until the project is in the bag, so to speak, I'm never sure.
This classy gold wreath turned out beautifully. And in the evening it reflects the light from the lamps and feels so warm and inviting.
Plus, it's the focal point for a Christmas vignette I created for my side table that features our Advent candle wreath.
It's become such a happy spot in our little home.
Just in case you want to try your hand at this easy-to-make wreath… here's the tutorial!
Easy to Make Gold Oak Leaf Wreath
Supplies
Assembly Instructions
Gather your 100+ gilded leaves.
Lay them out in your makeshift spray box, outdoors.
Spray one side with gold spray paint and let dry for several minutes.
Flip leaves and spray the other side of the leaves with gold. (Both sides need to be coated.  If you prefer, another color or clear coat may be used.)
Once your leaves are all gilded and dry, gather them up, and then set them aside.
Take a large piece of cardboard and trace a large round object, I used a basket tray I had.  You can use a pencil to do this but, I simply cut around my basket with the cutter.  I didn't go deep with this first cut… just enough to give me a cut line to follow so that I could recut until I cut deep enough to free the new round disc from the larger piece of cardboard.
Next, I  made a second cut, about 2 inches inside from the outer edge to create the ring. I simply eye-balled this. It doesn't need to be perfect.
I didn't want all my oak leaves to be gilded with the same shade of gold.  So, I tried to emulate a copper or rose gold and a brown gold to give more dimension to the wreath.  The complete wreath has 3 shades of gold.
With a wide artist's brush, paint on your gold colors.  I divided the leaves so that about a half remained the original gold and the other half of the leaves were painted in the two other shades of gold.
Now it's time to assemble the wreath.
Begin by laying your oak leaves around the cardboard backing to get a feel for spacing out the leaves and the different gold colors.
Then apply hot glue to the cardboard backing and press your leaf in place. Continue doing this until the cardboard ring is completely covered.
Once you've covered the cardboard ring with the first row of leaves, begin adding another layer.
You'll want to apply your hot glue the back of the leaf at its base when you start to attach the second and third rows of leaves.
I chose to arrange my second and third rows of leaves by gluing them on at a slight angle.  At this point, you may find it helpful to cut off the stems.
I also found it helpful when I was placing the third row of leaves, to trim the base of the leaves to a point and then gluing the leaf and inserting it.
Once you're happy with your oak leaf Christmas wreath, it's time to hang it on the wall.
We have a neighbor who's six that stops by almost daily.  He really liked the wreath and informed me that after I took my photos for this post, I could hang the wreath on my door for Christmas.  Don't you love it?!  I have to say, this isn't a door wreath or an outdoor wreath, either.  As the leaves continue to dry out they will become brittle and break if they are smashed or bumped.  But, carefully stored (by hanging) a natural oak leaf wreath should last for several years.  I actually still have gilded leaves that are twenty years old that I bring out each year for Christmas decorating.
What do you think?  
Do you have a spot that could be brightened with a classy gilded oak leaf wreath for the holidays?
My wreath was completed before Thanksgiving and I think that it's a perfect transitional wreath from Thanksgiving to Christmas.  Last year I created a transitional door wreath… so now I have one for inside and out.
If you love the idea but don't have time to gather leaves or make your own wreath, I spied a couple of pretty gold wreaths on Amazon that are quite lovely…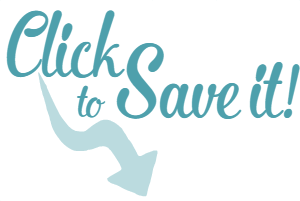 If you enjoyed this post…
Receive more FREE inspiration like this in your inbox!
And now for more fun!!
I'm so happy to be joining up with some of my talented blogging friends again for the…
Home for the Holiday's Blog Tour
This is the third year the Home for the Holidays blog tour sponsored by Sondra Lyn at Home!  Be prepared to get your pinning finger ready, because we've got some extraordinary decor, craft and recipe ideas waiting for you!  The tour has gotten bigger and better each year and I think you're going to love what you see! So stay tuned for 30 blogs over the week, with a different topic each day. Be sure you come back here every day to get the links to that day's featured blogs! Here's a run-down of the topics and featured blogs:
Monday – Holiday Mantels
Country Design Style | Duke Manor Farm | Domestically Speaking
Organize and Decorate Everything | Sondra Lyn at Home | Two Purple Couches
Tuesday – Holiday Recipes
An Alli Event | Not Just Paper and Paint | Nourish and Nestle
StoneGable | Sweet Pea | What Meegan Makes
Wednesday – Holiday Crafts
An Extraordinary Day | Lovely Etc | Lilacs and Longhorns
Lydi Out Loud | Salvage Sister and Mister | Weekend Craft
Thursday – Holiday Decor
Atta Girl Says | Chatfield Court | Create & Babble
Designers Sweet Spot | The Heathered Nest | Worthing Court
Friday – Holiday Tablescapes
Celebrating Everyday Life |Cottage at the Crossroads | Cottage in the Oaks
The Everyday Home | Postcards from the Ridge | 2 Bees in a Pod
Are you ready? Here we go!
Home for the Holidays 2016
Holiday Mantels
Holiday Recipes
Holiday Crafts
Holiday Decor
Holiday Tablescapes