Wouldn't you love to approach Christmas with a sense of peace and purpose and less craziness?
In the midst of the festivities, busyness, and sensory overload, you really can discover peace and purpose this Christmas.
I've discovered that when I plan to focus on Christ's coming and Advent… the season leading up to Christmas where we intentionally remember what it was like for people thousands of years ago to anticipate the coming of Christ… my joy and delight in Christmas and God's GIFT to us gives me much peace and purpose in spite of all the craziness of the world around me.
Advent always begins on the fourth Sunday prior to Christmas Day, and this year, that is Sunday, November 27.
In preparation of Advent, I find some personal reflection is in order.  This post… Cleaning "House" for Christmas really is a must read.  (I can hardly believe I'm saying that about something "I" wrote!)
Each Advent, I also try to create some sort of advent wreath with candles.  It's not imperative that you do that, but there is something special about the candle lighting that adds a lovely ritual to this time of meditation and soulful reflection.
Here are two Advent candle "wreaths" for inspiration, along with tutorials…
How to Make Coastal Advent Candles :: Preparing My Heart for Christmas
Not Your Typical DIY Advent Candle Wreath
With my limited budget, I was so excited to create this year's Advent candle "wreath" for nearly free. It makes my heart so very happy.
You might remember the pretty vintage dishes I received as a birthday gift and later used in a lovely fall outdoor tablescape.  I am crazy about the little tea cups but rarely use them as I have two mugs that also go with the set because they hold a little bit more.
I decided that I would place candles in the tea cups which I had filled with sand and topped with moss from the nearby woods.  A little grosgrain ribbon adds a festive touch. (Of course, you would need to be careful about burning the candles too close to the ribbon… but you wouldn't do something dumb like that, right?)
Advent Candle Holders

Supplies
List contains affiliate links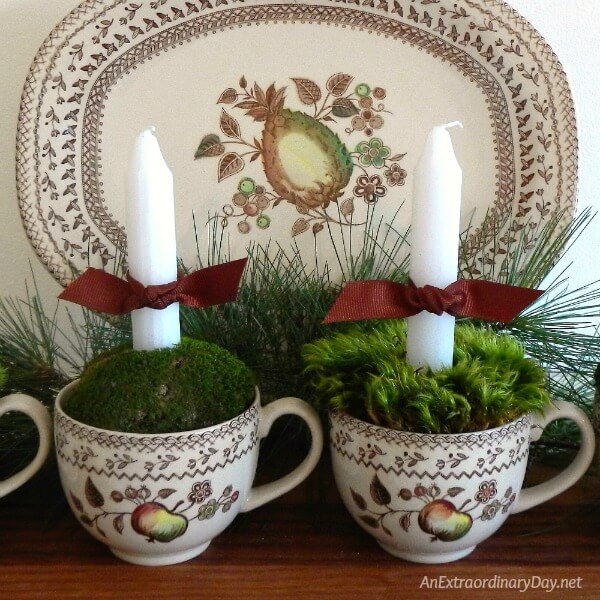 Assembly Instructions
Fill your cups with sand, adjusting for the height of the moss.
Trim moss and snug it into the cup.  You may need multiple pieces to fill the cup.
Using a small pointed knife, trim a hole in the middle of the moss for your candle.
Tie and knot a piece of ribbon around the candle.
Insert the candle in the prepared hole in the moss.
Line up your Advent candles on a long breadboard.
And celebrate Advent!
If you'd like to know more about Advent and how to observe it in a meaningful way, be sure to read this post…. Taking Time to Breathe :: Observing Advent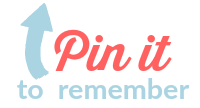 There are many ways to observe Advent through readings and mediation.
Last year, I shared a brief devotional each morning on my Facebook page and intend to do the same this year.  I'd love to have you join me there each day. Look for it by 9 AM ET.
You may like to sign up for an email devotional…  Advent devotional/reading from Bible Gateway HERE.
And here are some Advent books* that you might like…
*Affiliate links… I may receive a small percentage of your purchases through these links which support my work here at AED.  Thank you!
Whatever works best for you and your family… do it!
Don't miss observing Advent, either through guided candle lighting, reading, or both.  I can say from experience that it truly brings peace and purpose to Christmas.
Do you have a Christmas/Advent tradition or special memory to share?

Receive FREE inspiration like this in your inbox!
Sign up Now.