This year, I wanted to be really intentional about observing Advent.  I even shared a post with ideas for Advent readings and candles, here.
But, when it came to my own advent candle wreath, I had nothing.  Nada.
It was something I wanted….but it is not necessary.  Plus, I don't exactly have money to be spending on something like this, and since I'm living "in between" with my stuff in storage, well…I really could go without.
Several weeks ago I was invited to participate in an upcoming blogger event, All Things Dollar Tree for Christmas, where you create something from the Dollar Tree.
I decided that I would participate in that and spend a just a few dollars.
Have you been to the Dollar Tree lately?  Maybe it's just the one in our town.  Or maybe it's me.  But, I really couldn't come up with any ideas.   It must be me.  My husband went along with me and I must tell you he was a saint.  Truly.  Oh my…I walked around that store forever.  Finally I decided to walk over to the nearby TJ Maxx and then on to Kohl's to see if inspiration would strike.  It didn't.
The next morning I woke up and remembered a few things I had seen and decided that I should create an Advent Candle Wreath, of sorts.
I'm not sure that you can call what I have put together a wreath.  Wreaths are usually round.  Or square.  Or oblong.  Usually some sort of shape.  Mine isn't any of those.
I gathered these mini red buckets with handles, glass jar candles, and a package of floral moss at the Dollar Tree for my DIY Advent Candle Wreath.
When I went to check out, I entered my pin number and it was rejected.  Oh no!  I had forgotten my pin!!  Yikes!  The cashier told me that I could just use the card as credit.  Whew!   Of course, on my way out of the store I remembered my correct pin.  Oh well.
The next day I got up and thought, "What have I done?!"  How in the world could I have just spent nine whole dollars at the Dollar Tree?!!   It drove me crazy.  My cats could eat for at least three weeks for that money.   So, I did what I believed I should do….drove back to the store to return my goods.
Maybe you already know what happened.
The store has a new policy….they do not reverse your credit card charge.  No.  They don't give you store credit.  No.  But, they will give you an equal exchange.
Great!
Not great!
Here I am trying to get my money back for what I thought was a foolish purchase and I'm stuck.  Equal exchange is not what I wanted.  I wanted the money back in my account.  [sigh]  So I went home.  Irritated.  At myself and the store.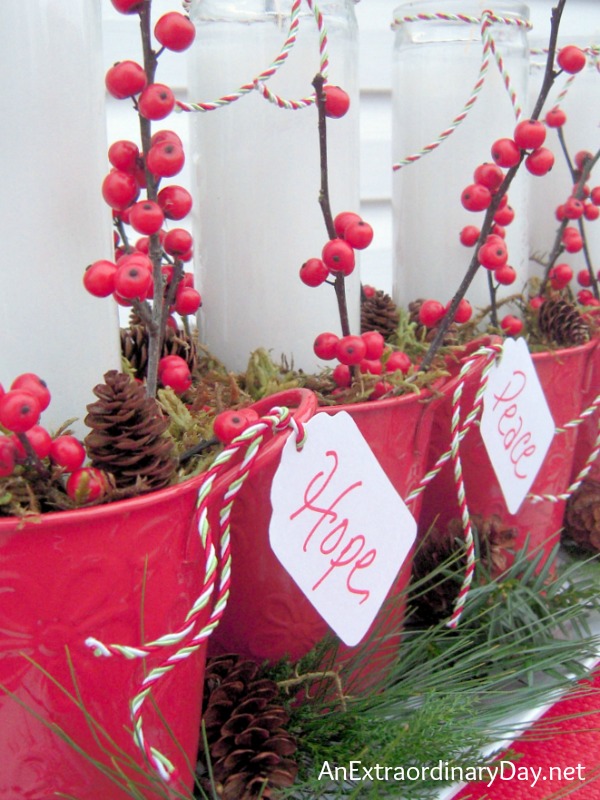 Advent began on Sunday.  We did the readings without an Advent Candle Wreath each day.  And then Wednesday I decided that if all I could do was exchange my purchase for other things, I should just go ahead and make the wreath.  Okay…I know it's not quite a wreath….but what else would we call it?
This really is a very easy project.  Here are all the juicy details for making your own…
Easy DIY Advent Candle Wreath (Holders)
A TUTORIAL
Supplies:
Mini Buckets – Dollar Tree
8″ Glass Jar Candles – Dollar Tree
Bag of Floral Moss – Dollar Tree
Small Cardboard Squares (cut to fit container)
Sand or coarse dirt
Small Pine Cones
Stems of Fresh Red Holly Berries (If unavailable consider: Artificial Red Holly Berry Stems)
Assorted Fresh Evergreens (optional)
Long White Tray (optional)
Small Bowl and Warm Water
White Tags
Red Marker
Wired Cording (or Thin Ribbon – Dollar Tree?)
Scissors
Fiskars Pruning Shears
Fiskars Bypass Lopper
*I am an Amazon affiliate.  Any purchases you make through the links above will provide me a few extra pennies. Thank you!
FREE  Tips…
You should be able to purchase the fresh Red Holly Berry Stems at most florists and better garden shops if you don't find them in your nearest marsh for free.
Fresh evergreens are available at Lowe's and Home Depot.  Stop by their Christmas tree area and ask to take some trimmings…they're free!
Once you have purchased your supplies and tromped through your nearest marsh for holly berries, clipped evergreens from your yard or your neighbor's yard (with permission of course!), gathered pine cones from your yard or the nearest park and made them pop!, you are ready to assemble your Advent Candle Wreath, thingy.
Assembly Instructions
Cut Cardboard into squares to fit flat inside the Mini Bucket/container.  I cut 6 squares for each container and then stacked them inside each mini bucket.
Add some Sand/Dirt to your container…enough to cover the stack of squares by a 1/4 inch or so.
Carefully set the Glass Jar Candle in the center squarely…at this point be careful to make sure all your candles are about the same height.  If you're persnickety…use a ruler…otherwise…eyeball it.
Next firm it by picking up the Mini Bucket (while holding the jar candle in place) and jamming it down on your counter or floor.
Fill around the Glass Jar Candle with more sand/dirt until about a 1/4 inch from the rim of the Mini Bucket.
Holding the Glass Jar Candle in place, jam the Mini Bucket down on the counter/floor again to firm the Sand/Dirt.
Get your fingers dirty by firmly pressing down the the Sand/Dirt to ensure that the Glass Jar Candle is securely in place.
Fill your small bowl about 1/4 to 1/3 full of warm water and add in several handfuls of moss and incorporate the warm water into the moss…squeezing the moss.
Squeeze out any excess water and add moistened moss around the the Glass Jar Candle to cover the Sand/Dirt filling to the rim of your Mini Bucket/container.
Add wired Cording to the rim of the Glass Jar Candle or tie on a thin ribbon.
Cut fresh Holly Berry Stems and insert through the Moss, into the Sand/dirt.
Add a few small Pine Cones between the Holly Berry Stems to the Moss.
With your Red Marker, write the words Hope, Peace, Joy, and Love separately on a white tag.
Tie the Advent Word Tags on the handles of the Mini Buckets.
Arrange the filled Mini Bucket arrangements on your White Tray.
Add fresh Evergreen and Pine Cones around the Mini Buckets on your Tray.
Voila! You now have a lovely and Not Your Typical DIY Advent Candle Wreath!
Once everything was put together I needed to do a photoshoot.
Murphy's Law was in effect. [sigh]  The skies turned heavy gray and the clock was ticking its way towards night time.  So…I tried to save the day by taking my Advent Candle Wreath outside along with a couple of bright red placemats.  There was more light outside…but it was flat gray light.  And the wind was blowing stiffly and rearranging my evergreens on the tray, plus it was freezing cold. Not what you want for a photoshoot.  Regardless….I think you get the idea of how cute these buckets are filled with their seasonal dress and candles waiting to be lit.
Inquiring minds (that would be me) want to know….

Do you make your own Advent Candle Wreath?
Have you been Observing Advent this year?
I know that all good bloggers put together helpful tutorials before the season.  Yet, I am reminded that sometimes in the busyness of life, an on-time tutorial might not have made a difference.  Instead…here you are…busy…needing a few moments of peace to remember the reason for the season….and greatly needing to carve out time to breathe in the true goodness of THE GIFT.
You may or may not choose to create an Advent Candle Wreath like mine.  But…let me encourage you.  It is NOT too late to start observing advent.  Click over to this post and pick up some ideas for Advent readings and more.   Yes….you can start today…or even tomorrow.  No one is keeping track.
Savor the anticipation of Advent with me.
May your Advent be truly Extraordinary!
Diane
To receive FREE bits of inspiration like this
in your inbox or reader, subscribe now.
Let's connect!  Facebook  ::  Pinterest  ::  Google +  ::  Shop-Longaberger Lifestyle
I'd be delighted if you'd share the goodness here with your friends.
Click any of the sharing buttons at the bottom.