Wouldn't you like to have a wreath that could transition from late fall through Thanksgiving to Christmas and into New Year's?  Me too!
Whether you have space issues, time issues, or just want to be efficient in your use of resources, I think you'll love this stunning transitional wreath for Thanksgiving to Christmas and beyond!
It has the earthiness of fall with the burlap colored ribbon and the sparkle of the holidays with the gold polka-dots.
My goal is always to make a big impact without spending oodles of time and money on a project, so I'm always keeping my eyes open for low-cost supplies.
I've been eyeing the wreath forms at the Dollar Tree…. but they are a little bit small for a door wreath.  On a whim I purchased one… but didn't get around to creating anything with it… because of the size issue.  On another expedition to the Dollar Tree I picked up a second wreath form with the knowledge that it's still a bit small.   Though I had no plans in mind yet… the $1 price tag was pretty enticing and is about $5 less than another major craft retailer.  I knew I wanted to create a wreath and I wanted to have a form in hand when the idea came.
And it did!  One door wreath using two wreath forms!  Voila! an idea was born.
Other than my excursion to Jo-Ann Crafts to purchase the supplies, this transitional wreath was quick to put together.
And because I know you'll want to make your own, too… I've put together a tutorial for you to follow.
Create Your Stunning Transitional Wreath…
Supplies
Two Wreath Forms – mine were 9.5 inches
Spool of Ribbon – 2.5 inches x 25 feet (wired or non-wired – non-wired will create a smoother wreath but the wired makes for a nicer bow)
Paddle Wire – 22 gauge *
Assorted Fall Picks – I used 3 berry and 2 gold pips.
Assorted Christmas Picks – I use 3 total of 2 styles
Straight Pins
Wire Cutter *
Scissors *
Twine for Hanger *
*NOTE: These are affiliate links.  I am an Amazon affiliate and any purchases you make through these links will yield me a small commission.  Thanks for your support.


Assembly Instructions
Let's start with wrapping each wreath form with  the ribbon.  Detailed wrapping and hanging instructions can be found here. (Update: the instructions were not as detailed as I thought… but I do think they will help you get the gist of things… just go for it.)
Once the wreath is wrapped, take a length of paddle wire and wire the two wreaths together as shown.
Now… the fun begins.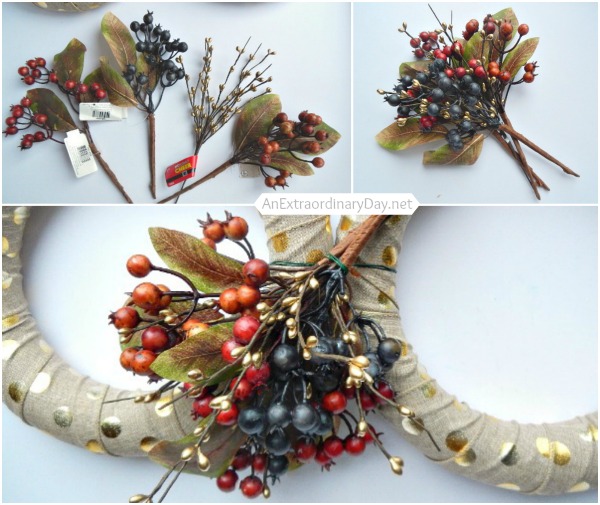 Gather the floral picks you selected, arrange them in your hand in a pleasing fashion and then, wrap them in wire to secure leaving long strands so you can use the same strands to wire them to your wreath.
Decide the length of your bow's tails and cut.
Make your bow a little smaller so it doesn't overpower the berries and greens.  I know bow-tying isn't everyone's specialty.  There are lots of techniques. Google it if you need to.  But, don't sweat it… especially if you use a wired ribbon.  A wired ribbon hides a lot of inexperience.
Snug your bow up to the wired fall berries and tie on the wreath.
Repeat the process of the fall picks as you arrange and wire the gold picks to swap out for Christmas.
Have your 'swap out' ready so you can be a 'quick change artist' right after Thanksgiving.
It's really that easy.
Because I was taking photos as I went along I'm not exactly sure how long this will take… but less than an hour for sure. Pretty good for 'two' wreaths!
Are you lovin' it?  I am!
A stunning transitional wreath to welcome your guests for Thanksgiving and after they leave… a quick swap out and you're ready to go from Christmas to New Year's!
If this is something you'd like to do… quick! run to your nearby Jo-Ann's or other craft store.  I was able to take advantage of the end of season sale on the fall berries for 60% off and the pre-season Christmas sale on the metallic picks and pips and ribbon at 50% off.  The grand total including the previous wreath form purchases was $12.  Not bad for a door wreath that can be used for two seasons…. at least!! 
If you already have any of these items on hand, you can surely reduce your cost.  If you miss the sale, don't worry. Creating a wreath that can be used for multiple seasons is still economically a good thing.  And you should be able to use it for several years if it isn't exposed to the elements.
If you love the idea and just don't see how you can get around to creating your wreath.  Again… don't worry. Decorating our homes to be welcoming places for our families and for our guests is a good thing.  But, decorating never trumps your warm and welcoming hospitality.
Your family and guests aren't going to care what you have on your door if you're feeling stressed and grumpy.  I can't tell you how many times I've put more care into the appearance of my home than I have with making sure my heart was in the right place.
It's easy to do.  We may not know people well and inviting them to our homes is a big thing.  We want to make sure that we give them a great first impression.  We want our homes to dazzle.  Or at least look better than presentable. We want to be the consummate decorator, entertainer, cook, and hostess.  And we put toooo much pressure on ourselves.  I can't tell you how many times I've been guilty of that.  Probably you need to ask my husband.  Though I doubt he keeps track… because you don't do that when you love someone.  I'm sure he does remember the melt-downs the hour or so before everyone arrives.
I am getting better at entertaining and hospitality.  You can read some of my tips here.  But, in addition to those, I've learned that focusing my heart on my guests and serving them takes me away from "showing off."  Yup… I said it. We need to be totally honest with ourselves.  Or at least I do.  I love making my home beautiful… but I must be careful that what I am doing is for my guests and not just for me.
I'm all for making ordinary experiences extraordinary.  Decorating, cooking, loving on my family and guests for the richness and beauty of their experience (and maybe mine too) is wonderful… but not to show off my skills.
When we exchange the "me" for the "them" a big change takes place.  Maybe one way to set the ball in motion is to create a transitional wreath so that you spend less time and thought on decorating and more time and thought on family and guests.
If you have some tips for being truly hospitable… we'd all love to hear.
More Holiday Wreath Ideas
Woodland Grapevine & Winterberry Wreath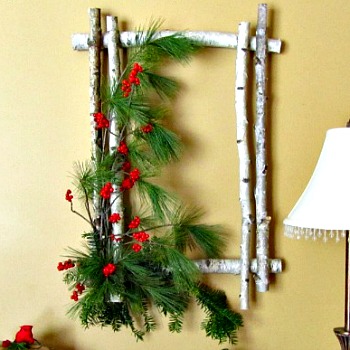 A Very Merry Christmas House Tour
Thanks for stopping by today… I can't wait to hear your lovely thoughts!

Receive FREE inspiration like this in your inbox!
Sign up Now.