Want to bring the beach home or create a coastal or nautical feel in your decor?
Create an Easy Nautical Life Ring Wreath.
Hang it on a vintage window like I did here, on the wall, or even on your front door.
It's a super quick and easy wreath to make.
You need a few supplies and in less than an hour, you'll have yourself some classy coastal decor.
Easy Nautical Life Ring Wreath
Supplies:
A foam wreath form; mine came from the Dollar Tree.
Ruler
Scissors
Straight pins
Cream or white fabric cut into two and one-half-inch strips.
An eighth of a yard of contrasting fabric cut into two and one-half-inch strips. I used a light weight blue fabric.
Polished cotton rope.   I purchased mine in the hardware section at Lowe's.
Directions:
Wrap your foam wreath form with the strips of off-white fabric.  Place fabric strip at a slight angle and secure the beginning and end of each strip with straight pins as shown with the blue.  See second photo below for holding the fabric taunt while wrapping.  Keep adding strips until the entire wreath is covered.  (Tip: Try to start and end on one side of the wreath so the pins do not show.)
Add the contrasting  color fabric.  Wrap about one quarter of the wreath in your color choice on opposing sides as shown below.  Don't worry about the back side lining up perfectly…it won't be seen unless you hang your wreath on a glass door.  (If that is the case, pin some extra fabric on the edges so that it looks finished.)
Lay your decorative rope around your wreath form arranging it so it is fairly evenly spaced with a little excess in each of the "corners."
Pin it in place.
Cut an inch wide strip of contrasting fabric.
Take a few inches of the fabric strip and fold it in half as shown in the photo.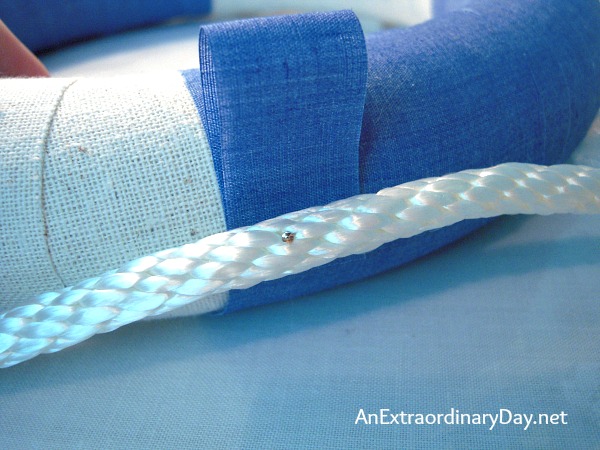 Secure it in place under the rope with a pin.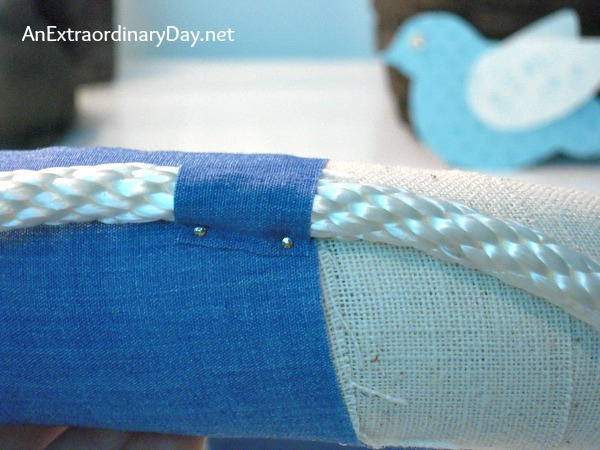 Fold it over the rope tightly and secure with two pins as shown above.  (If your fabric strip is too long, cut it to size.)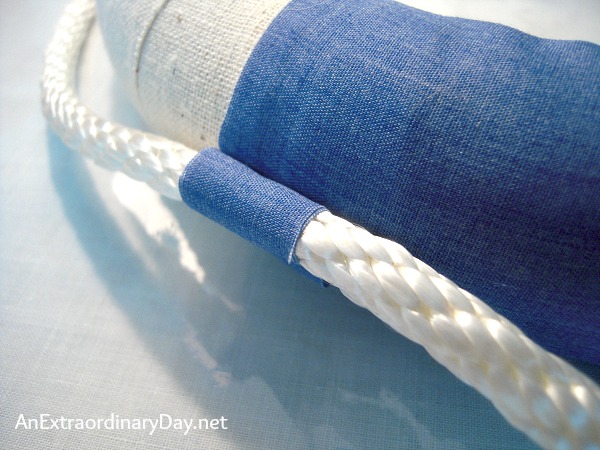 Your rope will be held close to the Life Ring to look like the photo above.
To add a hanger…see step 4 here.
Tip: The pins hold well.  But if you want to make your wreath permanent, dip your pins in a little bit of "Tacky" glue, before pinning.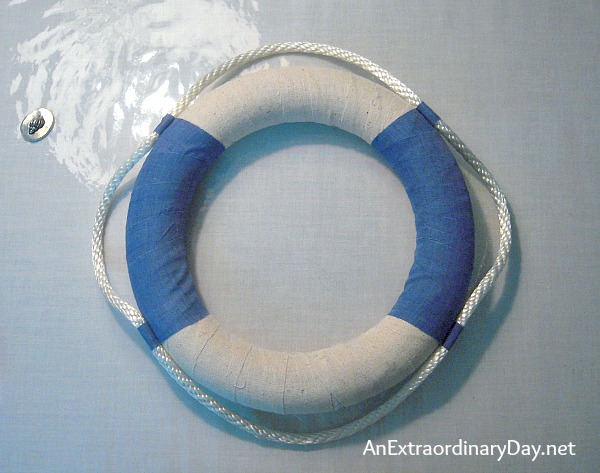 Congratulations!  You just created a Life Ring Wreath!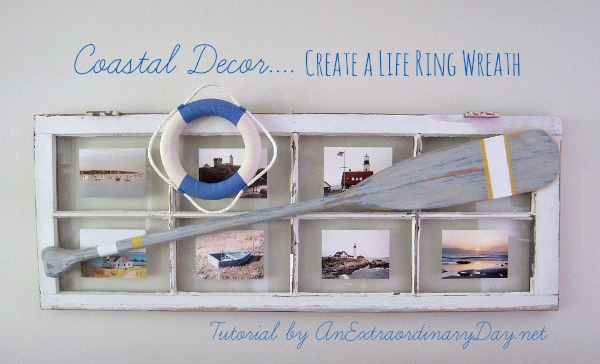 It's amazing what you can do quickly with a simple fabric-covered wreath.
Check out these posts:
I've had a ton of fun decorating this vintage window for holidays and seasons.
Check out these posts:
Do you do any "coastal" decorating?

Do you have a simple wreath that you can makeover for the seasons?
Whatever your style, it's the little extras we do in our homes that make our homes a sanctuary for our spouses and family.  Why be ordinary when you can be extraordinary!!
Wishing you An Extraordinary Day!
Diane
I'd be delighted if you'd share the extraordinary goodness here with your friends
by clicking any of  the sharing buttons at the bottom.
To receive more FREE inspiration like this
in your inbox or reader, subscribe now.