Christmas stockings.
I've been seeing them everywhere. Maybe you have too?
People of all ages are hoping Santa Claus stops by with a few treats.
Although my husband and I still have our childhood Christmas stockings, I thought it would be fun to try my hand at repurposing a cable knit sweater from the thrift store… into….yes…a pair of Christmas stockings!
Karin was my inspiration.  She says her collection is approaching 150 and it seems that she may have made most of them.  Yes, I'm impressed.  And so it seems that I should be able to make at least one, too!
I figured that as long as I was going to do this…I ought to take some photos along the way and put together a sudo tutorial.  One may or may not be necessary.  I see that Karin wrote a brief how-to.  You can check that out if you want.  Of course I didn't read it before attempting my hand at a pair of repurposed Christmas stockings.  I only drooled at the lovely photo here:
This was definitely a trial and error project.
All in all, it went pretty quickly and smoothly.   Just believe you can do it!
If you're short on time or whatever… I found an option on Amazon (affiliate) that you might like…
Sweater to Christmas Stocking in 12 Easy Steps!
First…hit your closet or stop by a thrift store for a large sweater.  I wanted a cable knit and spent $3.99 on mine.  Unfortunately I don't have any old sweaters laying around.  We left them all in Buffalo when we moved.  If you need one…there will be plenty there.
Second…launder your sweater(s) unless they are wool.   If you're like me you probably needed to run a load through anyway.  Kill two birds with one stone.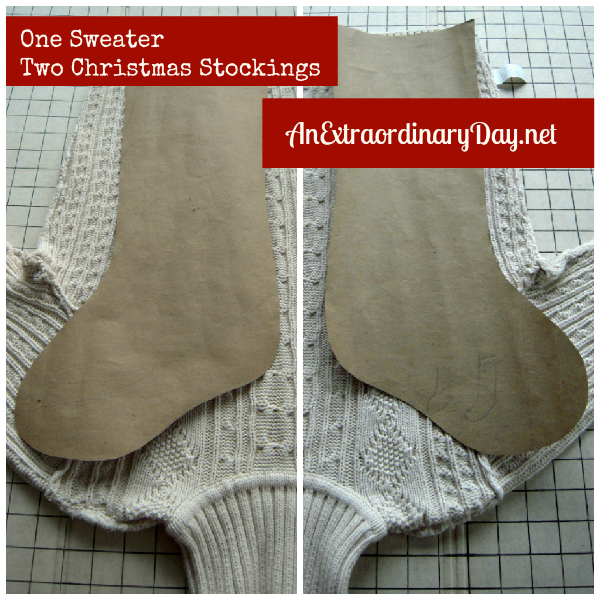 Third…layout your freshly laundered sweater on a cutting board or table inside out and study the sweater.  My goal was to get two stockings from one sweater.  Where can you get a beautiful heavy cotton cable knit stocking for just $2.00?
Fourth…set up the sewing machine.  You might want to make sure you have some extra needles. (affiliate link)  Someone may or may not have broken a needle.  Rookie.
Fifth…it's helpful to have some straight pins and heavy duty scissors, too.
Sixth…make a pattern out of kraft paper or wrapping paper.  That was the tricky part.  Figuring out the shape so that I could maximize my sweater and still have a nicely shaped stocking.
Seven…no more 'th's.'  Lay the pattern on the sweater as you would like it…and pin it down.   The toe of my stocking actually was part of the sleeve and the ribbing became the cuff for my stocking.   Also the back of my sweater had a simple pattern which created additional interest.  I could have cut a stocking just from either the fronts or the backs.  Be creative.
Eight…you have a big choice to make now.  Cut through one layer of sweater or two.  I rolled up my sleeves…flexed my muscles and cut two.
Nine…unpin the pattern from the cut stockings and pin the stockings together without disturbing them.  Make sure the tops match perfectly.  Details!!
Ten…sew up the stockings together.  Be sure to sew in about a half an inch…it seems like a lot…trust me.  You can trim it back when you're finished…carefully.  I used a fairly long stitch…you might want to, too.
Eleven…turn the stocking right side out and smooth and arrange the seam.  At this point, you may also want to trim the edges at the top or cuff area so it looks nicely finished.
Twelve…attach a hanger to the inside of the top.  You may choose to sew on a ribbon loop or use some of the leftover fabric for your loop.
There you have it…
12 Easy Steps for Repurposing a Sweater into a Christmas Stocking!
If you're creative and crafty, don't hesitate to use cardigan style sweaters.  Sew to close up the front before laying out and constructing your stocking.
Keep in mind, there isn't a wrong way to lay out a stocking.
You may want to add a cuff.  I thought that I would be able to fold my cuff over…but I didn't care to have the seam allowance show.  Maybe next time I will cut the ribbed bottom off the sweater and sew it on so the seam allowance will be hidden.  That is if there is a next time.  You know how it goes.  And, it might be fun to add a fur cuff to the stocking if you want to be all fancy.
I'd love to hear all your stocking stories….ideas…and whimsical creative outcomes.

Thank you for stopping by today.
If you enjoyed this post….please pass it on to your friends.

Merry Christmas!
Diane
To receive FREE bits of inspiration like this
in your inbox or reader, subscribe now.
For more Christmas Decor Inspiration…please check out these popular posts:


Growing Paperwhites for the Holidays
How to Make Folded Paperback Book Christmas Trees {A Tutorial}
A Very Merry Christmas House Tour
PLUS…
Creatively Trimming the House with Trees for Christmas