Looking for a simple, low-cost, out-of-the-ordinary way to add pizzazz to your Christmas decor?
And maybe at the last minute too?
Try your hand today at making Folded Paperback Book Christmas Trees.  It's super easy!  My husband says if you can make a paper airplane, you can make these.  In his words, "It's like folding the left wing 200 times!"    He even folded the three trees gracing the top of my vintage china cabinet here.
This post contains affiliate links.
To make it even easier for you, I created the….
Folded Paperback Book Tree Tutorial
First…check out the photo collage.  If you need to know more.  I've spelled out the details below.  There's even a second photo collage to show you how I added the sweet Christmas red tree toppers.
Steps to Make a Paperback Book Christmas Tree
Let's start…
You'll need a paperback book you've read many times, or picked up one or more at the thrift store.
Fold back the pages and break down the spine so it becomes more flexible and opens up the pages of the book.
Tear off the outer cover and a few of the first and end pages.  Note: you don't need more than 200 pages, so feel free to reduce the book by the amount necessary.  A long book could produce 2 trees.
Take the first sheet and fold in tight to the edge of the spine.  Try to keep your point a clean as you can.  Keep doing this for as many pages as your book has.
Start again, this time, fold the first and subsequent pages with the edge close up to the spine again.  You should have a narrow and thicker page that looks sort of like the tip of a man's tie.
Keep on until you have folded all the pages.
You now have a tree!  Wasn't that easy?  And now you have a choice to make.  You can either set your tree on the table, or on a stand, such as a candlestick or votive holder or another fun base.  For the "tree trunk," I used a glass candlestick holder like this (affiliate link) for the many gifts I made.   If you choose to use a stand, you can quit now with the folding if you wish.  I like that look.  However, if you are going to set it on the table, I suggest that you fold the bottom point of the "tie" to create a flat bottom for your tree.  You may choose to tuck this flap inside the previous fold.  If you have a lot of heavier pages, it may not be necessary to tuck in the page.
Stand back and admire your Folded Paperback Book Tree!
To make your Folded Paperback Book Tree a Christmas Tree, you'll want to add a Tree Topper.
Here's a super easy Tree Topper Tutorial.  Again, enjoy the photo collage….an explanation will follow.
Tree Topper Tutorial
To add a Tree Topper…
Assemble these Supplies: (Note: this list contains an affiliate link**.)

You will be making multitudes of these trees, so spring for a whole package of tiny Christmas Balls.  This pack cost me $1 at the dollar store.
A glue gun…this makes the job quick.
A glass candlestick holder like this.
A completed paperback book tree.

Slowly pull the decorative surround and wire hanging hook off from the base of the ornament.  Note: My Christmas Balls were glass….so be very careful if yours are glass too.
Then pull the wire hook from the decorative base.
Place a dab of glue on the neck edge of the Christmas Ball.
Slip the decorative top on the glued ball immediately.
Place a dab of glue on the center of the top of your completed paperback book tree.
Immediately place the completed Christmas Ball, decorative end side down, on the glued tree top.
Stand back and admire your handiwork.
Now wasn't that easy?
Assuming you have a supply of paperback books and a glue gun, you can create at least a dozen Folded Paperback Book Christmas Trees for a dollar!   Yes…some of the best things in life are nearly free.
If you have the time and are crafty, you might want to spray paint your trees, add glitter, make paper ornaments, and add garland, photos, words, or angels.  Have fun with it.  It's great to do with a group and children too!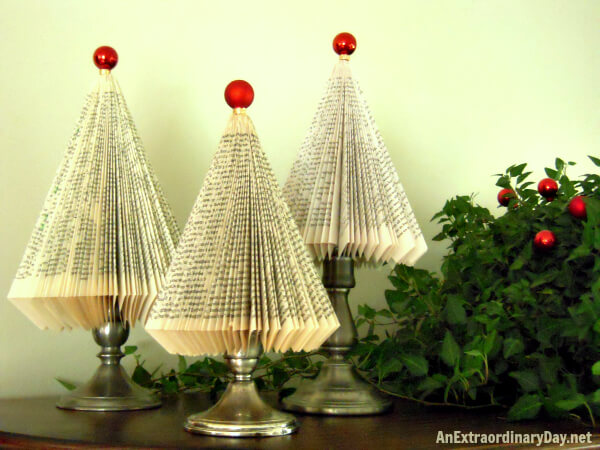 A trio of trees is making a magic moment with my summer ivy plant on top of my china cabinet.  Notice I didn't make the last fold which gives the trees a flat bottom. Since I was setting them up high on a stand I liked this look.  I used a variety of pewter and silver candlesticks for my tree bases.  Be creative. I think the base really makes the tree more festive.
And…since I didn't use all the Christmas Balls for making trees, I added the balls to my ivy for a more Christmasy look.  First I removed the wires and decorative tops from the Christmas Balls.  Then, I stuck kabob skewers in the plant, cut them to the appropriate length with my pruners, and then added a dab of hot glue to the end of the skewers and stuck the Christmas Balls on the skewers.  Voila!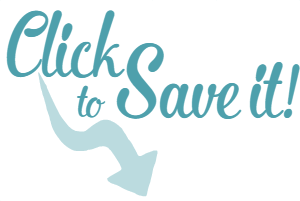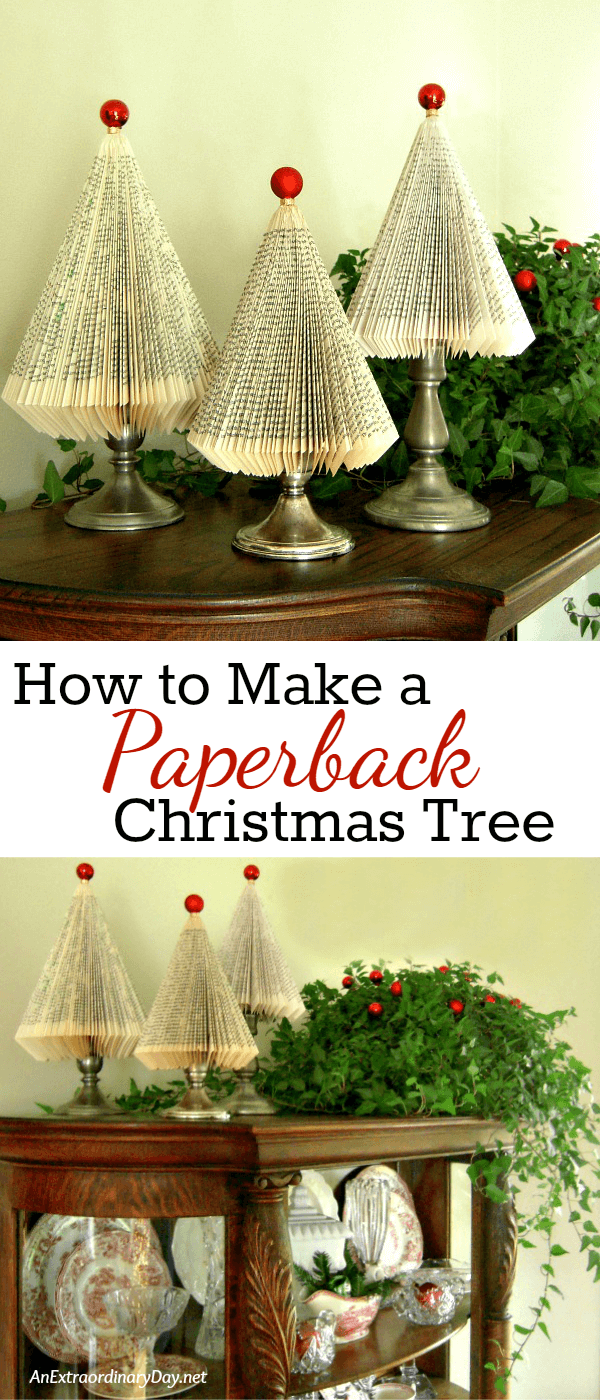 A fun, fabulous, whimsical, easy, and low-cost bit of Christmas decor.  And even a "How-to" guide for producing trees in masses.   I love mine….and I'm pretty sure….you'll love yours too.
So what kinds of things have you done to make your home more festive without costing an arm and a leg?
Thank you for stopping by today.
I appreciate you and your sweet comments make my day.
If you enjoyed this post….please pass it on to your friends.

Wishing you a festive and joyous CHRISTmas!
Diane
To receive FREE bits of inspiration like this
in your inbox or reader, subscribe now.
For More Christmas Decor Inspiration…please check out these recent posts:
A Very Merry Christmas House Tour
Unique Ways to Decorate a Nautical Christmas Tree
Creatively Trimming the House with Trees for Christmas