When I wasn't looking, the lampshade industry made a big change.
You might not have noticed.
I think it happened overnight.
You see, in the past, I would pick up decorator lampshades at some of my favorite decorating stores to replace the Plain Jane lampshades that came with my lamps.  It was so easy.  Pull the lampshade off the bulb and clip on a new shade.  No DIY skills needed.  I loved that I could get pillows and curtains and chair pads to match, too.  Yay for Waverly.
And then things got tight financially and I made do… decorating with what I had in my last house.
And I never noticed this"improvement." Until now.
At first, I was really disappointed.  A hand-wringing kind of disappointment.  Every store I went to only had one choice and it was the new style lampshade… sans magical light bulb clip.
You see, I had just purchased a really nice desk lamp for only $2 at a yard sale and all I needed was a pretty new lampshade to make it work in my new temporary apartment.
And I couldn't find one.
I have no idea why I didn't throw the lampshade away when I got home from garage "sailing."  It certainly was in sad shape.
I'm grateful I didn't. Especially when the lightbulb went off in my head and I realized I could makeover that sad sack of a lampshade.
So I did.
And I transformed it in less than an hour… including taking photos to show you.
Fortunately, I had all the supplies on hand and got right to work on my bright idea.
Here's a simple tutorial so you can do the same.
How to Makeover that Tired Old Lampshade
Supplies
(includes affiliate links)
Disgusting old lampshade
Decorator fabric (I prefer this heavier weight decorator fabric [Waverly from Walmart] as it is easy to handle and covers well.)
Pencil
Newspaper or wrapping paper
Scissors
Straight pins
Aleene's Quick Dry Tacky Glue
Clips – mine were small snack bag clips
1/2″ Twill tape (A friend gave me the tape which came on some kitchen towels she purchased.)
Instructions
Gently pull the fabric from the sides of the lamp until all that remains is the top and bottom trim.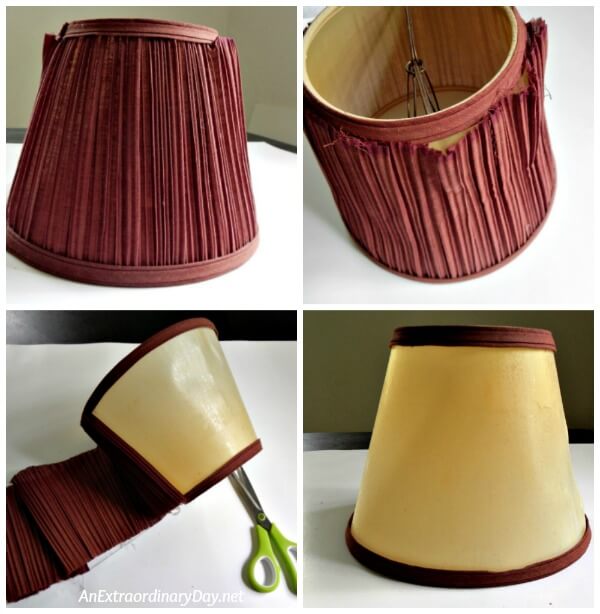 Take a sheet of newspaper or wrapping paper… place your lampshade down on its side… on the paper… and using the top and bottom edges as a guide… trace a line with your pencil as you roll the lampshade.   Be sure to allow a little extra overlap for making a nice folded seam.
Cut along the tracings. Double check to make sure that you have allowed extra fabric for the vertical overlap (seam).
Lay the cut newspaper pattern on your fabric, pin it down, and cut the fabric following the edge of the newspaper.
Squeeze a small bead of Quick Dry Tacky Glue
underneath the edge of the lampshade's "old" top trim.
Carefully slip the top edge of your fabric under the top trim… continuing around the lampshade… pressing down well with your fingers.
When you get to the point where the sides overlap… use some clips to keep the fabric in place.
Then gently fold under the top edge of the fabric to create a lovely and clean finished side.
Run a thin line of glue along the edge and press in place.
Keep the clips in place until it seems mostly dry.
Run another bead of glue along the bottom edge of the lampshade.
Starting with the "seam," carefully turn over the extra fabric at the bottom of the lampshade to create a clean polished look and press down to glue in place.
Because you'll want to give your lampshade a lovely finish….
Run a bead of glue over the unfinished edge that you just turned over to cover the bottom of the lampshade.
And then carefully apply the twill to cover the unfinished bottom edge, making sure to keep a tiny bit of the lampshade fabric exposed at the bottom.
Once that is finished, run a thin bead of glue on the top and bottom of the top trim and be careful to keep the tape even as you go around the shade to glue in place.  Give the tape a little overlap for the finished edge.
And that's it!!
A beautiful "new" lampshade that no one will suspect as being a trash to treasure project.
Now if someone could only explain to me why it seems that clip-on lampshades are now a thing of the past.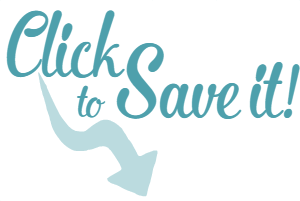 Be sure to save this image to your Pinterest boards for future reference and inspiration.
So tell me… do you have a lampshade just waiting for a pretty makeover?
This little DIY makeover was much less expensive than purchasing a new lampshade.  In the end, it was a big win for me and my thin bank account. I guess you could say it was an unexpected blessing.  Kind of like my lamp and shade that was half-price at the garage sale.
If you've got a Plain Jane lampshade you'd like to dress up…
check out this post for another quick and easy idea!
How to Give a Lampshade a Quick and Easy Makeover
Speaking of makeovers… Check out my latest room makeover
and learn how I chose this fun geometric pendant light.
Make a Small Space Live Big with these Easy Decorating Tips
Thanks for stopping by today… I can't wait to hear your lovely thoughts!

Receive FREE inspiration like this in your inbox!
Sign up Now.