How would you like to breathe new life into your home decor?  A quick and easy lampshade makeover can brighten your room, infuse it with color, or update your look.  Sometimes, it really is just that easy to freshen up a room.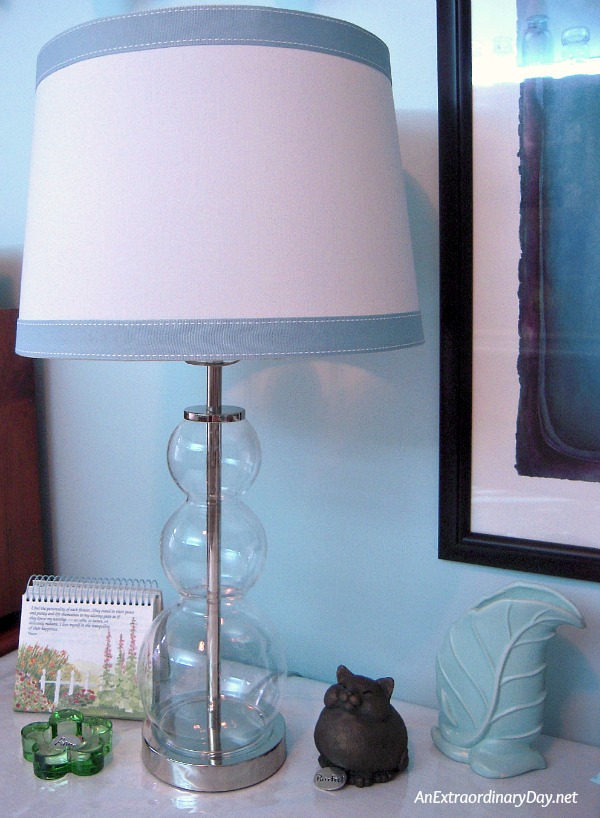 Don't you love it when you come across a deal that's perfect for a project on your to-do list?
One day I went to Lowe's on a mission. Of course, as long as I was there I just had to stroll down the lighting aisles. Even if I don't have a need, I just love to see, what's new in lighting.  That particular day, I noticed boxes of white lampshades in the aisle.  But, what really drew my eye was the sign… $3.00!!  I was beyond excited!  Upon closer inspection, the shades were trimmed with Christmas fabric.  Along the top and bottom edges. I wish I had a photo for you, but since I didn't think to take a before shot, you'll have to use your wonderful imagination.
I'm guessing that there aren't a lot of people who have the space to store Christmas lampshades, no matter how cute they are.  Hence… the fabulous sale!
For some time, I had been admiring a lamp base at the nearby Walmart.  I needed something for my crafting table that looked great and would give me extra light for those detailed projects.  But, I wasn't exactly smitten with the shades available there.
After purchasing a Christmas lampshade at Lowe's I walked next door with my fabulous find to Walmart to see how it would fit.  I might or might not have been seen doing a happy dance in the aisle there.  It was perfect.
Back home, I needed to figure out what I was going to do to replace the Christmas fabric edges.  When I was at Lowe's I discovered that the lamp shade trim would come off fairly easily.  I just needed to see what I had in my stash that would work.
My stash contained some beautiful grosgrain ribbon I had purchased from Stampin' Up.  It's a gorgeous shade of pale near aqua blue… nearly a perfect match to the newly painted walls in my studio.
I'm sorry the following tutorial does not include a 'before' photo.  But, fortunately, it does include photographs of the process. This was a project I did in the months preceding my blogging career. I recently discovered the photos and because it just might be the inspiration you need to look at lamps and lampshades in a new light (intended pun!), I brought it out for you.
How to Give a Lampshade a Quick and Easy Makeover
Supplies:
Plain lampshade, ribbon, large paper clip, scissors, double stick tape.
Tutorial:
Let's start with a plain lampshade.
If your lamp shade has existing embellishment, carefully pull it off so you have a clean slate upon which to work your magic.
Prepare your ribbon, but using a large paperclip to hold the ribbon while you wind it around the lampshade.  Trim leaving an extra inch for the finishing fold.
Cut small strips of double sided tape and add them around the edge of the lampshade as shown.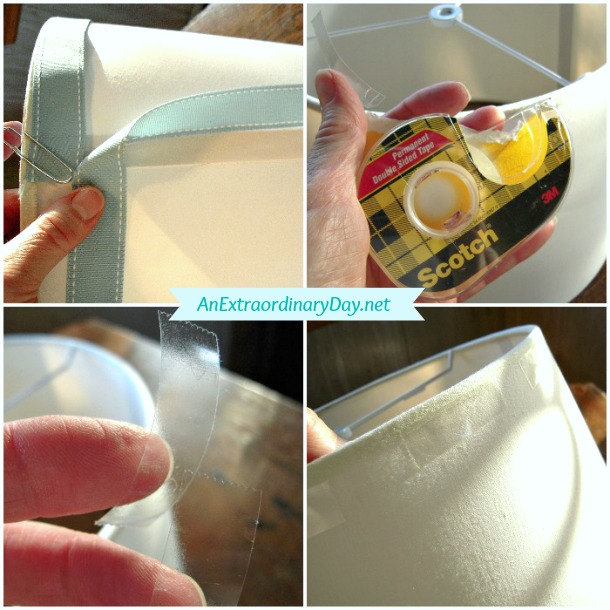 To start adhering the ribbon to the lampshade, you will want to bump the ribbon edge up to the lampshade fold as shown.
When you have completely covered the lampshade, trim to allow about 1/3 of an inch extra for the fold over.
Place a strip of tape at the fold over edge as shown.
And then fold over the edge, giving the ribbon a hard crease.
Add a small piece of double stick tape to the folded edge of the ribbon and press down on the lampshade for the final finish.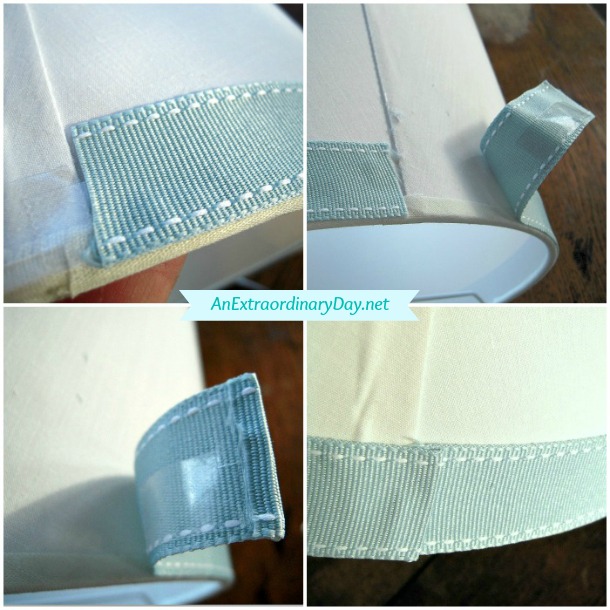 If you choose to trim the upper portion of the shade in the same manner, repeat the process.
Tada! A quick and easy makeover you can do!
Take a look around your house.  Consider adding a pretty ribbon trim to dress up a lamp and give your room a little pizzazz!
It's quick and economical, too!
 Please "Pin" and Share this image!
Do you have a lampshade that would benefit from a little makeover?

Receive FREE inspiration like this in your inbox!  Sign up Now.