Would you like to give your Christmas tree a nautical look?
Since purchased coastal ornaments can be expensive, I made my own driftwood sailboat Christmas ornaments, and you can too, it's really quite easy.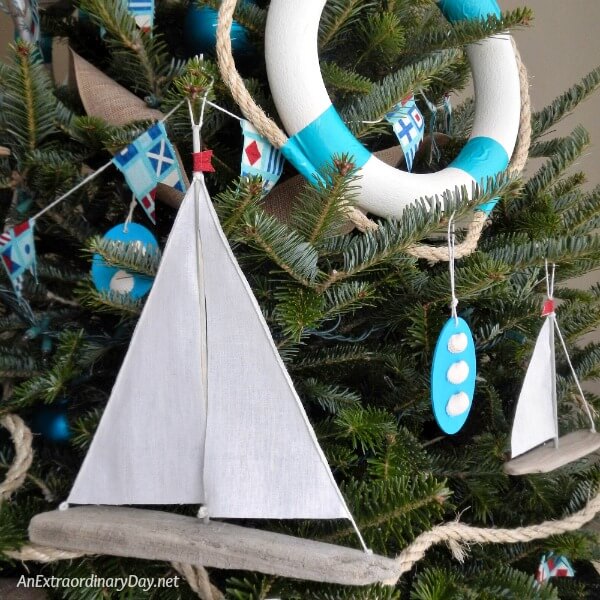 But, first I want to say, "Welcome!" Today is Day 4 of the second year of 31 Days of Handmade Christmas Ornaments blog hop which features 30 extraordinary bloggers, plus me.  Each day you can expect to be inspired with all kinds of lovely Christmas ornaments.
Last year I returned to living on the Lake Michigan coastline after being away for many years. While all our worldly goods were in storage, we rented a small furnished beach house apartment while we figured out our next steps. As Christmas approached I decided to decorate a fresh Christmas tree with nautical ornaments.
Read: Unique Ways to Decorate a Nautical Christmas Tree
The main ornaments were driftwood sailboats in various sizes.  They were fun to make and each of them had their own unique character.
Driftwood Sailboat Christmas Ornament Tutorial
Supplies
includes affiliate links
Let's make a sailboat…
To begin you'll want to choose a piece of driftwood for the hull of your sailboat.
Next, with an awl, press down hard and twist until you create a hole that will fit a skewer which will serve as a mast. Be careful to set your hole so that it will be straight up.  Nobody wants a leaning sail.
Set aside, and dry brush some gray paint on your skewer so that its looks are in keeping with the tone of your piece of driftwood.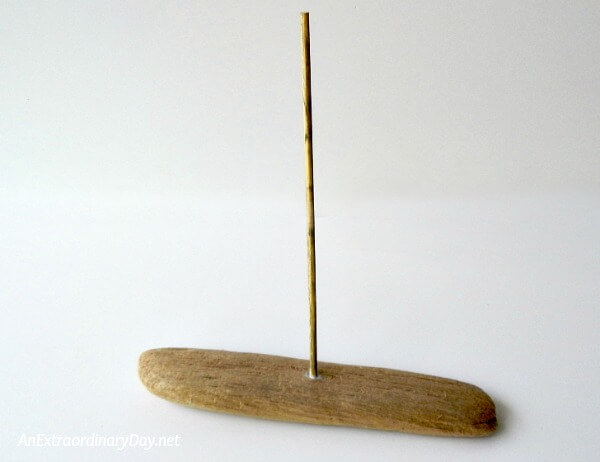 Once dry, place a drop of Tacky glue in the hole and firmly attach your mast.  Let it dry for a few minutes.
Now it's time to make the sail (or sails).  But first, using common string, we will add the backstay and forestay to our mast.
Cut a piece of string and tie it around the top of the mast, leaving room at the top for a small flag, using Tacky glue to glue it in place.
Then, one side at a time, draw the string down towards the front and back of the driftwood hull and tie a simple knot at the end of the string.  This is a little bit tricky and takes a little trial and error to get the knot placed at the right spot, so that the knot meets the hull.
Once you've done that for both sides, use your cool glue gun to attach the knots to the boat and allow to dry.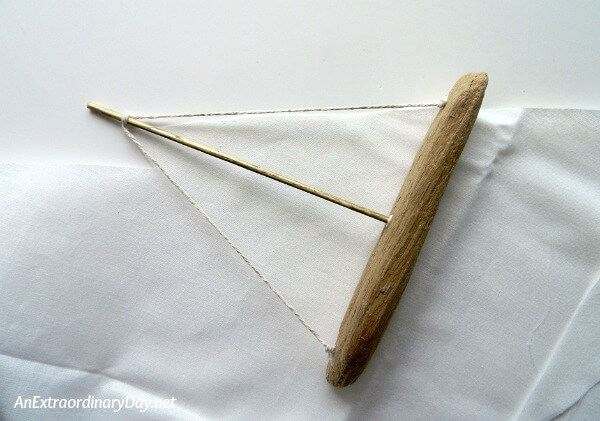 Making sails is not an exact science.  And don't worry if your sail isn't perfect.
Lay your sailboat on your fabric and using it as a guide cut a piece of fabric for the sail.
Run a thin bead of glue down the mast and attach the sail.
If you didn't cut your sail quite small enough… like me… trim it down with your scissors before you glue the other side of the sail to the backstay/string.  And then again, using a thin bead of glue, attach the sail to the string.
Attach a flag to the top of your driftwood sailboat mast.
I had some fabric I used to make my garland that is a nod to nautical flags and worked great.  I folded a piece in half, trimmed it, applied glue to the mast and attached my flag.
If you want, you can do the same with some Washi tape.
That's it!  
Now it's time to sail your boat!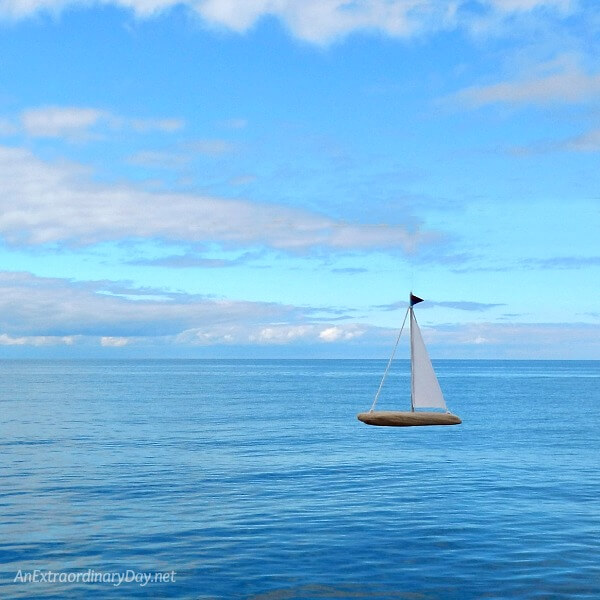 Okay… I didn't really sail my boat.  But, I did bring it down to Lake Michigan and did a photo shoot with it and pretended to sail it.  And yes, people commented, nicely.
Isn't the water the most beautiful shade of blue?  On the other side of the pier, it was steely gray and on this side a glorious blue.  Gotta love it!
But… this ornament was not designed for sailing… it was designed to be hung on my Christmas tree.  And maybe yours too!
READ: More Coastal Christmas Ideas   OR  More Coastal Decorating Ideas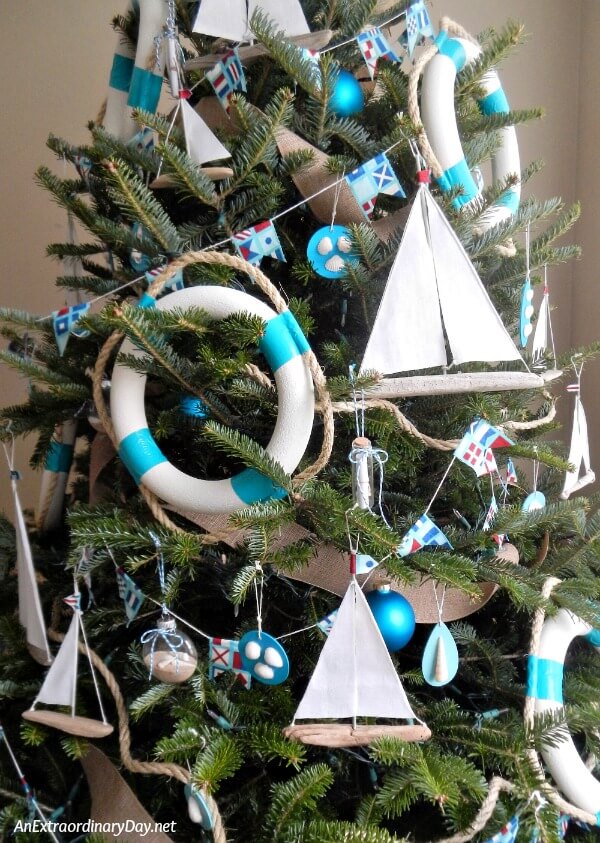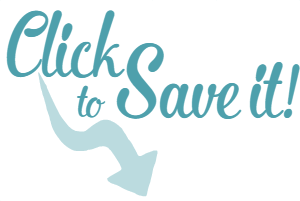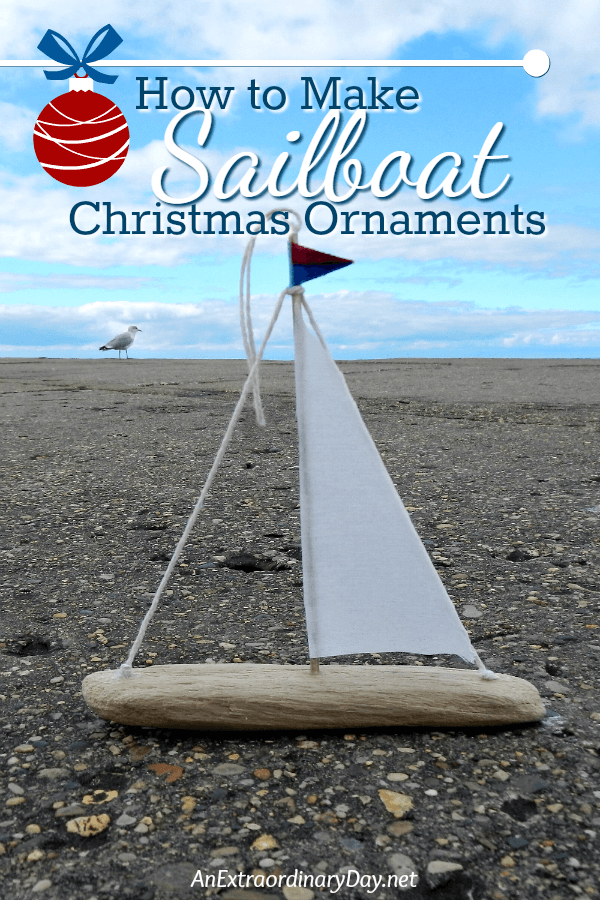 Before I send you off to visit all the other participating bloggers, I want to express my appreciation to Mary Beth of Cupcakes and Crinoline, Malia of Yesterday on Tuesday, and Steph of The Silly Pearl.  Thank you, ladies, for all your help and encouragement in hosting this amazing blog hop.  I couldn't do it without you!
Here are all 31 Bloggers in order of their appearance:
Day 1 – The Silly Pearl :: Day 2 –Yesterday on Tuesday
Day 3 – Cupcakes and Crinoline :: Day 4 – An Extraordinary Day (you are here)
Day 5 – Knick of Time :: Day 6 – Pet Scribbles :: Day 7 – Simply Kelly Designs
Day 8 – Town and Country Living :: Day 9 – Petticoat JUNKtion
Day 10 – The Everyday Home :: Day 11 – Up on Tippy Toes
Day 12 – Remodelando la Casa :: Day 13 – DIY 180 :: Day 14 – 504 Main
Day 15 – Sum of their Stories :: Day 16 – At Home with Jemma
Day 17 – The Kim Six Fix :: Day 18 – Shabby Art Boutique
Day 19 – Morena's Corner  :: Day 20 – My Uncommon Slice of Suburbia
Day 21 – Our Southern Home :: Day 22 – Domestically Speaking
Day 23 – The Crafting Nook :: Day 24 – Sweet Pea
Day 25 – Dukes and Duchesses :: Day 26 – Heathered Nest
Day 27 – Lovely Etc.  Day 28 – Stone Gable Blog :: Day 29 – Mod Podge Rocks
Day 30 – Running with a Glue Gun :: Day 31 – All Things Heart and Home
Follow the Handmade Christmas Ornaments Pinterest page,
Follow Diane :: An Extraordinary Day!'s board Handmade Christmas Ornaments on Pinterest.

Receive 
FREE inspiration like this in your inbox!
Sign up Now. 
And here are direct links to each ornament post.  A new one will be added daily. Be sure to come back each day so you don't miss any inspiration!