What's your Christmas decorating style?  I'm having so much fun trimming my home in coastal style that I decided to share with your some unique ways to decorate a nautical Christmas tree.
Before we talk about the decorations… let's talk about the tree.  Don't you LOVE the aroma of a fresh evergreen tree at Christmas time? It makes the house smell so fresh and festive.  It's an aroma you just want to capture and bottle.  The candle manufacturers try really hard to create a wonderful balsam fragrance… but it just doesn't compare. How do I know? Because I was asked if I would like to receive a Balsam Fir from Green Valley Christmas Trees in exchange for a review on my blog and have been enjoying the amazing fragrance of a fresh-cut tree in my home.
This is the first Balsam Fir we've ever had.  I've had Fraser Fir, Colorado Blue Spruce, Black Spruce, and Scotch Pine, but this is the greenest, softest-needled tree I've ever had for a Christmas tree.  And did I say it smells wonderful?
More recently we have had artificial trees in our home.  Usually the skinny ones.  The Balsam Fir is a full lush tree.  It took me a little while to get used to the fullness.  But my husband was crazy about it.  He thought it was perfect.  Isn't it funny how we get stuck in our little decorating ruts? I like to think I'm a flexible decorator.  Hmmm….
With all my Christmas decorations in storage two states away…. I had to purchase or create whatever would grace my tree.  It took a little time, but I am really pleased with the way my nautical Christmas tree came together.
My plan was to photograph the tree in stages as I added the decorations… to make it a little more fun for you. But, frankly, we have had the darkest gray days almost continually.  It made photography a real challenge.  Hopefully you can still see the progression.
Our tree arrived in a rather tall skinny box via the Fed Ex man. It's so fresh it's shipped within two days of being cut.  I love that we didn't have to tromp around a tree farm to make our selection.  But, even more, that the tree came directly to our doorstep.  I love seeing Christmas trees on cars and trucks, but I don't like the hassle.  One of the things we aren't so crazy about when it comes to fresh trees is getting them to fit in their tree stands. If luck is involved… our luck always ran out at this point.  Not this year!! This was the easiest tree to get in the stand… ever!  A little slice off the bottom of the trunk and into the stand.  No branch trimming necessary and the lower branches still came down nice and low for a beautiful look.  My husband was thrilled and the lack of stress made my day too!
Lighting the tree has always been important to me.  I like lots of lights and the general idea is to use 100 mini lights per foot of tree height. It's important to me to have the lights evenly dispersed among the inner branches as well as the outer branches and tips.  I know all the rules and have added plenty of my own so that I can decorate my trees to perfection.  I was dreading adding lights to the tree as it usually takes me forever.  I've been known to take 6 hours wrapping lights on a 7 foot skinny tree.  This year, I was done in an hour and it looked fantastic.  All the wrapping techniques I've used in the past… I skipped… and it looks great.  The difference is either having a fresh tree or finally deciding to push past the need for perfectionism.  You decide if it's one or both. Regardless… it looks great and everyone was happy.
As I was decorating our coastal corner, I married a very fun Seas & Greetings art print with a plain frame to which I gave a nautical look. There was plenty of rope from the project left over and it came to me that the rope might make a great garland for the Christmas tree.  It was perfect!  The package contained 50 feet of rope for a little more than five dollars.  Yay!  Earlier I had purchased some burlap-looking ribbon. It was a wired ribbon, but the wire wasn't a bit helpful. The faux burlap ribbon was difficult to work with, but it does add the right color and texture to the tree and the two 50 foot rolls were just six dollars total.
Before I happened on the rope, I had planned to use the faux burlap as a garland along with a handmade garland.  This pennant garland didn't require a quarter year of fabric. But, finding the right fabric was the challenge. I wanted it to have the look of the flags you might see on sailboats. Since I was only going for the look and not trying to duplicate the actual flags, the fabric I chose was a good choice.  Plus, the colors were perfect.  With the addition of cotton string at a dollar a roll the nautical flag garland came in at about four dollars.
Tip: Once the garland is on the tree add your tree topper.
Placing a tree topper on the tree when it's fully decorated can not only be a challenge, but the process can be the undoing of some careful ornament positioning.  You can put your topper up after lighting your tree, but usually after the garland is up works best.
Figuring out what to do with the top of the tree was a challenge.  I actually spent a little time on Pinterest to see how others were topping their coastal or nautical Christmas trees.  Most did not have tree toppers.  So… I decided to put my creative hat on and drive over to the Hob Lob. I had a couple of other things to pick up, so I meandered through the aisles hoping something would jump out at me.  Haha!  That never happened.  But when I was looking at wood letters for a different project I spied an anchor.  It was cute… but may be too cute and I would need to add a backer and well it was getting complicated.  I knew there were papermache letters in a different location, so I decided to see if they had papermache anchors.  Happy Day!  I found this one for $5.99 and with my coupon well… I think it just might be the cheapest tree topper I have ever had. When I got home I grabbed some of the rope and voila! Perfection!  All I did was throw on a little paint and my anchor was ready to grace the tree.
The anchor has spiritual significance too.  Though it doesn't seem very Christmasy, if you look at it the center of the anchor there is a cross, and without Christmas… there would be no cross.  This verse is a great one to hang on to… to help anchor us… through tough times:
We have run to God for safety.
Now his promises should greatly encourage us to take hold of the hope that is
right in front of us.This hope is like a firm and steady anchor for our souls.
In fact, hope reaches behind the curtain and into the most holy place.
Jesus has gone there ahead of us… Hebrews 6:18b-20a
One day we had a little extra time before an appointment and stopped in at a little thrift shop.  They had a fun Christmas corner where I poked around.  There I found the large glass turquoise satin Christmas balls.  There were two packs at fifty cents each.  I wasn't quite sure… but at a dollar I decided to go for it.  Oh my goodness!  They are perfect.  They reflect the light and give the tree that perfect punch of color. Because these are larger ornaments, I tucked them further in the branches to give the tree a little more depth of color and so they didn't compete with the smaller ornaments.  Typically I will decorate the inside of the tree as much as the outside.  I didn't follow that same route this time.
This tree has three sizes of ornaments… small, medium, and large.  And because I wanted to make a big impact I focused on the large.
Since every beach I go to has life rings hanging at the ready, I decided to create some for the tree.  A few years ago I made one using fabric for my nautical window.  This time I used paint and rope and duct tape to decorate wreath forms I picked up at the dollar store.  This is definitely a way to give the tree a dramatic look for a small investment.
I started walking the beach to restore my spirit and my health this fall.  Since there are few people out after school starts and the temperatures drop, I was able to find small pieces of driftwood after some days of heavy wind and waves.  These pieces were dried and made into sailboats of all sizes.  A little string, some two dollar muslin fabric, skewers, and glue were added to the driftwood to create these charming boats.  They did take a big chuck of time… but at very little cost.  They were so worth every bit of effort.  I think they made the tree.
READ: How to Make Easy Sailboat Christmas Ornaments
Early in the month I put together a little coastal tree for our sitting corner.
READ: My Simple to Make Coastal Christmas Decor :: Home for the Holidays
You might remember seeing some glass ornaments filled with beach sand and shells on that tree.  I have 6 on that tree and six on this tree along with some message in the bottle ornaments I also created for both trees.
On a trip to Hobby Lobby I discovered some inexpensive wood cutouts.  I painted and glued shells to them and they gave a little color pop and coastal nod to my tree.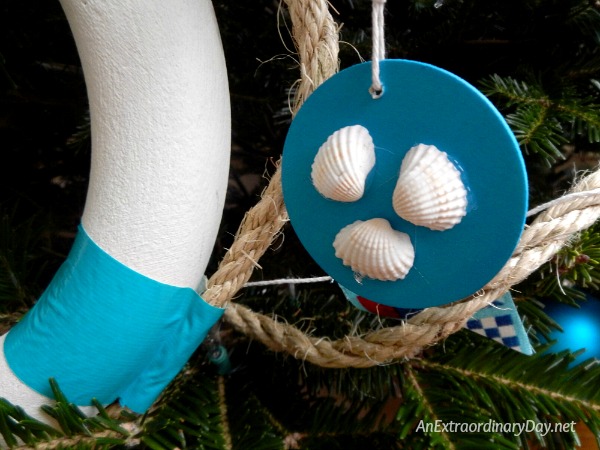 Finally, I purchased a few yards of burlap to create a tree skirt of sorts.  I chose burlap because it gave a nod to look of the tree standing in sand and because it is very inexpensive.  The Balsam Fir arrived with a disposal bag which we placed under the tree stand.  It's large and full and bunched up around the tree stand and hiding out behind the burlap gives the "tree skirt" a nice full look.
Trying to decide how to decorate the tree with a super small budget was a challenge.  I'm sure I could have gone to the store and picked up a big package of plastic ornaments and it would have been fine.  But, coming up with a theme and figuring out what I could create to complete the idea of the theme was a lot of fun and so very satisfying.  Had I not been contacted by the lovely Rachel at Green Valley Christmas Trees it would never have happened.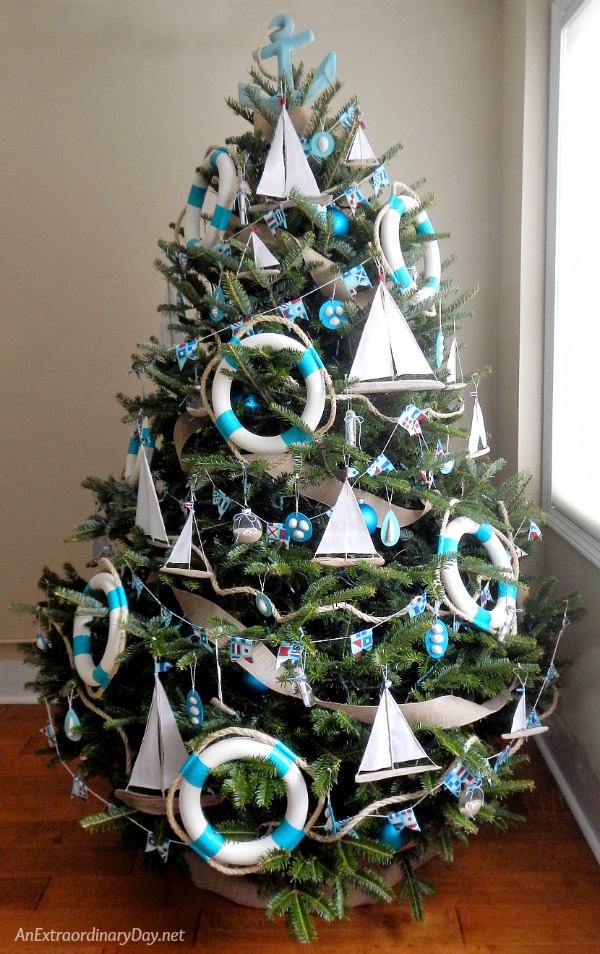 As I've been describing the decor for the tree, I keep referencing how I was able to do all this on a shoestring budget.  This lush Balsam Fir delivered directly to your door all ready for setup is not inexpensive.  However, the people at Green Valley Christmas Trees did have a sale in early December, and from my perspective, the savings in time in locating a tree, the freshness of the tree, and not having to unpack a tree and fluff it out would make the extra cost totally worthwhile.  Plan to put it into your Christmas budget.  Or give one as a gift.  It would make an especially terrific gift for busy parents with small children who want to have a fresh tree but the getting it seems overwhelming.
What's your favorite part of my nautical Christmas tree?
I think I like the sailboats best.
Thanks to Green Valley Christmas Trees for providing me with a beautiful tree.  All creative ideas and opinions are mine.
Thanks for stopping by today… I can't wait to hear your lovely thoughts!

Receive FREE inspiration like this in your inbox!
Sign up Now. 
This Creative Christmas Link Party is hosted by Janet of
Shabbyfufu
and the bloggers of Blogging 50.
Please visit all of the talented bloggers below!