I've been having so much fun creating a coastal Christmas for my home this year.  Thanks to a little gift of posies from my friends at FTD, I will show you how to make your Christmas tree elegant with fresh flowers.  It's a fun twist on my handcrafted coastal Christmas corner tree.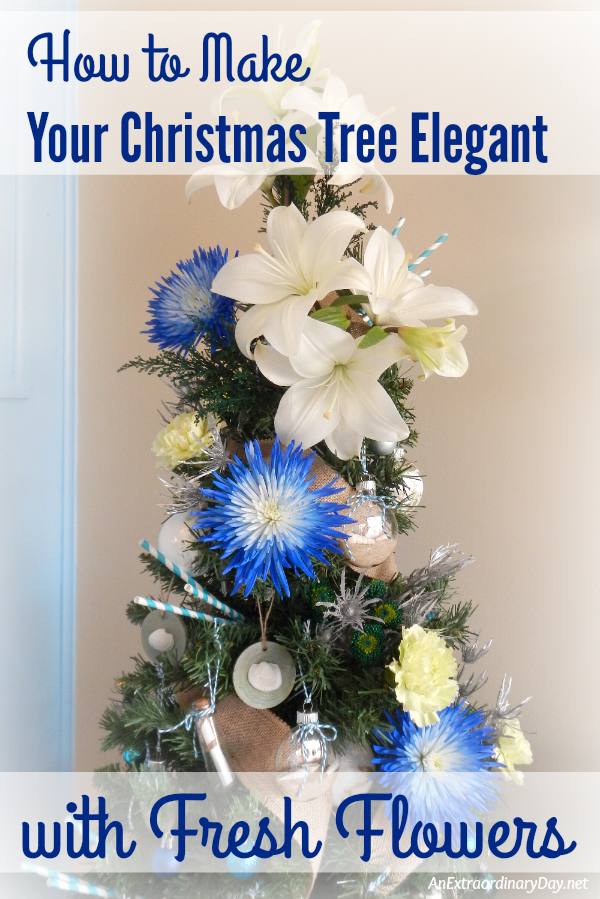 We spend a ton of time in this little corner, so I decided to let my creativity run wild with coastal-style ideas.
It all started with making the wall-hanging, over the sofa, festive for the holidays with hanging mason jars and miniature Christmas trees and baubles. A short time later I joined in the Home for the Holidays blog tour and created a pretty coastal poinsettia pillow… with a super detailed tutorial.  Then I found Lucy's watercolor holiday print which is just perfect for my coastal decor and created a fun frame and, of course, a tutorial. So, today, I give you a quick look at my cast-off coastal Christmas tree, totally dressed up in holiday style. Plus a few tips.
Tip : Think outside the tree stand/skirt box. 
For several years the urn has been a popular look, and a rather nice one, for many styles of Christmas home decor.  However, one size/style does NOT fit all.  Sometimes we just need to look around our home and see what can be adapted.  I tested out this wire wastebasket and deemed it the perfect size.  I just needed something to hide the fancy urn tree base.  Burlap is very inexpensive.  Less than a yard was required to fill the wastebasket and hide the urn.  Simply lay it in, fold the corner points over the wire basket and insert tree.  Voila! A casual feel. The burlap gives the impression of sand.  So coastal and I love it!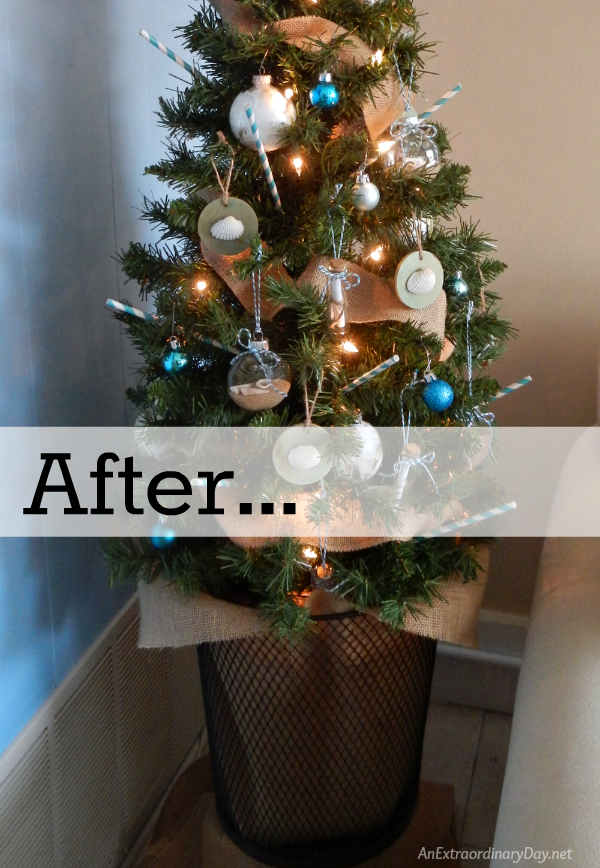 My funds are limited and my huge stash of Christmas decor is still stored two states away, so I needed to be creative in decorating my Christmas tree.
You might remember the marbleized ornaments I created for the 31 Days of Handmade Christmas Ornaments.  They add an elegant touch to the tree and a nod to the sparkling foam of crashing waves.
After a stop at Hobby Lobby, I came home with some clear glass flat ornaments at 50% off to fill with beach sand and shells.  I picked up a big bag of shells at Walmart for $4.84  Another find at the Hob Lob was the little bottle with corks.  I used my 40% coupon for those and they became my message in a bottle.
I love the dollar spot at Target.  There I picked up two rolls of burlap ribbon which I used for the garland at $1 each.  I then picked up wood tags another $1.  The coastal colored Christmas balls were also a find a there at $3 for the box.  The straws which create some fun interest I picked up at the dollar spot along with the turquoise and white bakers' twine last summer.
For less than $15 I decorated the tree and still had plenty of leftovers to use on the big Christmas tree.
My tree was looking pretty nice.  And then I received an email from FTD asking if I'd like to dress up my tree with fresh flowers.  Well of course I said yes!  I could pick out a bouquet from their current holiday selection.  There were several that I loved, but I chose something quite unusual that I thought would work well for my coastal Christmas tree.
I love picking up flowers at the store… but getting them delivered!  That's the best!  
They do a great job of packing them.  And in such an elegant way, too.
The bouquet I selected contained gorgeous white lilies and blue chrysanthemums.  Since they arrived pretty much in bud, I needed to wait several days until they were open.  If you would like to use fresh flowers in your Christmas tree for a party or event, plan to order them in advance so that they have time to open up fully.  I followed the directions on the box for trimming, adding plant food, and filling my pretty new vase with water and waited. Oh the anticipation!
TIP: Order floral water tubes so your flowers will stay fresh on your Christmas tree for several days. 
Here's my Amazon affiliate link for the flower water tubes
.  However, I purchased mine from the local florist where I explained what I was doing and they packaged them up so prettily with a bow.  Whatever route you take, they are very inexpensive and could have many other uses if you're a bit crafty.
Here's what my flowers looked like trimmed to size and inserted in the filled floral water tubes.
Be sure to trim your stem so that it will go all the way to the bottom of the water tube… like the example on the right.  The example on the left will leave you with wilted flowers a little sooner.  Oops!
TIP: Use evergreen ties to attach the fresh flowers in floral tubes to the Christmas tree branches.
At first I was going to grab my trusty paddle wire to attach the floral tubes to the tree branches… but I had a light bulb idea.  I had some leftover evergreen ties
 (Amazon affiliate link) that I used to make my mason jar Christmas ornaments and thought to give them a try.  They are perfect and so easy to work with and give the water tubes a little extra support too.
And here the flowers… tied on!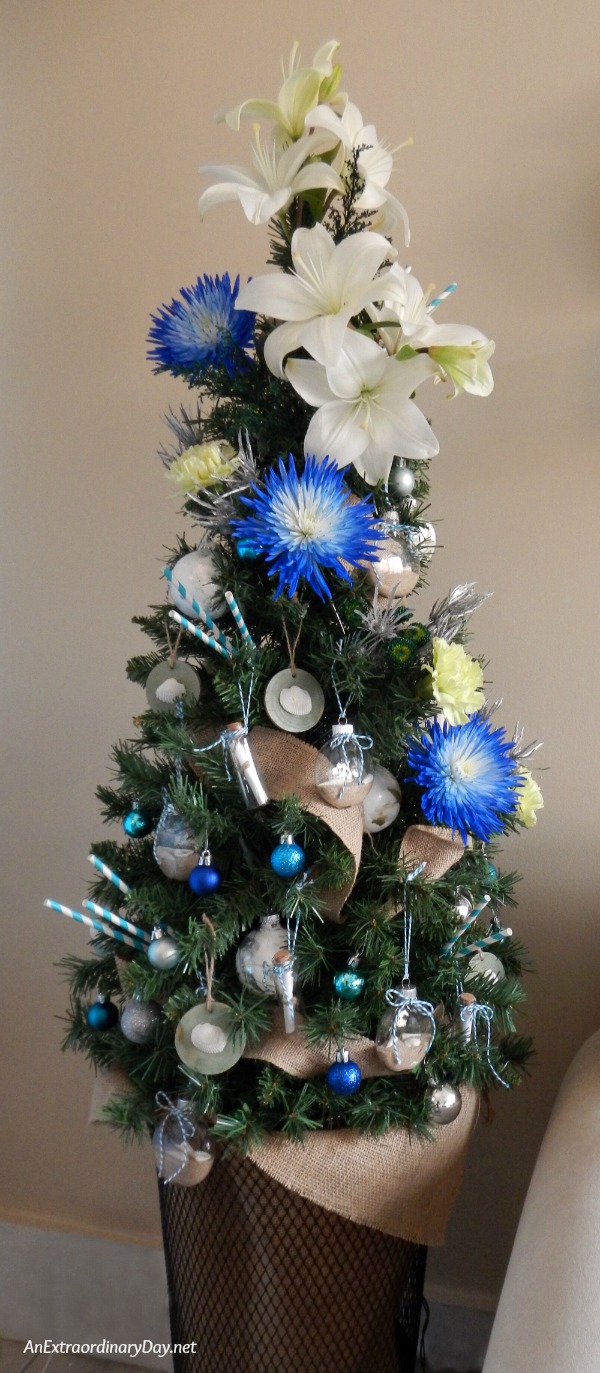 Have you ever thought to decorate your Christmas tree with fresh flowers?
I hope my tips will help you consider making your Christmas tree elegant with fresh flowers.
It's really not difficult and believe me… you will get tons of compliments.
I enjoyed putting together this coastal styled tree with fresh flowers.  But, I'm already thinking of possibilities for next year.  In fact, I think I'll pick out a bouquet of flowers, or two, and design my tree around the flowers.  That would be spectacular.
I received this lovely bouquet of flowers from FTD.  All the thoughts and ideas in this post… only I could dream up. 😉
Thanks for stopping by today… I can't wait to hear your lovely thoughts!

Receive FREE inspiration like this in your inbox!
Sign up Now.