Looking for a way to give your tree a little sparkle this year?
Try your hand at making these super quick and easy classy marbleized metallic Christmas ornaments.
As you know… I'm all about adding a personal touch to my home decor.  In my book, handmade always trumps store bought.  So it was just a natural thing for me to invite my blogging friends to join me for 31 days of sharing handmade Christmas ornaments.
I'm number 5 on the 31 Days of Handmade Christmas Ornament Blog Hop which runs October 1-31, 2015.
I hope you've been inspired by the talents of my good blogging friends… Malia, Stephanie, Mary Beth, and Jennifer. Each of these ladies is special to me and I'm thrilled they gave our blog hop an extraordinary jump start!
Before I share my handmade Christmas ornament I want to express my appreciation to Mary Beth – Cupcakes and Crinoline, Malia – Yesterday on Tuesday, and Steph – The Silly Pearl.  Choosing to put together a blog hop is no small task and I am indebted to these lovely friends for their wonderful help and encouragement.  Ladies… you are the best!  Thank you!
When you think of handmade Christmas ornaments,
do you immediately think, "I can't do that!"
Well… I'm here to tell you, "Yes, you can!!!" 
Please don't say you aren't crafty or clever or whatever.
Instead say… "I'll try."
And when you do… I think you just might be pleasantly surprised with the results.
No idea is totally original.  I was inspired by my friend Carolyn and her pretty marbled mugs.
I think you're going to love making and decorating with these….
Classy Marbleized Metallic Christmas Ornaments
To make your own classy marbleized metallic Christmas ornaments you will need to the following:
Supplies
Glass Christmas Ornaments (metallic, plain frosted, or pearlized white)
Nail Polish – inexpensive and not quick drying.  (I used these 3 colors white, gold sparkle, gold)
Disposable bowl
Nail polish remover
Long Dowel or kabob sticks hung between two objects for drying rack
Warm water
Paper towels
Steps
Cover your work surface with paper toweling.
Fill your bowl with warm water.  Note: cool water will set up the polish quicker.
Shake your polish well and then drizzle it holding the bottle just above the water.  You can choose any pattern you wish.  It will take on its own life… just go with the flow.  (Be careful to not drop the shaker bead in the water.)
Pick up your ornament by the top and quickly dip it in and out of the water.  Immediately the polish will attach itself to the ornament in a swirly pattern.  [Sorry.  About this time I got so engrossed in my project I forgot to take photos, but I'm pretty sure it's understandable with a photo.]
Hang your marbleized ornament to dry.  I used a wood dowel resting on two tissue boxes to hold my drying ornaments.  Place a paper towel under the ornament to catch any water drips. Your ornament will be dry to the touch pretty quickly, but I allowed mine to dry over night before I put my ornaments back in their original package holders to store until decorating time.
Time
Outside of procurement and set-up time… a half-dozen classy marbleized metallic Christmas ornaments can be be created in less than a 30 minutes… plus drying time.  I think that's pretty fast.
Note: Do not over think this.  I did.  At first it wasn't quite what I expected.  So I decided it was a fail.  If you don't like your first attempt… use the nail polish remover to start over.  I did for two ornaments.  They are the ones that have silver in the white and gold mix. BUT… be aware that if you are using a pearlized ornament the marbleized polish will come off as well as the ornament pearl color with the nail polish remover.  I did that and ended up with a shiny silver which looked fabulous when it was marbleized again.  Happy surprises.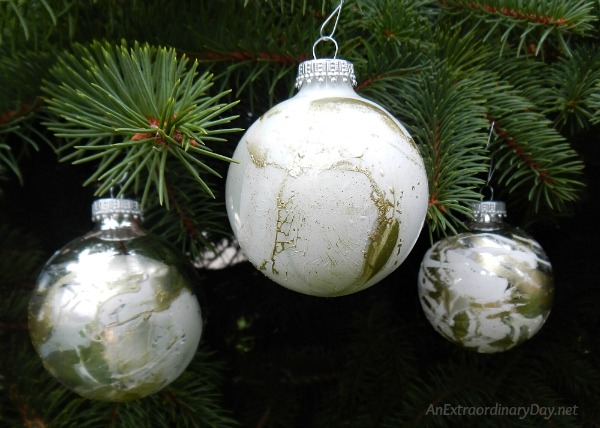 What was also interesting is that what I thought didn't turn out… everyone around me raved about.  This was one project that helped realize that just because I have an idea about how I want something to look doesn't mean that it looks bad because it's different than I anticipated.  This was a huge lesson for me.
Here's a look at the cost.  My ornaments came from Hobby Lobby and I used the 40% coupon on my phone app and they ended up being about 75 cents each.  Not bad.  I used about a third of the polish I purchased in marbleizing the 6 ornaments, including two do-overs.  The polish was just about $10 for the three bottles.  I think you should be able to get at least 18-24 ornaments marbleized with 3 smallish jars of polish.
Let me know what you think.  My husband was in awe.  He thought the ornaments were beautiful and elegant. He has good taste, so I consider it a wonderful compliment.
So what do you think?  Will you give it a try?
Here are all 31 Bloggers in order of their appearance over the 31 Days. 
Yesterday on Tuesday
The Silly Pearl
Cupcakes and Crinoline
Celebrating Everyday Life
AnExtraordinaryDay  (you are here)
All Things Heart and Home  (visit here tomorrow)
Petticoat Junktion
Sew a Fine Seam
Creative Crochet Workshop
Shabby Art Boutique
Morena's Corner
From My Front Porch To Yours
Pet Scribbles
Sweet Pea
Dukes and Duchesses
Simply Kelly Designs
Town and Country Living
One Artsy Mama
The Crafting Nook
Our Southern Home
StoneGable
Love of Home
Lovely Etc.
Remodelando la Casa
504 Main
Knick of Time
Refresh Restyle
The Cottage Market
My Uncommon Slice of Suburbia
Heathered Nest
Sum of their Stories
There are lots of ways to keep up with our
extraordinary handmade Christmas ornament blog hop…
Follow An Extraordinary Day on Facebook where I'll be posting links to each post daily.
Follow the Handmade Christmas Ornaments Pinterest page,
where the blog hop ornaments, as well as past ornaments we've created, will be pinned.
Follow Diane :: An Extraordinary Day!'s board Handmade Christmas Ornaments on Pinterest.

Receive 
FREE inspiration like this in your inbox!
Sign up Now. 
  Check back here each day of the blog hop, where a direct link will be added below for each new post!