Be joyful because you have hope.
Be patient when trouble comes,
and pray at all times. 
Romans 12:12
It's been a hard week for me.
I won't bore you with the details, but through the difficulties I knew that I could choose joy.
And often I did.
Choosing to be joyful is a mindset.
Some days it's like walking a tightrope with that big long stick.
There's only one way to traverse a tightrope.
One step at a time.
With our eyes fixed on the finish.
For us as believers…
Walking in joy is one step at a time, too.
The stick we carry… is Jesus our hope.
He gives us the balance we need for each step.
And while he is with us each step of the way…
He's also waiting for us at the finish…
Saying, "Keep your eyes fixed on me."
Successful tightrope walkers don't get across by rushing.
Instead they exercise great patience.
When we're walking the tightrope of trouble…
we'll find success if we're patient.
Throwing down the stick and trying to run across that rope as quickly as possible will undoubtedly insure a misstep and ultimately a fall.
Praying and praising God was Nik Wallenda's way of rope stepping his way across Niagara Falls.
And that's the key for us too.
We can attempt to traverse the tightrope of difficulty in our own strength.
Or… we can step patiently, with God, relying on him, and pouring our hearts out to him and listening for his leading.
It sort of seems crazy for a tightrope walker to carry that huge long stick.  It seems that holding one's arms out would be enough.  There is some amazing science behind that.
I just learned the physics behind the tightrope walker's stick… but I have known from experience that holding God's hand will give us the stability and strength we need, and most of all our hope will be renewed.
Sure there will be moments we falter.  Not unlike a gust of wind that will challenge the tightrope walker.
But, if we're hanging onto Jesus… the author and perfecter of our faith… we will have hope which gives joy.
Whatever it is you're going through right now.
Hang on to Jesus.
Be patient.
And pray.
It's the very best thing you can do.
And know… you're not alone.
I'm on the next tightrope over.
Plus… we are surrounded by a great cloud of witnesses.
Oh… there is one more thing you can do to make your joy meter soar…
Give thanks… in all circumstances… for this is the will of the Father for you.
It JoyDay!
Please join me in counting "seven" from the past week.  "Seven" things… good and not-so-good that you will be thankful for.  It really will make a difference.  I dare you.
I'll start…
Thank you God for:
the most amazing "after" sunset I can ever remember.  Forty minutes of the heavens declaring you're glorious.
knowing you have a plan for us… even though we cannot see it… and a glimmer of possibility.
giving me the strength to "step into the Jordan."
a friend who blew me away with her kindness.
a special friend who sends me daily texts of encouragement to start the day.
blogging friends who are a joy to work with.
the refiner's fire.
Now it's YOUR turn!
Please join me by tapping in your 'seven' in the 'share your extraordinary thoughts' section below.
Thank you for stopping by and taking time to leave your sweet thoughts.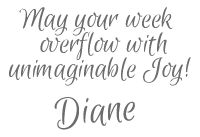 Receive FREE inspiration like this in your inbox!
Sign up Now.