Make Easter brunch amazing with this easy and inexpensive Easter centerpiece idea. Simple and colorful, you'll feel like you're celebrating Easter in a garden.
It's been a while since I've been totally excited about something I've created and this Easter centerpiece and tablescape are my very favorite. I cannot express the happiness I feel every time I walk in the room.
A few of my wonderful friends got together with me for a blogging challenge where our goal is to Make Something From Nothing.  It's all about being creative with the gifts and talents our Creator has given us and using what we have in hand.  Some of us have more on hand than others. Mine usually begins with a trip to my recycling bin.
This particular table setting might never have happened if I had kept on a particular path.
Quite a few years ago I got on a legalistic kick when it came to Easter.  Bunnies, eggs, candy, and Easter baskets were not a part of my Easter celebration.  I had decided that these things took away from the true celebration of Resurrection Sunday.
What changed?
Me.
One year, as Easter approached, I realized that getting creative with my decorating and using eggs and bunnies and candy and baskets had nothing to do with my heart.
Have I simply rationalized things to make it okay?  I don't think so.
You see, I could care less about the symbolism of eggs and rabbits and whatever.  To me, they are just plain cute. Yes, I am totally aware that they may relate to some age-old idea of the rising fertility of the earth at the Vernal Equinox.  What I also know is that God created bunnies and chickens and eggs and they are not evil.  The worship of them… that's another story.
And though Easter is in many ways about the cross, we don't celebrate the cross, we celebrate Jesus and the new life He has for us because He crushed death and resurrected to live forever.
Plain and simple… we celebrate Jesus.
I don't celebrate chicks or eggs or rabbits.
The empty cross is a reminder to me that Jesus vanquished death, but I don't wear cross jewelry to remember because I have a relationship with Jesus that is real and daily and vital to my life. This covenant relationship we have doesn't require us to show it through wearing jewelry or clothing or any other symbolism.  Instead, the way I live my life will hopefully speak to the relationship I have with Jesus and the influence He has on my life.
I had the most fun putting together this inexpensive Easter centerpiece for my table.  More fun than I can remember having in a long time.  It was truly a Make Something From Nothing kind of centerpiece and it came together even better than I imagined it would.
Why did I open this post with my Easter perspective?
I'm not exactly sure, but I think it is because I finally have a better grasp of the freedom I have in Christ.
And that freedom helps me to live well.
It encourages my creativity to flow without constraint.
And it helps me to live more fully, thoughtfully, and joyfully.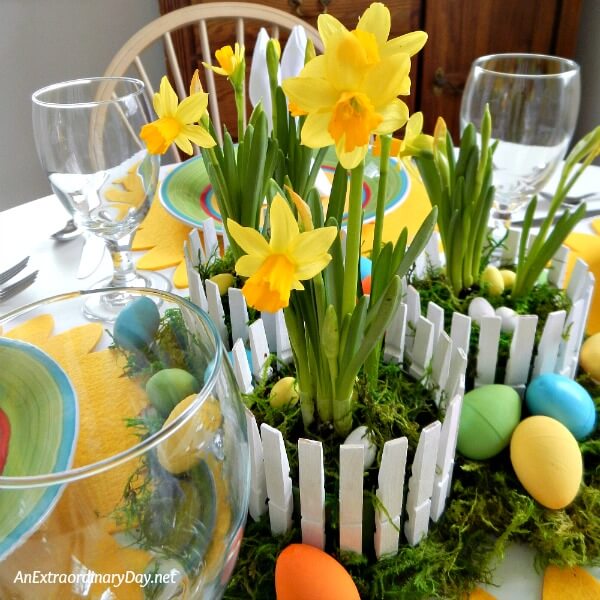 If I wanted to get all symbolic, I could say that the three picket fence containers represent the Trinity, or Christ and the two thieves that were crucified on the cross. And I could keep going with the symbolism.  I could.  But I'm not.
If symbolism in any form helps you to stand stronger in your faith.  Yay!  I'm not here to bash symbolism.
Instead, if you've been like me constrained by some sort of legalistic do's or don'ts… drop those chains.
Nothing counts more than dying to self to live for Christ.
Living fully and freely in the Lord is what matters most.  Honoring Him, glorifying him, and serving others in Jesus' Name.  That's living.
So back to my pretty Easter table.
It all started with the challenge to create a pretty and inspiring Easter table top using what I have.
One look at my modest stash and I saw those large tuna cans that I used to bake my yummy Valentine's Day gift breads and wondered… "What I could do with those?"  It was then I remembered that I had created a sweet little container with clothespins to hold some faux tulips for my laundry room decor in my previous home.
At first, I thought I could put some pots in them, but the clothespins weren't tall enough, so I decided to pull the clothespins apart, paint them, and glue them to the outside of the containers.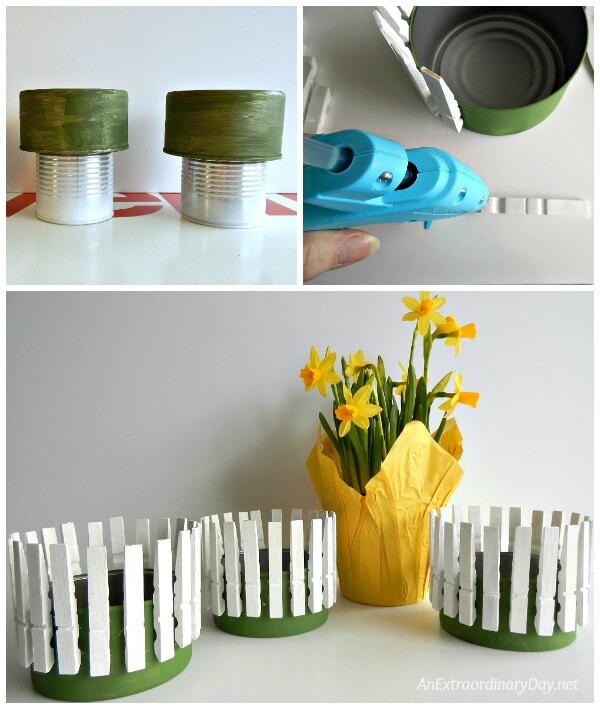 I was hoping that I would be able to find some small 3 or 4 inch pots of daffodils to fill the little picket fence containers I created.  Except… the stores all had bigger pots of flowers.  Hmmm…
In the end, I spent much less on the flowers than I would have if I had been able to find three small flower pots. One of the local grocery stores had a single small pot of daffodils which was too large for my little tuna tins. I removed the mass of bulbs from the pot and decided to cut it apart.
I couldn't have been happier.  From that one small pot, I was able to plant daffodils in all three tuna tins.  Yay!!
I had some small plastic eggs.  But they were totally the wrong color scheme for my plates which I had purchased last year at the Dollar Tree.  Acrylic paints to the rescue.
After a little mixing, I was able to nearly duplicate the colors of the plates on those inexpensive eggs.
And the unifying element was the moss which I had leftover when I made a mossy St. Patrick's Day Basket that turned into a pretty mossy Easter basket.
Because I had everything except the clothespins and the flowers, this pretty Easter centerpiece didn't break the bank at less than $6.  I did splurge on the placemats for the table settings.  They were $3.29 for a set of two at Hobby Lobby and then I saved an extra 40% because they were on their spring sale.  Certainly, this was a budget table setting… even counting the plates from the dollar store.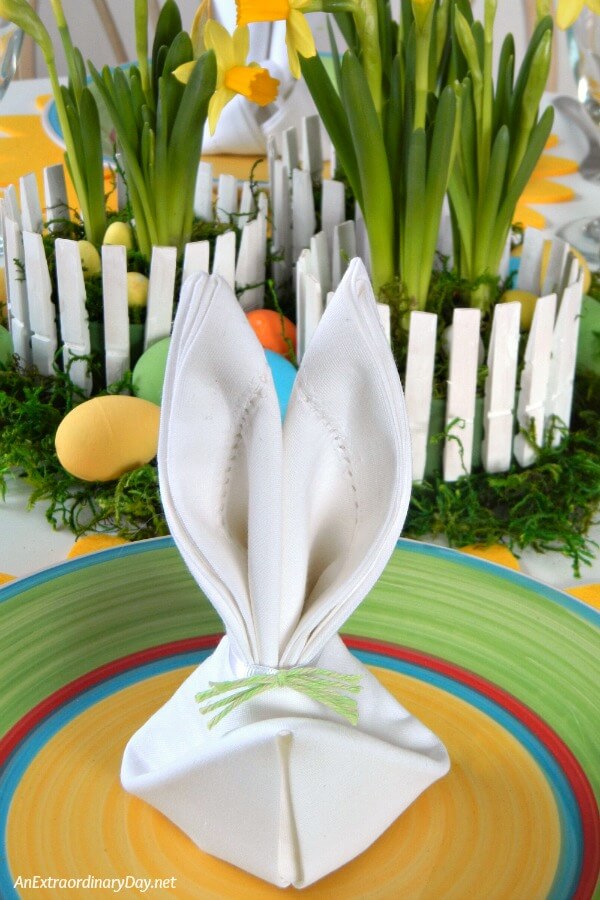 I forgot to mention the napkin bunnies.  My friend Susan, the queen of tablescapes, put together a great tutorial for making napkin bunnies.  The first one took me a few minutes, but the rest came easily.  And yes, it really does make a difference to iron as you go.  Trust me!  In addition to her little bunny tail idea, I added whiskers to the front by tying on some colored string I had in my stash and I stole some bunny tails from my winter wreath still on the wall as part of my peaceful winter vignette.
It's pretty clear I'm head over heels for this inexpensive Easter centerpiece I created.  I can't wait to hear what you think.  
I hope you were inspired to put on your creative hat and work with what you have to create a pretty Easter centerpiece and table setting.
  Please visit my creative friends who joined me to
Make Something From Nothing…
Cupcakes & Crinoline
Craftberry Bush
Celebrating Everyday Life
More Easter Decor Ideas…

Spring Tablescaping | Bird's Nest Themed Easter Table
Last Minute Ideas for Your Easter Table
Celebrate :: Free Subway Art Easter Printable
Thanks so much for popping by today!
If you enjoyed this post would you please share it with your friends and "pin it," too?

Receive FREE inspiration like this in your inbox!