Have you ever had an old friend come to town and want to meet up with you and friends she hasn't seen in a year or two or ten?
You're happy to make all the arrangements. Lunch at a great restaurant is a good option.  It seems so much easier, but, there's the noise of the other diners, the interruptions of the servers, and who knows what else.
Why not go all old-style and host a small gathering or luncheon at your home?
So much more is in your control and the peace and comfort of your home tops everything the restaurant has to offer.  You don't have to worry about staying too long… getting refills on water or sweet tea or coffee. And you can even serve a dessert that everyone loves but no one will order.
You say, "Sounds good… but I need to clean my house… because… girlfriends." Yeah… sometimes we just need a bit of motivation to give our homes a little sparkle.  Use that to your advantage.  It always works for me.
"What about food? Cleaning and then making a mess in my kitchen… no way!  Besides, what would I serve?" Ah… there can be a bit of pressure there.
Who said YOU need to cook?  Everywhere I have lived there has been a decent supermarket deli with delicious pre-made salads, sandwiches, and more.  By the time you place the food in or on your own dishes, cut the sammies small, and add extra fruit for garnish, your luncheon buffet will look amazing.  And I know you have your eye on those amazing desserts every time you pass through the bakery… this is your excuse to try one or two.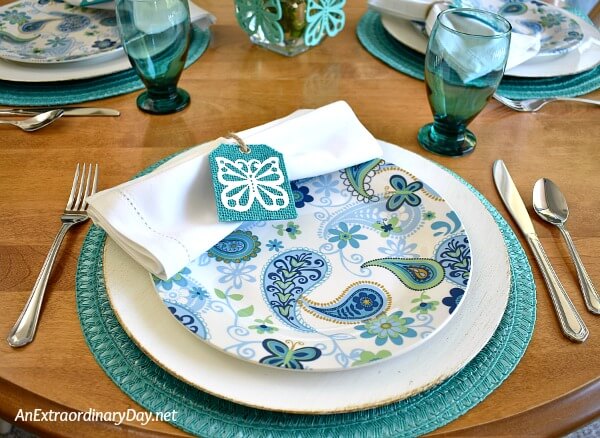 If it feels a little too expensive for your budget, tell your friends (not the guest of honor) what you're doing and ask if they can chip in.  Explain that you think it will be so much nicer than going to a restaurant (they will all agree) and ask if they will help.  No one will be offended or think it's weird.  They are your friends.
Sometimes we start to feel like what we have isn't good enough.  Your goal is to make this a special and memorable time… to lavish love on an old friend and make up for lost time… not show off.
I put together this simple luncheon table totally on the cheap.
Yet, it's definitely girlfriend worthy.
The chargers are not a necessity, but these originally came from Hobby Lobby and were so inexpensive.  Especially since I hauled Tim with me on that trip and we both got one at 40% off, because yes, I even do that with $2 items.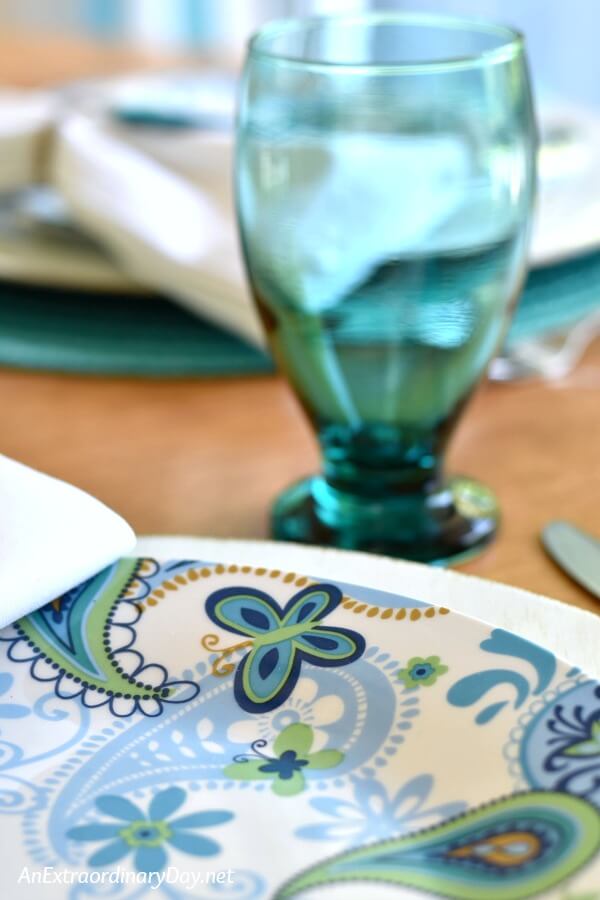 One day I walked into my local Dollar Tree and spied these plates.  They do not look like dollar plates and I'm totally smitten with them.  The day I saw them, the employees there were putting out all kinds of new color-themed merchandise, so I grabbed some placemats that coordinated with the plates.  A little color pop is a good thing and I can use them anytime.  Even the Dollar Tree knows a thing about merchandising… the cutest small water goblets were showcased with the plates and their coordinating bowls and mugs.  I couldn't resist.  For $12 I had plates, goblets, and placemats!!  A complete turquoise tablescape!  Almost.
Once I got home I got to work figuring out what I could do to make this a little more special.  That's when I remembered that after Easter I picked up some tags.  I guess most people don't purchase cute basket tags to decorate their Easter baskets because they had quite a few of them left over.  They were discounted down to twenty cents a piece!  At that time I had no idea what I would do with them… but I purchased enough to have 4 of everything in each color.  It certainly didn't break the bank!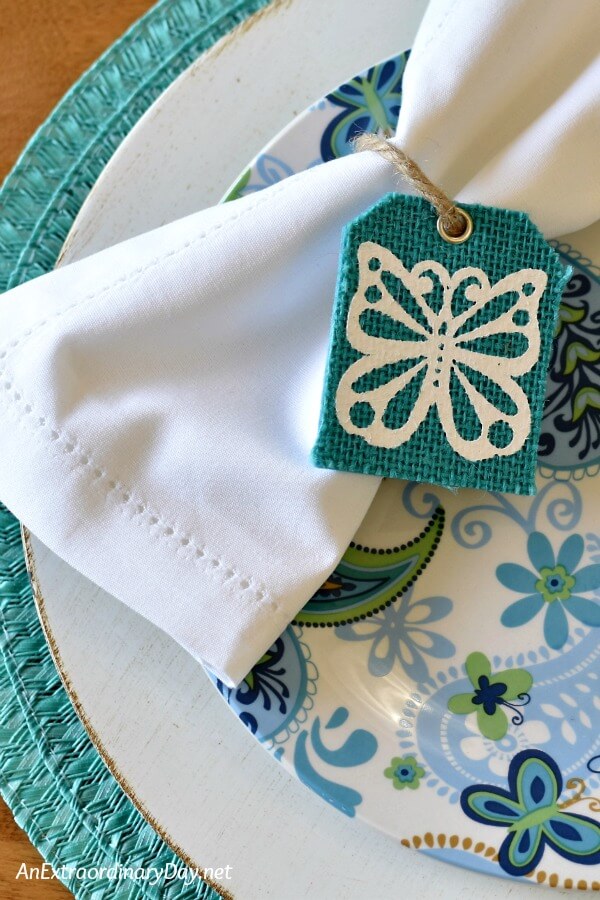 Wouldn't you know it… the tags coordinated perfectly with the plates and all I had to do was slip them over the plain white napkins (I picked up at Tarjay a long time ago) as napkin rings.  Is it not a God thing how these tags were not only the perfect color, but also they had butterflies with repeated the butterflies in the dish pattern? I love it when things come together like that.
A little side note here: I know that there are people who would tell me I'm being silly and that God has more important matters to attend to than the details of my table.  They'd say that with all the war, famine, and homelessness in the world, how does God care about some stupid butterflies and napkin rings? All I know is that he created me to care about those details, he is the ultimate creator and since I'm created in his image it just makes sense to me that he does care about the things I do to bless others, even styling a beautiful table, as well as care for the poor, the needy, and the hurting.  We have a tendency to box God into little compartments according to our knowledge and whims and that's a big mistake.  Let's live each day with the expectancy that he is going to meet us where we are and walk with us through our situations… the big and important and the small and frivolous… because HE IS GOD.
Okay… back to regular programming. [wink]
I'm a huge fan of supermarket flowers and can usually count on Walmart to have a sweet bunch for around $4. I totally love Babies Breath and knew the bouquet would look amazing trimmed down, fluffed, and placed in the short chunky square vase I used for my Valentine's Day centerpiece.
White flowers and a clear vase are just fine… but in addition to the burlap tags which I purchased on clearance at Walmart… I also purchased some cut-out butterfly tags for nearly free.  After removing the hanging strings, I took a little bit of cool glue and attached them to the sides of the square vase.
For less than twenty dollars I put together a beautiful table setting that is fun, festive, and perfect for a girlfriend gathering.
I'm guessing that you have lovely dishes in your cupboard that you rarely use.  Get them out and accessorize with colored scrapbook paper like I did for Mother's Day.
Whatever you do… don't over think this.
If you feel like you need ideas… I've got plenty of tablescape ideas on the blog.
Take advantage of every opportunity you're given to bless your friends by extending hospitality.
If you don't think what you have is good enough for your friends…. they aren't really your friends.
There isn't a time that I go to someone's home and look at their table and evaluate it.  Never would I do that…  and I love creating pretty tablescapes.  Yes, I do notice pretty thoughtful details… but to me… they are the bonus… I don't expect it.
It seems like going to a restaurant is the default for most of us these days.  We have all kinds of good reasons to choose that over exercising hospitality at home.  I hope I've been able to encourage you to get those hospitality wings flapping again.  Once you start… it might become a regular thing.  Just maybe!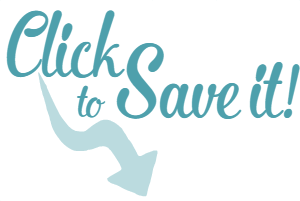 MORE TABLESCAPE IDEAS..
Frugal but Fabulous Elegant Spring Tablescape
Make a Simple but Spectacular Silver Thanksgiving Centerpiece
Birch Branch Winter Woodland Tablescape

MORE ON HOSPITALITY….
Hospitality Is Not About Comfort
Thanks so much for popping by today!
If you enjoyed this post, please use the sharing buttons to share it with your friends and "pin it," too.

Receive FREE inspiration like this in your inbox!