This birch branch winter woodland tablescape just might be my most favorite table setting ever.
What is it about natural elements that make my heart sing?
This winter we've been having fun decorating with birch branches.  You may have seen some of it here and here and here.
We had a few longer birch branches that hadn't been used over Christmas, so I thought creating a birch branch winter woodland tablescape would be fun.  Actually, creating a centerpiece of the branches for the table would set the stage and theme.
Birch branches are perfect for winter woodland decor.  Their white, silvery paper bark sings winter.  And the bits of gray and brown that emerge give the branches dramatic character.
I had some more fun with power tools when I trimmed my birch branches to size and used the power nail gun to help me create a nice box.
There is one problem.  My box doesn't have a bottom.  If you make one…I suggest you start with a bottom.  Visually, you don't want to see the bottom, but it really helps to have a bottom when you want to move your centerpiece.  Duh!!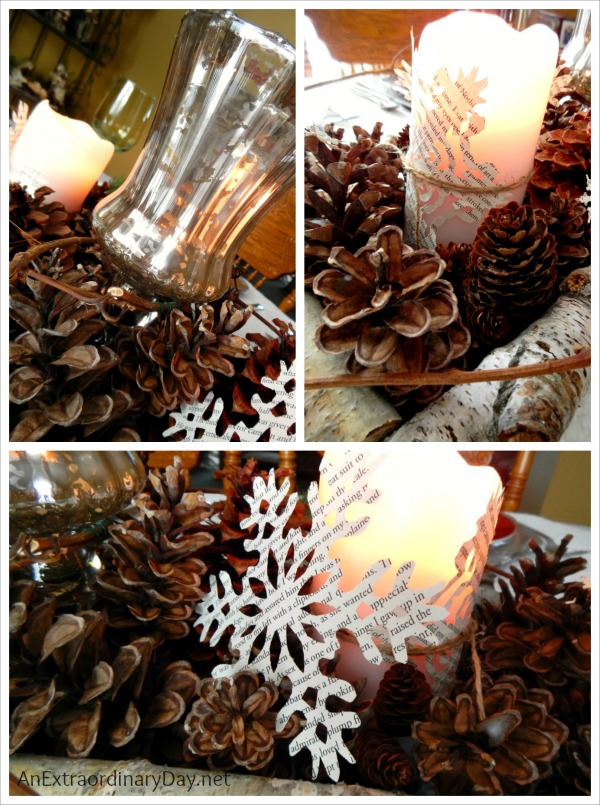 I also decided that the tablescape needed to include pine cones.  You know I love pine cones in winter decor.  Last year they played a starring role on my vintage sideboard.  Pine cones pick up subtle browns in the birch branches and help to give the centerpiece and table a unified look.
And because it's winter….we need some snow.  Well maybe not.  We received nearly two feet last week, which has melted down to just four or five inches, but I digress.  We need faux snow.  Snowflakes made from book pages, to be exact.  Oh how I love book pages in decor.
To the birch, pine cones, and faux flakes, I added a mercury glass candle holder and some pillar candles.  That was it for creating a birch branch winter woodland centerpiece.
Decorating with birch, pine cones, and book pages is simple to do….whether creating a birch branch winter woodland tablescape or feathering your winter nest.
Of course, I found one more way to use some of the birch.
We could call these little birch tree holders favors.  But, really, if you come to my house I don't want you taking these home.  I want to use them again. [wink]  So…I guess I need some help in knowing what to call cute table decor that's set at each place setting for no useful purpose other than whimsy.
To create these fun little things, I cut a birch branch into fat slices on the mitre saw, then pierced their centers with the drill, to which a small sprig of pine was inserted.  Quite easy to do, I think. Then the pine needles were trimmed, and a simple book page flag added to make the sweetest little bit of whimsy for each place setting.
You'll notice that a pure white quilt is covering the white tablecloth.  I love the texture it gives to the table.  It feels very snow-like to me.  And it gives substance to this birch branch winter woodland tablescape.
And for the last bit of woodland whimsy….birch napkin rings.  Again….the result of playing with power tools!   Do you love them?  I'll be back with a quick tutorial for making your own napkin rings.  [Edited: the tutorial has been posted, click here.]
Now it's confession time.  I LOVE living where there are four distinct seasons.
It seems that my southern friends enjoy two seasons….Winter/Spring and Summer/Fall and some of you who live deep in the south, I think, actually only have something akin to spring and summer.  Really I have no idea.  Haha!  I base that entirely on my quick little jaunts to Florida in the winter to visit my elderly aunt or for a little Disney time.
What I do know.  I love to walk.  And snow and ice cramps my style, even with those grippy things pulled over my boots. And I dislike, with a capital "D," driving in snow and ice.  My husband will also hear how much I dislike the cold and how I mention that there are no green leaves on the trees for 6 months, and winter seems forever, and the other three seasons are just a flash in time.
And that my friends, is why I purposefully decorate for winter.  It's one way for me to enjoy the tones of the season and embrace snow in a more faux form.  And for the record….I'm not interested in living somewhere where I would melt as many days as the trees are without leaves.  I have thick northerner blood.  And melting is not a pretty thing.  Just look at the mess we have when we have a winter thaw.  [wink]  Oh I do hope you are laughing with me.
I'll be sharing more winter woodland decorating ideas in the days ahead.  Stay around for more inspiration.
How do you decorate for winter….or do you?

Thank you for stopping by today.
I appreciate you and your sweet comments make my day.
Wishing you a day filled with extraordinary goodness,
Diane
To receive FREE bits of inspiration like this
in your inbox or reader, subscribe now.
MORE Natural Christmas Decorating Ideas...
How to Grow Paperwhites for the Holidays
How to Make A Fresh Evergreen Christmas Centerpiece
Decorating with a Woodland Touch