Today I'm joining some of my blogging friends for a tour of Thanksgiving tablescapes and centerpieces.  You'll find all the details at the end of the post.
Many of my friends say Thanksgiving is their favorite holiday.
There's something to be said for a holiday that's about gratitude, celebrated around the table with a special meal, isn't there?
This year I won't be hosting Thanksgiving.  I'll miss doing that.  However, I won't miss creating a lovely tablescape and centerpiece.  That's because I created one for a good friend of mine.  I had so much fun putting together this simple but spectacular silver Thanksgiving centerpiece, perfect for her home and a reflection of her and the look she loves.
The best part of it all?  Having her text me, saying it's her favorite of any centerpiece she's ever had.  That's an amazing compliment and one I will always treasure.
(Did you notice the letters spelling out THANKS on the ledge? The tutorial and behind the scenes story are here.)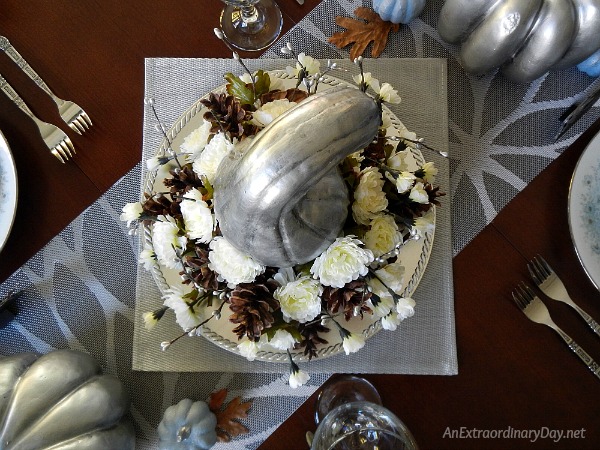 How did I go about creating this very special centerpiece?  Mary Beth sent me photos of her table runner and china so that I could begin the creative process. I asked her if she would like silver pumpkins for her table and she liked the idea.  So… with that thought… I went shopping.   JoAnn's was having a 60% off sale on all their fall items, so I  selected two styles of pumpkins and a large gourd.
I brought the plastic vegetables home and got out black and various shades of silver acrylic paints.  You'll laugh, but I discovered I'm a very impatient pumpkin painter.  I guess I don't paint for the fun of painting… but for the final result.
The pumpkins and gourds were finished for a few days and I decided that they were not bright enough.  So… the paint brushes and paint came back out and I gave them a little brighter silver look.  It wasn't quite as artsy… but the end result was perfect with her table runner.
You'll be interested to know that Mary Beth's table runner isn't really a table runner.  It's two rectangular placemats placed end to end, with a square placemat angled across the middle.  She keeps it on her dining table throughout the year and it looks fabulous.  It was inexpensive but has a very impressive look.
The pumpkins and gourd were a great beginning.  However, I needed something with height and substance for the center of the table.  My thinking cap went back on and back to JoAnn's I went.  I already had some long pine cones that I had previously prepared in my stash.  I decided that they would be the earthiness the centerpiece required and a great contrast in color and texture from the silvery veggies.  Incorporating flowers with them seemed like the perfect idea.  I had thought about oak leaves… but I needed brightness and contrast.  So, I scoured the sale bin of flowers and found two bunches of white mums.  Yay!
After another stop, this time at the dollar store for a square of florist foam, I got to work creating the centerpiece.  But, something was missing.  I felt like I needed a base of some type.  I tried a variety of things and then decided to peruse the aisles of Hobby Lobby for an idea.  I found a silver charger for $1.99 and with my 40% coupon, I got the perfect base for my centerpiece.
Finally home… I got out my glue gun, my wire cutters, and my pruners.  Don't you use those whenever you create a centerpiece?
I freed the stems of the chrysanthemums with my wire cutters, used my pruners to cut my pine cones in half, heated up my glue gun, and got to work.
First I glued the pine cones into the foam and then filled in the spaces with the mums.  I also added some silver pips I picked up at JoAnn's as well. A little silver was needed for color repetition and to bring the silver theme together.  I left a little space at the top of the foam so that I could glue the silvered gourd to it.  I set the foam base on the silver charger and a centerpiece was born.
I was feeling pretty good about the centerpiece flanked with the silvered pumpkins. And then I got to thinking.  You know me… I have a tendency to over think things.  But… I think… Ha! …that it was a good thing.
You see the beautiful china with the silver edge had a pattern of pretty blue flowers.  Now it may or may not have been necessary to repeat the blue anywhere on the table.  Seriously after completing it at Mary Beth's house I don't think it was absolutely necessary to add more blue.  But, the thing is, she loved the blue pumpkins so my instincts were good.
Blue pumpkins?  Yeah… I got it in my head that the piece de resistance would be blue pumpkins.  Mini pumpkins.  I didn't use them the way I thought I would.  But, I absolutely adore them sitting on the center of the plates.   Finding mini pumpkins that were affordable was a challenge.  Actually finding mini pumpkins was a challenge.  Fortunately they had some at Hobby Lobby.  The only thing… they were covered in copper glitter!
Never fear!!  Chalk paint to the rescue.  I covered them with a coat of chalk paint before coating them with light blue acrylic paint.  When I finished, the blue was lovely, but they looked like they were made of velveteen.  Not quite the look I was going for.  What to do??
The silver paint came out again.. This time I dry-brushed the blue pumpkins with silver and painted their stems silver.  My husband said they were a "million percent" better.  A pretty significant change!
I grabbed a few of my preserved oak leaves, a few pine cone "flowers" made by trimming with my pruners, and I was ready for the setting the table.
Almost.
One more thing was needed.  Place cards.
Somewhere along the way, I picked up some plastic chalkboard signs in the seasonal section at the grocery store.  The packages were just $2 each.  I didn't need to fool around with making them stand up or anything… they were ready to go.  All they needed were names penciled in with a white pencil.  But, that would be a little boring and wouldn't blend in with the rest of the table.
Out came my silver paint and brushes again.  I found a few tiny oak leaves in my stash and quickly painted them silver.   Then I dry brushed the edge of the chalkboard signs with more silver.  After everything was dry, I hot glued the leaves in place and we were good to go.
At that point I could hardly wait to put Mary Beth's table together.  The next morning, I brought everything over. We had so much fun setting things up.  I fussed a little over the placement of those blue pumpkins, and then declared it finished.  The photo shoot commenced, and shortly thereafter, the dishes were put away until Thanksgiving.
In the meantime, the centerpiece deemed for Thanksgiving is living a full life.  How fun is that?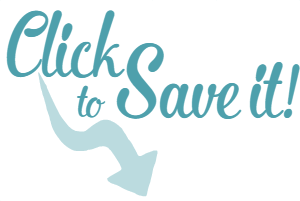 I hope you've been inspired to get crazy with paint and have fun creating a truly inexpensive but spectacular silver Thanksgiving centerpiece for your table.
Are you loving it as much as we are?
Have you started planning your menu and/or your table yet?
What are you doing differently this year?
And the most important question… what are you most thankful for this year?
Me?  I'm thankful for friends like Mary Beth who are partners in prayer.  They are the best!!  And because of those prayers… God is doing some amazing things.
A BIG thank you to Maryanne at Domestically Speaking and Power of Paint and Kristin of My Uncommon Slice of Surburbia for putting this Thanksgiving extravaganza of centerpieces and tablescapes together!
Now it's time for you to visit my blogging friends for tons of creative inspiration.
You're going to love all their ideas for creating spectacular tablescapes and beautiful Thanksgiving centerpieces!
Domestically Speaking : My Uncommon Slice of Suburbia
Cupcakes and Crinoline : Stone Gable : Inspiration for Moms
Yesterday on Tuesday : An Extraordinary Day : Town and Country Living
Major Hoff Takes A Wife : My Creative Days : Kaleidoscope of Colors
Dukes and Duchesses : H2O Bungalow : Our Southern Home
Sweet Pea : Morena's Corner : Hymns & Verses
Fresh Idea Studio : Restoration Redoux : Uncommon Designs
Wishing you and yours a blessed and grateful Thanksgiving!
Diane