Do you pray and wonder if you're praying "the right" way?
Do you pray and feel like you don't see any results to your prayers?
Do you pray and wonder if it even matters that you've prayed?

For the next few weeks, we're going to delve into prayer and together we're going to discover this wonderful conduit we have with God, and learn how to pray in a way that matters. 
Prayer seems like it should be so easy.  After all it's just a conversation with God.
Yet, somehow, it seems we don't really know how to pray.
Evidently it was an issue when Jesus walked the earth, because he took time to explain to his followers how they should pray. But, first he explained the framework of prayer so they, and we, could have a better understanding of prayer.
But when you pray, go away by yourself, shut the door behind you, and pray to your Father in private. Then your Father, who sees everything, will reward you.
"When you pray, don't babble on and on as people of other religions do. They think their prayers are answered merely by repeating their words again and again. Don't be like them, for your Father knows exactly what you need even before you ask him!
This prayer conversation that we're to have with God… it's supposed to be an intimate conversation.  He doesn't want us to talk to him like we would a neighbor we're shouting to (as in to be heard) across the street or  driveway.  And though we might meet with friends at a busy restaurant, God wants us to meet with him in a quiet place, alone, without other distractions.  He wants to be our only focus.
And then Jesus tells something very important… "Your Father knows exactly what you need even before you ask him!"
Let's think about our relationships with family members and friends and assume that these people know what's going on in our lives.
When you talk to a spouse or sister or friend about something… you don't explain the situation, the peculiarities, or the details… they already know because they "do life" with you.  You get to the point.  And if you need help or assistance you simply ask for it.  If you're trying to figure something out… you share with them your concern or your puzzlement. You don't go on and on explaining the how's, why's, or wherefores, do you?  No… it's just not necessary.
This is huge!
That's why Jesus tells us we don't need to repeat prayers over and over.  Repetitious words and sentence that are an imitation of real prayer must grieve the Lord.  It dishonors him.
If you had an opportunity to privately meet with a king, there is no way you would repeat the same sentences over and over.  If you did, you would find yourself being escorted out of his chambers immediately.
When we sit down to pray… we are talking, not only to the God of the universe and our creator, but we're talking with someone intimately involved in our lives who not only knows what we are going through, but he knows what's best for us, what will happen, and even the secrets of our hearts. He knows the good, the bad, and the ugly.  And he loves us in and through it all.
Does this change how you will next approach God in prayer?
Let's summarize the first steps of how to pray in a way that matters.
The first step is to recognize that prayer is an intimate conversation with God. It's something special between you and HIM…. like the intimacy between a husband and a wife.  It's a time to be treasured, protected, and valued.  And, if this isn't amazing already… God promises us a reward for this time together.
The next step is to recognize that God loves us and already knows us so well that he knows everything we need before we ask. This entirely changes our posture towards him.  You don't need to sit across the table from him.  No, instead you can sit on the sofa with him and slide right up to him and he places his arm around you and pulls you in close. Yes… he does want you to pour out your heart to him… not to hear the circumstances… but so that you can unload your troubles, fears, and burdens on him.
This week, take time to pray alone in the quiet and practice intimacy with God.  Think about how you talk to God… how you approach him… and what your expectations are of him during your prayer time.
I've done some valuable self-examination through this study.  I hope you've found it to be equally as helpful.
Next week we'll continue through the chapter as Jesus teaches us very specifically how to pray.
It's JoyDay!
One of my favorite things of the week is JoyDay!  I look forward to this time where we give thanks in community…. for the good and the not-so-good.  It's an amazing way to re-set our compasses for the week.  To encourage one another.  And most of all to make our "joy-meters" soar.
Always be joyful.  Never stop praying.  Whatever happens, give thanks,
because it is God's will in Christ Jesus that you do this.
1 Thessalonians 5:16-18 
Won't you join me in looking back over the last week and counting just 'seven'  from a whole week's worth of happenings for gratitude?
I'll start!
Thank you Lord for…
a challenging week.
for being my strength and my shield
a very fun evening out.
two wonderful blog blessings.
an unexpected health issue and knowing that YOU are my healer.
knowing our needs and hearing our prayers.
the hope I have in YOU.
Now it's YOUR turn!
Please join me by tapping in your 'seven' in the 'share your extraordinary thoughts' section below.
Thank you for stopping by and taking time to leave your sweet thoughts.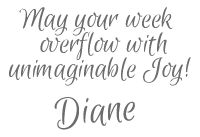 Receive FREE inspiration like this in your inbox!
Sign up Now.