We want to pray in a way that matters.
We want God to hear our prayers.
And we want our prayers to help make things happen.
Last week we looked at Matthew 6:6-8 NLT and discussed the first steps in learning how to pray in a way that matters.
The first is to recognize that our prayer time is something to be treasured, it's a time of intimacy with God, and God rewards us for spending time talking with him.
The second is to remember that God already knows what we need before we ask. Because of this intimate relationship we have with him we don't have to explain things and we can relax and be completely honest.
Now that we have this understanding about prayer, you might be wondering…
so then, how are we supposed to pray?
Good question…
In Matthew 6 verse 9, Jesus says…
"This is how you should pray:
He goes on to give us a prayer that we know as The Lord's Prayer…
Our Father in heaven,
let your name be kept holy.
Let your kingdom come.
Let your will be done on earth
as it is done in heaven.
Give us our daily bread today.
Forgive us as we forgive others.
Don't allow us to be tempted.
Instead, rescue us from the evil one.
This translation is slightly different from the one that is often repeated at church. You'll notice it doesn't have the customary closing… For thine is the kingdom and the power and the glory, forever and ever. Amen. At the end of the study we'll include the how's and why's of that in our discussion.
Today we'll look at the first half of verse 9:
"This is how you should pray:
Our Father in heaven,
let your name be kept holy.
I've prayed the Lord's Prayer since I was a little girl. Beginning the prayer with "Our Father" has never been a problem for me. My dad was a loving, nurturing father, so the concept of God being a perfect Father was one that I could easily grasp. Those who haven't had a good earthy father struggle a little more with the concept of God being our father. The prospective should change when we realize that there is no earthly father that can even remotely compare to God, our heavenly father. Even good dads. God's love, his goodness, his faithfulness, and his greatness are incomparable.
When we pray "Our Father in heaven," it may seem a wee bit strange. When we talk to people we call them by name… so I'm sure you don't have an issue with that. However, we don't speak to someone and say… Chloe on Pleasant Avenue or Madelyn on 152nd Street… do we? Of course not. Where they reside doesn't make any difference in our conversation. But, God's place of residence does.
Recognizing that God is in heaven reminds us that he is set apart from us. That he is not like us. It reminds us that he is holy, perfect, the creator of everything, he's all-knowing, all-seeing, he has no beginning and no end… and that's just for starters.
When we take time to talk with God, it's important to begin by praying… our Father in heaven. To be honest… I don't think you have to pray those exact words… I usually don't. I usually begin by telling God his attributes. I say, "God… you are holy, you are loving and kind and gracious, your mercy knows no end. You are awesome, your might and power are unfathomable. You are the source of knowledge and wisdom." Each time I pray it's a little different… but these are some of God's attributes that I will tell him.
Do I tell him this because he needs props? No. He doesn't need a thing from us. He is wholly complete.
The reason we do this is because it does something for us. It's kind of like hearing the rules read before we play a game or sports. It takes away question and doubt. It also reminds us of WHO we are talking to. When we come to God in prayer we are coming to someone who really can do something for us. It helps us to remember WHO we are talking to and it also reminds us of our total depravity. Without God, we are nothing. Everything we need to live and move and breathe comes from him.
Beginning our prayers like this helps direct our minds. When we talk to God we are speaking to our amazing, loving, powerful God and HE is the ONLY one who can work for us and help us. Knowing and believing this gives power to our prayers because we know God is able to do more than we can ask or imagine. Ephesians 3:20
The next time you pray… start your prayer as Jesus directed.
Praying "Our Father in heaven" by telling God his attributes may totally change the tenor of your prayer.
If you haven't prayed this way before… try it.
You just might see God as greater and more powerful and awesome than you did before.
See if it makes you more bold in your praying, believing, and trusting.
Today we discussed two more steps in learning how to pray in a way that matters.
One… in Matthew 6, Jesus specifically says… This is how you should pray. I love how Jesus gave us very specific guidelines to help us pray.
And two… to not only address God as our Father, but to also tell him (and ourselves) how he is set apart from us. Acknowledging his grandeur and attributes changes our minds and helps our prayers to become more expectant… and I believe, more bold and powerful. And it humbles us.
Next time we'll talk about the second part of Matthew 6:9. That one short sentence is packed. I can't wait to share it all with you.
It's JoyDay!
I'm so excited that you've joined me here for JoyDay! I look forward to this time where we give thanks in community…. for the good and the not-so-good. It's an amazing way to re-set our compasses for the week. To encourage one another. And most of all to make our "joy-meters" soar.
Always be joyful. Never stop praying. Whatever happens, give thanks,
because it is God's will in Christ Jesus that you do this.
1 Thessalonians 5:16-18
Won't you join me in looking back over the last week and counting just 'seven' from a whole week's worth of gratitude?
I'll start!
Thank you Lord for…
your faithful love and guidance each day.
more wonderful blog blessings.
the unusually beautiful WARM days to start out November.
strong winds that create big beautiful waves.
stunning sunsets.
a whole day with my husband… what a treat!
this time… this place… your grace.
Now it's YOUR turn!
Please join me by tapping in your 'seven' in the 'share your extraordinary thoughts' section below.
Thank you for stopping by and taking time to leave your sweet thoughts.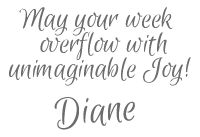 Receive FREE inspiration like this in your inbox!
Sign up Now.