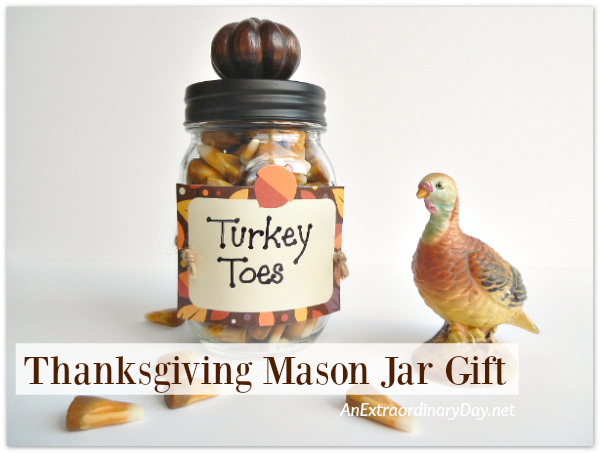 Wouldn't you like to have something fun and quirky to give to your friends at Thanksgiving?
I'm pretty sure you'll be snickering while you create this quick and fun mason jar gift project everyone will enjoy.
Who wouldn't love to get a jar of Turkey Toes?  The candy corn and candy lovers in your life will flip for this gift.
It's a great conversation starter… and it's just plain fun!
Turkey Toes Mason Jar Supplies
Pint-sized Mason Jar
Lid – Use the lid that comes with your jar, a solid lid like mine, or a drink lid with the silicone washer removed
Drawer Pull Knob – I picked mine up in the clearance section at Hobby Lobby
Fall/Thanksgiving Place Cards or cardstock
Jute Twine (or Glue Dots)
Sharpie Marker
Brach's Candy Corn
Not Pictured…
Scissors
Glue Dots
Clear Tape
Assembly Instructions
Drill a hole in the center of your lid or use a pre-drilled mason jar drink lid
Insert the knob and twist the nut on the reverse side tightly… the washer goes on the bottom side with the nut
Create a "Turkey Toes" sign for your mason jar:
If you're using place cards, cut them in half as shown…
With your Sharpie, hand letter your cardstock with the words Turkey Toes.  (I'm pretty sure it will make you giggle.)
Add a piece of clear tape to the back edge of the card where you will attach your twine for strength.
And then using a small punch or the tip of your scissors make a small hole in which to insert your twine. NOTE: if you do not wish to use the twine and choose to use glue dots instead… skip this step. 
Insert one end of the twine in the hole… back to front… and tie a double knot.
Wrap your twine around the jar to measure and insert the twine in the second hole and tie off in a double knot.  This is a wee bit tricky.  An alternative is to cut your jute so that you have two strands.  Insert each into the sign holes and tie off one end of each strand with a double knot.  Then draw tie off at the back of the jar in a bow or knot.  Even easier… attache your Turkey Toes sign with glue dots.
Fill jar with candy corn and twist on your fancy mason jar lid with knob
After I completed my Turkey Toes Mason Jar I stopped by Hobby Lobby to pick up a few things for another project.  Of course I had to take a quick peek at the clearance corner where I spied this cute knob that looks like a brown pumpkin.  And… the price was unbeatable.
Don't you think it's the perfect touch to my Turkey Toes Thanksgiving mason jar gift?
Does this project seem a little familiar?
For Halloween I created a Trick or Treat Mason Jar that was the impetus for this fun gift idea.
Why a gift for Thanksgiving?
Why not?
Thanksgiving is all about gratitude (and maybe food).  So why not let your friends know in a tangible way how much you appreciate them?
Receiving a fun mason jar filled with candy is an unexpected gift.
And… unlike Christmas… there is no pressure for someone to reciprocate with a gift.
This is an especially great gift for the workplace.
Feel free to put a twist on this mason jar gift.
After throwing a handful of Turkey Toes aka candy corn in the bottom of your jar you could add…
a gift card to a coffee shop or a book shop or Amazon
print off or write in pretty script "thankful or gratitude" scriptures or sayings on business card-sized pieces of cardstock
If you have other ideas… please share them.
Do you have an invitation to Thanksgiving dinner?
Bring a mason jar of Turkey Toes!
I'm sure it will stimulate some crazy conversation.
Surprise your family and friends with a super cute quick and fun mason jar gift of Turkey Toes this Thanksgiving. It's a terrific way to let those you appreciate know you are grateful for their presence in your life.
And if I could… I would give YOU a jar of Turkey Toes for sure!
Thanks for being a loyal reader.  I appreciate YOU!
Thanks for stopping by today… I can't wait to hear your lovely thoughts!

Receive FREE inspiration like this in your inbox!
Sign up Now.