We've been on a journey of learning how to pray in way that matters.
We began by looking at Matthew 6:6-8 NLT and discussed the first steps in learning how to pray in a way that matters.
The first is to recognize that our prayer time is something to be treasured, it's a time of intimacy with God, and God rewards us for spending time talking with him.
Second is to remember that God already knows what we need before we ask.  Because of this intimate relationship we have with him we don't have to explain things and we can relax and be completely honest.
Third is to follow Jesus' very specific guidelines for praying which are outlined in Matthew 6:9 GW.  I love that he tells us HOW to pray.
Fourth is to not only address God as our Father in heaven, but to also tell him (and ourselves as hearers of our prayers) how he is set apart from us. It humbles us as we acknowledge his grandeur. Speaking his attributes changes our minds and helps our prayers to become more expectant… and I believe, more bold and powerful.
And… Fifth is to intimately align ourselves with God in this covenant relationship we are so blessed to have with him.  To lift his name first and foremost fulfills God and us.
Let's look again at the prayer Jesus taught us in Matthew 6…
"This is how you should pray:
Our Father in heaven,
let your name be kept holy.
Let your kingdom come.
Let your will be done on earth
as it is done in heaven.
Give us our daily bread today.
Forgive us as we forgive others.
Don't allow us to be tempted.
Instead, rescue us from the evil one.
 Today we'll consider verse 10.
Let your kingdom come.
Let your will be done on earth
as it is done in heaven.
Of the entire Lord's prayer… I think that this portion is probably the most humbling.
We spend our days thinking about ourselves.
Our wants, our desires, our needs, our agenda, our goals, and of course… ourselves.
Though it's rare for most of us to listen to the radio (per say) any more… there was an old phrase that the most popular radio station call letters were: WIFM.  Those letters stood for What's In it For Me.
If we're really honest with ourselves, we would probably agree that we are constantly attempting to make our "kingdoms" better.
Our kingdoms might be our home, our workplace, our family/relationships, or even the organizations of which we are a part.
We so have it wrong.
God wants us to desire him and his kingdom over anything we know or desire here.
He wants us to desire what he desires for us and our world.
We would all agree that our world is in a big mess right now.  What would happen if we all prayed…
Let your kingdom come.
Let your will be done on earth as it is done in heaven.
Way back before Jesus taught us to pray, God spoke this to his people…
The Lord says:
"My thoughts and my ways are not like yours.
Just as the heavens are higher than the earth,
my thoughts and my ways are higher than yours.
Why are we so arrogant to think that we know best?
Just think… how many times have we prayed and pretty much 'told' God what he should do?  Too many times, I am sorry to admit.
Whether it's in our daily comings and goings, the state of our hearts, or the state of the world, asking God to make his kingdom come in our lives is mind changing.  Opening ourselves to God's kingdom helps us to think differently, act differently, and respond to God differently.
Praying these words… or the essence of these words places us in a submissive posture.
Jesus Christ is our ultimate example of submission to the Father.
Following Jesus' last supper with his disciples, on the night he would be betrayed, he went to the Mount of Olives to pray.  He knew what was ahead.  Taking on the sins of the whole world was something in his humanity he did not want to do… so he prayed these words.
"Father, if you are willing, take this cup from me;
yet not my will, but yours be done."
Let's make this our heart-felt prayer…
Let your kingdom come.
Let your will be done on earth as it is done in heaven.
And then expectantly look to see God's kingdom come into your heart, your home, your world.
Learning how to pray in a way that matters means seeking God's way first… humbling ourselves… and yielding to his will.  When we pray from this posture and perspective… our prayers are prayers that come from the heart of God.
That's prayer that has power.  That's prayer that changes hearts and the world.
That's prayer that matters.
It's JoyDay!
I'm so excited that you've joined me here for JoyDay!  I look forward to this time where we give thanks in community…. for the good and the not-so-good.  It's an amazing way to re-set our compasses for the week.  To encourage one another.  And most of all to make our "joy-meters" soar.
Always be joyful.  Never stop praying.  Whatever happens, give thanks,
because it is God's will in Christ Jesus that you do this.
1 Thessalonians 5:16-18 
Won't you join me in looking back over the last week and counting just 'seven'  from a whole week's worth of gratitude?
I'll start!
Thank you Lord for…
how you are always at work gently guiding and molding me
my sweet friend and her thoughtfulness
an evening to enjoy a spectacular sunset and wild wind and waves with my husband
your faithfulness and provision
some unexpected blog recognition
a burst of creative inspiration.
a below freezing gray snowy day which I am NOT ready for, yet.
Now it's YOUR turn!
Please join me by tapping in your 'seven' in the 'share your extraordinary thoughts' section below.
Thank you for stopping by and taking time to leave your sweet thoughts.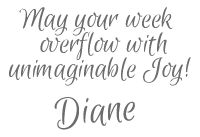 Receive FREE inspiration like this in your inbox!
Sign up Now