I'm so excited to share this quick, easy, and so pretty Mason jar floral arrangement that is the perfect farmhouse style Easter centerpiece.  Seriously it's so simple you don't need a tutorial… but just for fun… I created one for you… because that's what I do.  I can't stop myself!!!
Here's how it all came together…
Last year I was blessed to participate with a group of my blogging friends in a Mason jar blog hop for Mother's Day.  As part of the event, each of us received aqua blue, amethyst, green, and clear Ball pint jars.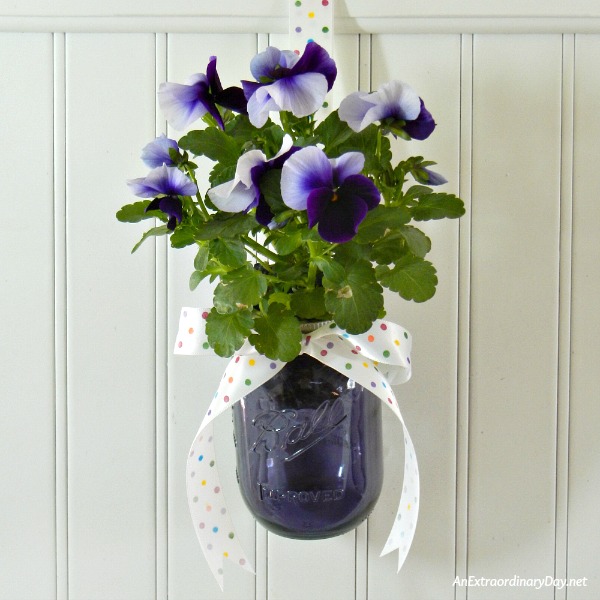 I created this cute hanging Mason jar with a sweet pansy to brighten up a bead board cabinet.
And this year, for St. Patrick's Day, I found the cutest wire holder with pint jars.  I traded out the clear jars for green Ball jars and put together this very simple arrangement to brighten my little corner of the world with a bit of Irish green.
Purple is a color I always associate with Easter, so I thought it would be fun to take the simple arrangement I created for St. Patrick's Day and give it an Easter twist with my amethyst Mason jars.
All I needed to do was remove the little shamrock that I wired to the front of the wire basket and switch out the green jars for purple Mason jars. So easy!
Next, I needed to think about flowers.  I guess that old axiom, "If it isn't broken, don't fix it." was at work here.
While shopping I spied an inexpensive bouquet of WHITE mini carnations.  Perfect for what I had in mind to do next!
After filling the Mason jars with the mini carns, the fun began!
Don't you just love the Target "Dollar Spot?" I always stop there with high hopes of finding something unexpected, yet perfect for an upcoming project, for just a dollar.  And I wasn't disappointed.  In the tumble of treasures, I spied a single plastic sleeve of foam Easter eggs. They were meant for hanging on a tree, instead, I pulled their little hanging ribbons off and inserted a small fruit skewer in each one.  How easy is that?
This year I've had a thing with eggs and skewers… you'll want to check out this eggstraordinary project.
Once the eggs were on the skewers, I inserted them among the flowers.  TaDa! 
Super quick!  Simple, yet eggstraordinary!  
You probably have some Mason jars just waiting to be transformed into something super special for Easter.  Mason jars can always be counted on to give you a perfect farmhouse style Easter centerpiece.  Plus… this couldn't be any easier… and it's really good on the budget, too.
What are you waiting for?
Jump up and gather your supplies and then stop by the grocery store for some pretty blooms and some foam eggs (if you don't have those in your stash already).
Speaking from my heart…
I know Easter isn't about eggs.
For a couple of years, I didn't "do" Easter eggs… or bunnies… or baskets.  Because this isn't the stuff of the REAL Easter.  And then I realized that if I ever had anything to celebrate it's Easter. Resurrection Sunday is the biggest day for Christ followers everywhere.  It's the day when we pull out all the stops and rejoice and sing praises like crazy people.  Because on this day we celebrate the craziest love that we could ever imagine.  The love that is so great it conquered death.   Jesus beat death… and sin… and all things evil.  It means we don't need to fear.  Anything. Ever.
I don't want to trivialize Easter… but seriously… if flowers and colored eggs make my heart dance because of their whimsy and beauty… then I need to let my heart dance.  There is no doubt in the Bible that God wanted His people to celebrate with food and festivals.  That means… we need to celebrate around the table for Easter… you can make your table pretty like I did here.  Add pretty eggs and baskets and bunnies if you wish… they're all a product of God's creation in some form.  But, most importantly… celebrate… worship… praise… and rejoice.
Today may be Friday… Good Friday.  The disciples didn't see the day as good.  It was the most horrible day that they could ever have imagined.  Seriously, no one ever could have dreamed up a day so terrible.  Unlike the disciples… we know the rest of the story… we know that Jesus came alive again… to live forever… so you and I can live forever with Him.  So today… Good Friday… remember.  Remember the goodness…. the grace… the love… the mercy… that was expressed for YOU.  Remember the blood, the thorns, the piercings, the cross, darkness, and death.  Remember the sin… my sin… your sin… the sin of the world.  Jesus bore it all… for love… for you… for each of us.
Remember…. 
And then on Saturday… get ready to celebrate.
Clean your heart, clean your house, be ready for the festivities.
And then come Sunday… celebrate.  Celebrate like there's no tomorrow.  Because in God's time… there is only today.  And that's where Christ's fullness is most real.
Wishing you a most blessed and joy-filled Easter.  
Diane
Receive FREE inspiration like this in your inbox!
Sign up Now.
CREATIVE EASTER IDEAS….
Turn a Plain Pot of Tulips into a Beautiful Easter Basket Garden
My Favorite Easter Centerpiece ~ It's Easy & Inexpensive, too!
Be Inspired By This 10 Minute Easter Vignette