I received the same Ball® Jars being given away.  All opinions are my own.

Did you know that I absolutely LOVE mason jars?
Back before they were popular, my aunt, when downsizing gave me a few boxes filled with vintage Ball® jars.  I thought it was the best gift ever, and used them to decorate my sweet saltbox.  Several moves later, the jars were popping up all over the place and I found them among my boxes and started using them here and here.
As much as I love those vintage Ball jars, my heart would pitter-patter whenever I spied an amethyst or purple mason jar.  However, I never saw one in real life… just in gorgeous vignettes in the blog world.
This week, I was blessed to receive a box of six purple pint-sized Ball® jars.  Oh my heart!!
Because I think the purple is sooo special, I decided to put together a Mother's Day idea for you that really shows off the pretty purple glass.
It's super easy… low cost… and takes very little time or skill.
Are you ready?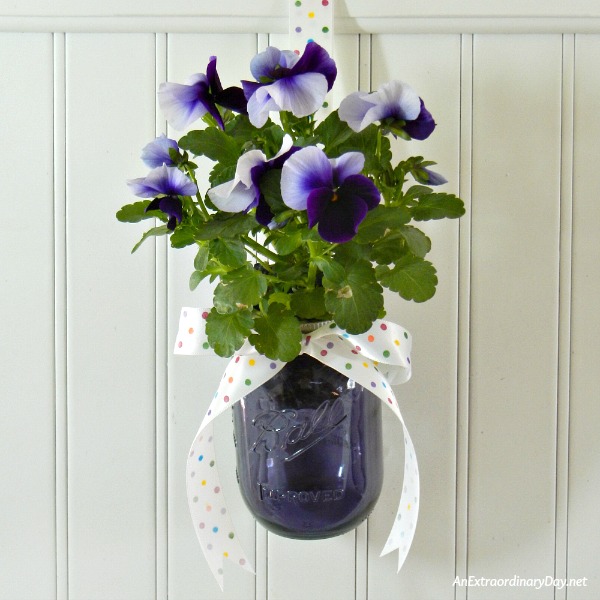 Hanging Mason Jar Posies for Mother's Day – Tutorial
Assemble Your Supplies
1 Pint Ball® jar in your favorite color… purple, green, blue, or clear
Mason jar ring
Pretty ribbon (I used one bolt of  7/8 in x 9 ft Offray ribbon for just $1.97 at Walmart)
Small pot of live posies (I used pansies – my pot was $1.99 at Meijer)
Cup hook or Command hook (hung inside the door with the hook up rather than down)
Heavy weight plastic bag (I used a Hefty gallon bag)
Scissors
Paddle wire
Wire cutters
Plastic garbage bag to protect your surface
Instructions
Before you begin, protect your working surface with an un-opened plastic trash bag.
Take your heavy gallon plastic bag and work a portion of it into the jar's opening to create a hanging pouch. (Note: you do not need to do this step if you want to fill your jar with potting mix.  However, since neither option is a long- term ways to grow plants, I prefer to use the plastic pouch because it doesn't require the extra dirt and I will treat my flowering plants like cut flowers and dispose when they wilt…. or plant them outside in the garden or other container.)
Once the plastic pouch is deep enough for your plant, place the ring over the plastic and screw the ring down on the jar.
Using your scissors, cut the plastic away from the outer edge of the jar ring, being careful to cut as close as possible to the ring so that there isn't any cut plastic hanging out.
Cut a length of ribbon to be used as the hanger.  You'll want to measure from the point the jar will hang from the cup hook (which you've already installed) inside your cabinet door to the bottom edge of the jar ring and then double the length and then add another inch or two for knotting the ribbon.
Take your paddle wire and run it around the jar, slipping in the hanging ribbon, and then tightening the wire as tightly as you can and twisting the wires and trimming the ends with your wire cutters.
Take the hanging ribbon that's being held in place by the wire and slide it so that it's an even length on both sides.  Double check to see that your length is correct and knot the end of the ribbon.  (The knotted end will be inside the door when you hang your finished project.) 
Next you 'll want to select the length of ribbon you need, and wrap it around the jar ring and finishing it off by making a simple tied bow.  To make this easier, I held the jar between my knees so that it would not move around while tying my bow.  Be sure to snug the ribbon tightly around the jar ring.
This is where things get a little messy.
Squeeze your pot to loosen it and then lightly hold on to it while you hold on the base stem of your plant and pull the plant out of the pot.  Notice the small plastic pocket you made for holding the plant and then begin to remove the extra dirt and roots so that you reduce your plant's root ball to be the size of your plastic pocket.  (Note: you should be using a damp root ball.  If it is not damp, water it and wait for the roots to soak up the moisture before moving on… you do not want a mud pie – that would be a mess… nor do you want your roots to be dry.)  Look to see what way your flowers are facing and when you drop your plant into the plastic pocket, make sure that the bow is facing you as well as the front of the flowers.  My root ball was a snug fit into the plastic pocket… you do not want it to be loose or it will fall out and dry out quickly.  Try not to get any dirt on your ribbon.  If you do… use a paint brush to brush away the dirt.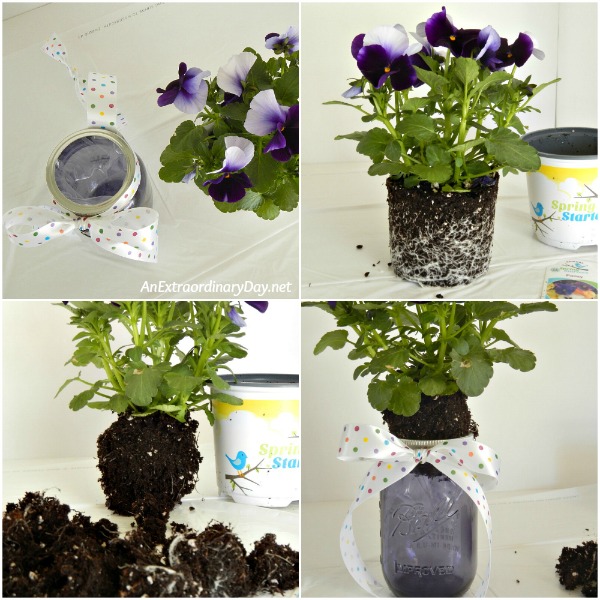 Hang your finished mason jar posies for a pretty Mother's Day presentation.
Additional Options:
If you don't have a spot to hang your pretty posies… eliminate the wire and hanger steps and simply tie a bow on your mason jar.  A grouping would look lovely down the center of the table, or better yet, place one at each table setting.  If you like, tie on little name tags under the bows.
I hung just one purple Ball® jar on my cupboard door.  But a trio would be amazing, hung at various heights.
If you don't want to deal with dirt and a potted plant, skip the steps for the plastic pouch and fill your jar with a little water and add fresh flowers from the garden to your Ball jar(s).
This is a fun project for Mother's Day… but it could be used for almost any occasion.
Since May 1st or May Day is right around the corner, you might whip up a few mason jar posies and hang them on the doorknobs of your friends and family along with a happy note or poem.
Today I'm joining my blogging friends for…
Please be sure to stop by their blogs to see what their amazing creations.

Yesterday on Tuesday :: Cupcakes and Crinoline :: Debbie Doo's 
Petticoat Junktion :: My Uncommon Slice of Suburbia  :: The Silly Pearl
Orphans with Make Up :: Domestically Speaking  :: Setting for Four
Lovely, Etc. :: An Extraordinary Day :: Lolly Jane

Receive FREE inspiration like this in your inbox!  Sign up Now.