Lately, I've been thinking about joy.
This morning I even prayed to have more joy.
As I was doing so I realized that I am blessed with a beautiful life.
Even if my current situation isn't what I hoped, planned, or even desired.
For some time, things have not gone my way… but isn't that true for all of us?
And so today… I'm going to concentrate on walking with God.
Allowing him to direct my path.
Being quiet and listening to him.
Because when I do…
There I experience joy. True joy.
And contentment.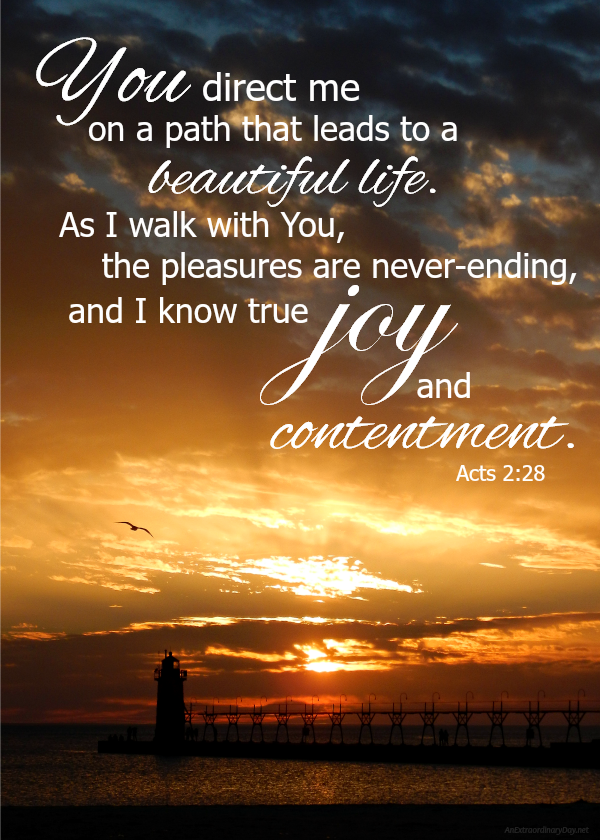 You direct me on a path that leads to a beautiful life.
As I walk with You, the pleasures are never-ending, and I know true joy and contentment.
Acts 2:28
Learning to walk continually in step with the Lord is where I will find my contentment.
Regardless of my circumstances.
God is doing some good things in our lives.
Tim received a job offer this week. It's not for the job we've been trusting and praying for, but it is full-time work. It's a full commission sales position that will entail lots of hard work and prayer. Getting back on our feet will be a challenge. Right now it looks pretty daunting. That's why we need to remember to let go of the reigns and allow God to direct our steps.
Join me this week in walking with God.
Look for the pleasures he gives along the path.
And with eyes wide open, see how the path is filled with the blossoms of joy and contentment.
Just in case this post seems a bit platitudinous to you… right now I need to get my mind focused on thinking about the good our God does and to keep trusting him… especially as I cannot see the way ahead. Doing this is positive for me spiritually, mentally, and physically. My goal is to walk this path in the knowledge that God is working all things together for my good.
Today I can not see what lies ahead.
So I'll rely on meditating on the promises that come from God's word, like this one:
You direct me on a path that leads to a beautiful life.
As I walk with You, the pleasures are never-ending, and I know true joy and contentment.
Acts 2:28
And trusting with every fiber of my being.
Because when I do… I will find true joy and contentment.
Are you challenged, too? What are you doing to make it through the difficulties?

If you like the scripture photo above… I've made it available as an 8×5 suitable for framing.
Download it for personal use here.

It's JoyDay!
JoyDay is the moment in time when we pause and take a quick look back over our week and give thanks. It's the time in which we fill our joy cups to overflowing. It's the time when we give thanks for the good and the not-so-good and find joy in the doing.
Won't you join me? Each week we count just 'seven.'
I'll start…
God, I thank you for…
the wait and how you've grown my faith because of the wait.
maple trees filled with their chartreuse flowers
Bluebilled Lesser Scaup and Pied-billed Greb (ducks) visiting the lake
my husband's continued faith in you despite how things may look
answering a big prayer and delivering my friend from a seemingly impossible challenge
your provision in an offer of work today after an incredibly long wait
knowing you have a plan to restore and rebuild our little family to bless and be blessed.
It's YOUR turn!
Scroll down to 'share your extraordinary thoughts' below and list your 'seven.'
You'll be glad you did. I dare you!!

Receive FREE inspiration like this in your inbox! Sign up Now.
Sharing with these Extraordinary friends:
I Should be Mopping the Floor + Imparting Grace