Is there anything better than Christmas decor that's free and natural?  I think not!
That's why I'm excited to share with you my simple rustic handmade Christmas ornaments made from birch logs and pine cones.
But, before I do, if you're here from The How To Home (Didn't Mary Beth create the cutest retro vintage ornament ever?), WELCOME!  This is the 4th stop on our third annual 31 Day Handmade Christmas Ornaments Blog Hop. Just like each year past, you can expect to be inspired by all kinds of lovely Christmas ornaments created by 30 extraordinary bloggers, plus me.  So… how about we get on with the fun?!
Over the summer, a crew of men sliced and diced their way along our country roads, cutting a huge path through the brush and trees for the benefit of the power lines.  It was like a team of madmen, wildly waving chainsaws instead of arms, executed this swath of devastation, leaving behind the carnage of mutilated trees and debris.  When severe storms come, they say we will be grateful that no tree was left standing. But the aftermath still gripes my heart.  I can't say anything good came as a result of those evil marauders.  However, I did manage to rescue a couple of small birch trees after they were struck down and left like toothpicks for the teeth of the giant chipper.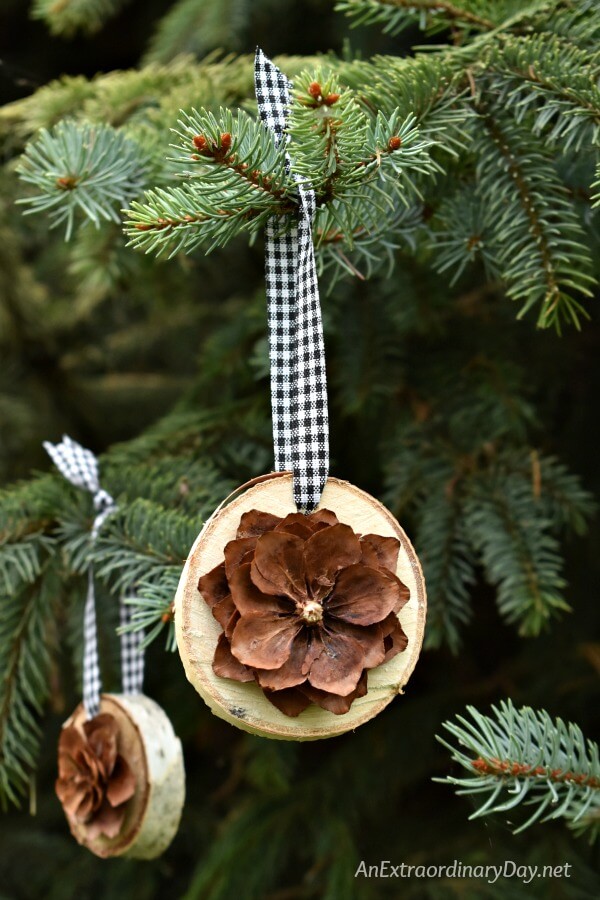 Several years ago, following a horrible windstorm, I came into possession of some thin birch limbs which I used to create a lovely birch Christmas wreath,  pretty winter centerpieces, and napkin rings.  At that time I had some leftover birch which I sawed into slices and used to make Christmas ornaments as a special gift for a friend. I wish I had the forethought at that time to have taken pictures of those pretty Christmas tree ornaments to show you.  How about I make up for the faux pax by recreating them with my newly rescued birch?

I've created a very simple tutorial so you can easily make a dozen or more of these handmade lovelies for your tree…. give as gifts… or use to dress up all your Christmas packages.
How to Make Birch and Pine Cone Ornaments
Supplies
Birchwood slices (2″-3″ in diameter) – fresh cut from logs or purchased pre-drilled wood slices
Power drill and drill bit
Pruners / Snips
Hot glue gun and glue
Pine cones (small, black spruce pine cones are my favorite, but an assortment of small to medium sized pine cones are what I used for these ornaments)
Ribbon for hanging
Assembly Instructions
To begin, drill a hole for ribbon or twine in your wood slice. (Unless you purchase pre-drilled wood slices.)  You'll see I placed a piece of tape on my drill bit to indicate the thickness of the wood slice so that I didn't drill too far and damage the board under the wood slice.
Cut the ribbon at a hard angle and roll up the tip to thread it through the hole.  It can be tricky, you might use a toothpick or something similar to help push the ribbon through.  Tie up the end of the ribbon to form a pretty ornament hanger.
This next step is a little challenging at first.  It's not hard, it just feels a little bit cruel to cut into a beautiful pine cone.  However, it's through the cutting that we'll see the beautiful flowers begin to emerge.
First, cut the tip of the pine cone off.  These tips will be so pretty among the flowers you create.  You'll be able to tuck them in just like little flower buds.
Keep moving down your pine cones cutting flower slices off as you go.
This takes a little practice.  You may have to sacrifice a few pine cones or flowers while you perfect your craft.  However, you may be able to use the pieces thought unusable for additional petals in creating your flowers.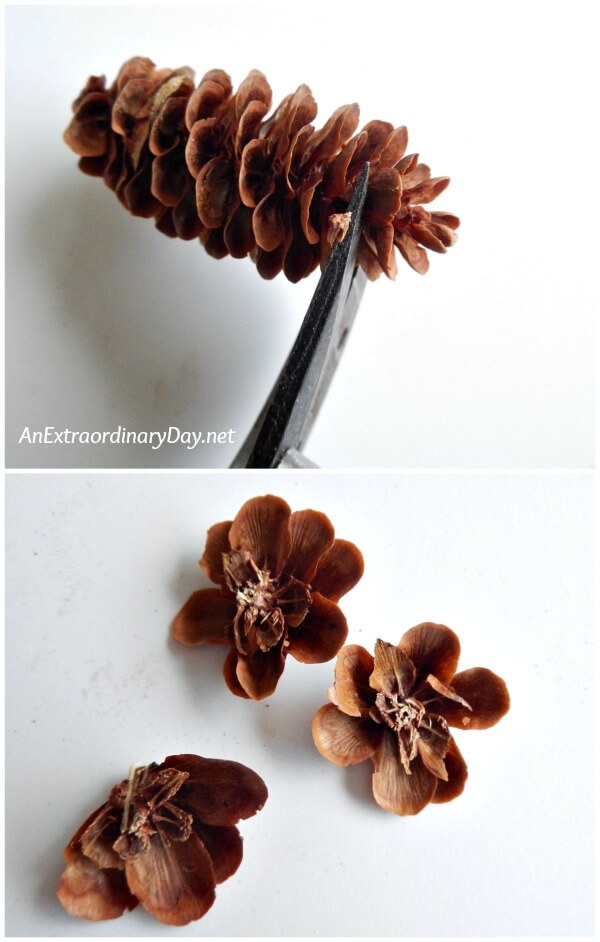 Take a flower you have created from cutting your pine cone, add some hot glue to its base and place in the center of your wood slice.  At this point, you could use a group of small flowers or tips and surround the main flower, or you can do what I did here and use individual pine cone "petals" and hot glue them around the main flower.  Usually, I have two layers of petals that I glue around the first flower I applied to make a larger more striking flower.
TIP: The pine cone petals, when cut, have little spikes on their bases.  Trim those off before gluing to the ornament.  That's why the end looks flat in the photo below.
This is where you get creative and have fun creating your little works of art.
I really liked working with the Fiskars snips
.  They made it easy to cut the spikes off the pine cone petals and for doing a little bit of trimming in the center of the flower where there is, inevitably, a torn petal.  My perfectionist tendencies take over at this point.  And the snips aid in my efforts to create the perfect flower.
Just like a snowflake, no two pine cone flowers you create will be exactly alike.  That's the beauty of God's creation and handmaking your own Christmas ornaments.  Each is unique and different and beautiful… just like you.
I hope you sit down and get your creativity on for a couple of hours.  You'll be thrilled with the results and have the beginnings of a simple natural Christmas that's absolutely gorgeous.
Do you prefer decorating your home for Christmas with nature's beauty?  I'd love to hear what you do.

READ:  Make the Tree Sparkle with Classy Marbleized Metallic Christmas Ornaments & 31 Easy Handmade Christmas Ornaments You will Love to Make

Before I send you off to visit all the other participating bloggers, I want to express my appreciation to Mary Beth of Cupcakes and Crinoline and Malia of Yesterday on Tuesday.  Thank you, ladies, for all your help and encouragement in hosting this amazing blog hop.  I couldn't do it without you!
Here are all 31 Bloggers in order of their appearance:
Day 1 – Pet Scribbles | Day 2 – Yesterday on Tuesday
Day 3 – Cupcakes and Crinoline | Day 4 – An Extraordinary Day
Day 5 – Celebrating Everyday Life | Day 6 – Hunt and Host
Day 7 – Love of Home | Day 8 – Celebrate Creativity
Day 9 – Petticoat Junktion | Day 10 – What Meegan Makes
Day 11 – Atta Girl Says | Day 12 – Sweet Pea
Day 13 – Exquisitely Unremarkable | Day 14 – Imparting Grace
Day 15 – In My Own Style | Day 16 – 504 Main by Holly Lefevre
Day 17 – Inspiration for Moms | Day 18 – The Chelsea Project
Day 19 – I Should Be Mopping the Floor
Day 20 – My Uncommon Slice of Suburbia | Day 21 – Hearth and Vine
Day 22 – Shabby Art Boutique | Day 23 – Remodelando la Casa
Day 24 – Domestically Speaking | Day 25 – Swoodson Says
Day 26 – Stone Gable | Day 27 – My Creative Days
Day 28 – The Crafting Nook | Day 29 – Knick of Time
Day 30 – Lovely Etc. | Day 31 – Live Laugh Rowe
Follow the Handmade Christmas Ornaments Pinterest page,
If you enjoyed this post, please use the sharing buttons
to let your friends know and "pin it," too.

Receive FREE inspiration like this in your inbox! Sign up Now.
The NEWEST Ornament in the Rustic Woodland Series!

How To Make Simple Rustic Woodland Animal Christmas Ornaments
Here you'll find direct links to each ornament post in this series.  A new one will be added daily.
Be sure to come back each day for more extraordinary ideas!
;