It's been one of those days…. extraordinarily warm for October and yet blustery.  With ominous gray clouds to the north and south, it appeared the skies would bust open and pelt us with rain at any moment.  And if I hadn't pulled my ponytail through the opening in my cap, it would have flown off my head countless times there on the beach.
When the winds gust to 37 mph, Lake Michigan throws up some large waves.  Just the kind of waves that surfboarders and kite surfers love and which little sandpipers skittering along the waters' edge seem oblivious to… even though they are often mere inches away from the surf.
The waves remind me of life's up and downs.  We can bravely fly across the water, jumping the waves and soaring as the kite surfers.  Or we can stand on the waters' edge… as I watched a surfer do today before he turned with his board and walked away.
When the winds of life whip around us… when the clouds look like they'll send torrents… when the waves look like they'll swallow us like the big fish swallowed Jonah… what do we do?
Run home, jump into bed, and pull the covers up over our heads?
That's not really all that helpful.

The Bible actually tells us how to find peace.

We must turn our thoughts OFTEN to the Lord.
He will keep in perfect peace all those who trust in him, whose thoughts turn often to the Lord!
Isaiah 26:3

If my thoughts are on me and my circumstance I will be totally consumed with my situation.  When my focus is on the wind and the size of the waves then worry and fear creeps in and starts to make everything seem impossible.  BUT… if I consciously choose to keep my mind focused on God and his love, grace, mercy, power, and provision… then… then I have peace in the midst of the storm.
With God's peace over you, you can rise above your situation.  You can be like the kite surfer beautifully moving, almost dancing on the waves and even soaring.
I know it sounds simplistic… maybe even trite… until you choose to trust God and keep focused on him rather than your situation.  It's then you'll discover the wonderful freedom that comes from trusting the One who loves you with his everlasting love and always knows what's best for you and the perfect way to navigate any situation.
What are you facing?
God doesn't want you to own it.  He wants you to entrust him with it.  Give it to him to carry and solve.  Nothing is too difficult for him.
The peace that passes understanding is waiting for you… waiting to guard your heart and mind in Christ Jesus.
Want peace?
Let go and let God.  Trust HIM and keep trusting him.
Whatever you do… don't go fishing for your problems again.  Instead work at training your mind to trust, keep trusting, and maintain your focus on our loving heavenly Father.
It takes practice… it may not come easily.  But, over time you'll be able to look back and see just how much your trust has grown and with that just how wonderful and amazing God really is.
Are you in the middle of a difficult situation? What are you going to do?
If you're in a place of calm, how will you prepare for the challenges that will come crashing down on you in time?
Today is the day to make a conscious decision to focus your mind on the Lord and his goodness and grace.  That way when you're facing times of tumult you'll know now only how to find peace, you'll already be filled with God's amazing peace.
It's JoyDay!

Through all the ups and downs of life, I've come to the conclusion that counting and giving thanks are key to trusting God.  When we take time to see all that God is doing in and through our lives… it's pretty amazing!  How can we NOT put our whole trust in HIM?  So… please join me in thinking back over the past week and counting seven things for which you are thankful.  This simple exercise of counting and giving thanks together in this space resets our compasses and put our eyes back on the Lord. And ultimately fills our hearts with JOY!
I'll start…
Thank you, God for…
showing me a verse I've read many times and making it so fresh and new for me.
blog hops and blog friends and the joy of networking in this wonderful online world that I'm blessed to be a part of.
rains that finally came.
my new rug and how you helped make that happen.  
some good sleep this week.
how you work in and through our prayers for others.
this lovely warm and peaceful fall.
Now…it's YOUR turn!
List your 'seven' in the 'share your extraordinary thoughts' section below.  You'll be glad you did.
Thank you for stopping by and leaving your sweet thoughts.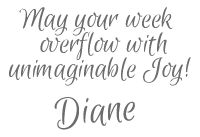 Receive FREE inspiration like this in your inbox!
Sign up Now