Birch is such a fun wood to decorate with in the winter.
It gives a space a certain brightness and the bark almost seems reflective.  Both of which brighten corners and more during the dark gray days of winter.
If you've been following along, you may remember the birch wreath for Christmas.  Shhh…don't tell anyone…but it's still up and it has a few cardinals residing in it's quickly drying greenery. [wink]  We also used it to decorate the front of the house, which for some reason none of my photos turned out, and we used it to decorate the fireplace and mantel area for Christmas as well.
After Christmas, I didn't quit playing around with birch.
I realized how it brightened things up and was so visually interesting with its flaking bark and "eyes"  that I used it to create a winter woodland tablescape.
Seriously I loved that tablescape and we're still using the centerpiece on the table even today.
It seems that a few other people were smitten with it too.  I was especially excited when Beckie from Roadkill Rescue featured the tablescape on her blog last week.
She mentioned that I was using birch branches from my yard.  Actually I may not have been clear on that in the post.  We had quite a windstorm come through where we lost power for nearly 24 hours, and branches and trees were down all over the area.  In fact we were quite lucky…many were without power for a week.
As my friend and her husband were driving to pick up a generator from a family member, she noticed some birch branches that had come down.  And since they already had a trailer with them for the generator….she picked up quite a bit.  Lucky us!!!
Do you keep your eyes open for treasures following a storm?
When I posted the Winter Woodland Tablescape, I mentioned that I would share a tutorial and show you how to make birch napkin rings.  Finally….I'm getting around to posting the tutorial!
I need to apologize….I create lots of tutorials.  Um.  Er…I take lots of photos along the way as I create.  What I don't do well, is go back and put it all together into a tutorial.
Why?  Because….once the project is done….writing up the tutorial isn't a lot of fun and choosing the right photos and doing all the editing just plain takes a lot of time.   It's the grunt work.   The upside…many of you appreciate it….so I do it just for you.  Yup…it's a gift of love.  So…whenever I post a tutorial….know that I do it because I love  you.  🙂
How to Make Birch Napkin Rings
Supplies:
Birch branches – approximately 2″ in diameter
Power or Hand Saw –  I used a power mitre saw
Jute
Tiny pine cones
Scissors
Glue Gun
Power Drill
Snowflake Paper Punch (Optional)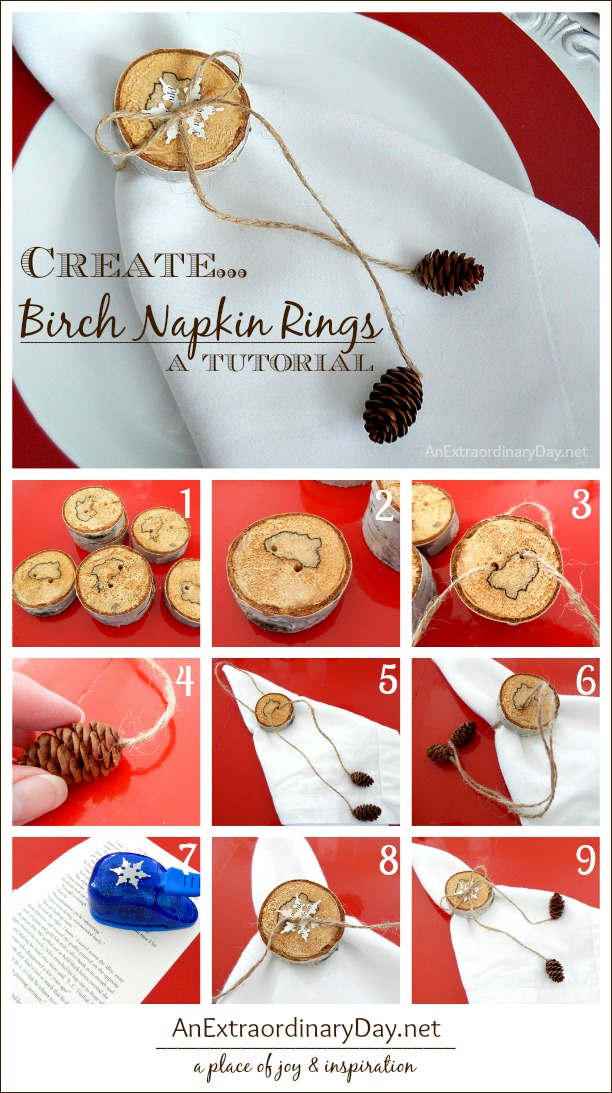 Directions:
Saw your birch branches into 1/2 inch slices.
Choose a drill bit that will create a hole large enough for the jute to slide through the birch slice.  Drill two holes in the middle of the slices, like a button.
Pull the jute through the drilled holes from the bottom up.  Leave plenty of room to create a loop, large enough to slide a napkin through.
Hot glue your small pine cones to the ends of the jute.
Your birch slice and jute with pine cones will look like this prior to sliding over the napkin.
Pull the jute strings up to snug around the napkin….but not too tightly.  Allow room for the napkin to be released…or slid out from the jute napkin ring.
If you're creating the napkin rings for a winter woodland table setting, punch out some snowflakes.
Using a dot of hot glue, glue the snowflake to the birch slice.
Bring the strands of jute together and tie a bow.
What a truly simple way to create an extraordinary napkin ring for your table setting.
Keep your eyes peeled for nature's castaways following a storm.  You never know what you'll find.

Have you played with branches and twigs or something else provided by Mother Nature, lately? 
Thank you for stopping by today.
I appreciate you and your sweet comments make my day.
Wishing you Extraordinary nature finds!
Diane
To receive FREE bits of inspiration like this
in your inbox or reader, 

subscribe now

.
I'd be delighted if you'd share the goodness here with your friends.