There you are… standing in line at the grocery store.
There they are… beautiful blossoms beckoning you to take them home.
You hear their whispers, "I'm so pretty, your house needs me." "You know you want me… take me home with you."
But, you remember that you have no idea how to make a tulip arrangement.  And you tell yourself, "Flower arranging is not for the faint of heart."
Pshaw!
You may never have successfully arranged flowers before in your life.  But TODAY!  Today you will make a stunning floral centerpiece and it will be the FIRST of many, many more to come!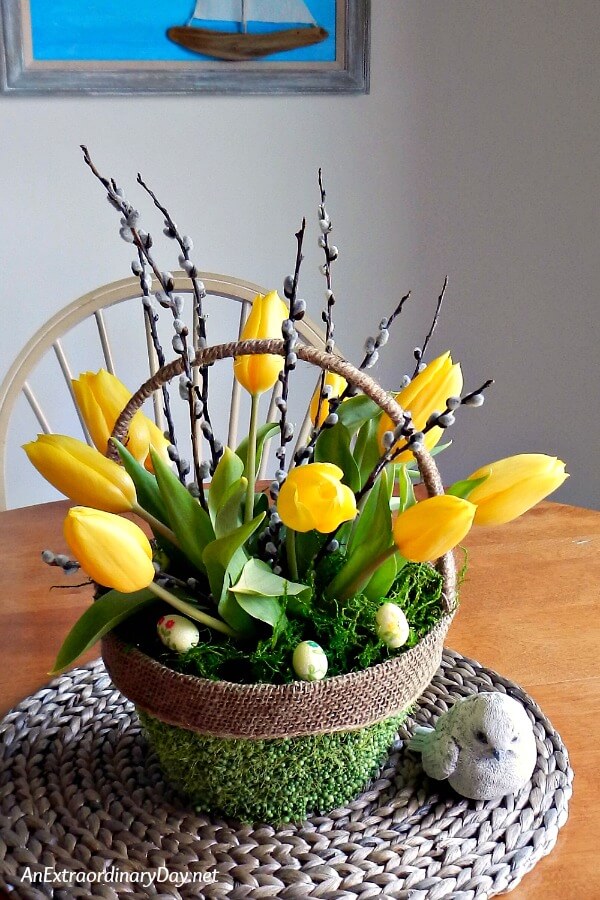 Recently I brought home the most gorgeous pot of pink tulips from the store.  The price was right and I found I had the perfect basket and turned them into a stunning centerpiece for my table.  Unfortunately, tulips don't last forever.
My heart was sad that all that beauty had withered and faded away.
While standing in line at Aldi… there… shining like the sunshine… were a bunch of yellow tulips smiling at me just across the checkout stand.
I stretched as far as I could and carefully pulled those pure yellow buds of happiness from that tight bucket of flowers squashed into a tight space behind the chocolates and peanut butter crackers.  They obviously had been in shipment a while and starved for light as their outer leaves were pale. But, at just $4.99 for 10 stems, and the most stunning shade of yellow, I couldn't help but take them home with me.
After finally making it home, I was tired from a long day, so I simply pulled off the pale leaves and plopped them in a pretty mason jar where they spent two nights and a day.  Mason jar flower arrangements are nice… but I wanted to do something much more special with those pretties.
This morning,  I realized that I could put them in the same basket that held that pot of pink tulips.  "What a great idea!" I thought as I patted myself on the back.
Aren't those ah-ha moments the best?  They energize me.  So much so that I decided to quickly grab my camera and show you how I created this EASY tulip arrangement.
Easy Tulip Arrangement in a Basket

Supplies you'll need…
Fresh Tulips – 10 stems or more
Basket
Container to hold water
Fresh cool water
Plastic grocery bag
Scissors or knife
Florist foam (or something to use as a wedge)
Florist moss
Pussy Willows or Sticks optional
Here's how I made this pretty tulip centerpiece for my table.
Arrange a plastic shopping bag in your basket to serve as a protective liner for any water spills.
Decide on a container to hold water in your basket that isn't any higher than the sides of your basket. I used an empty frosting container.  You probably have something in your recycling bin that will work.
Fill your container with fresh cool water to about an inch or two from the top and place in the center of your basket.
I used leftover floral foam from making this Easter basket to wedge the water container in snuggly so it wouldn't accidently spill.  You can use anything like wadded up grocery bags or newspaper taped together, or even parts of an egg carton you cut apart to make secure wedges.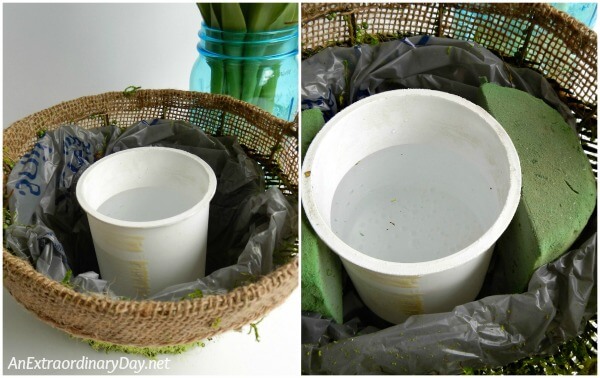 Now, we're ready to start with our flowers.  The first thing you want to do is take one flower stem and decide how tall you want it to be in your basket.  I liked the look of the flowers slightly extending past the handle for a fuller open look.  Trim your flower the height you want and then proceed to cut the rest of the flowers the same height with a sharp knife or scissors.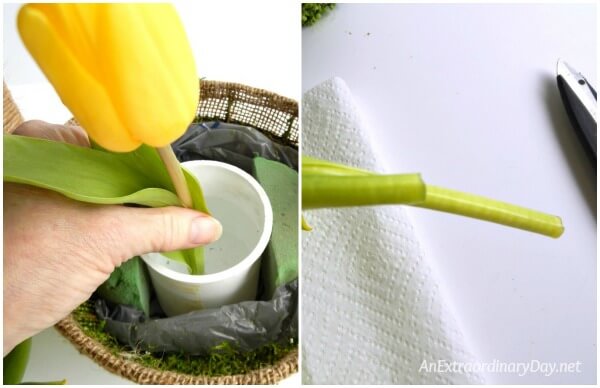 If your basket has a handle try to place 5 tulips on each side of the handle.  I typically will place one on each side of the handle until I have used all the tulips.  The beauty of arranging tulips is that they have "sticky" leaves and will hold on to each other as you place them in the container together and stay put if you don't jostle them much.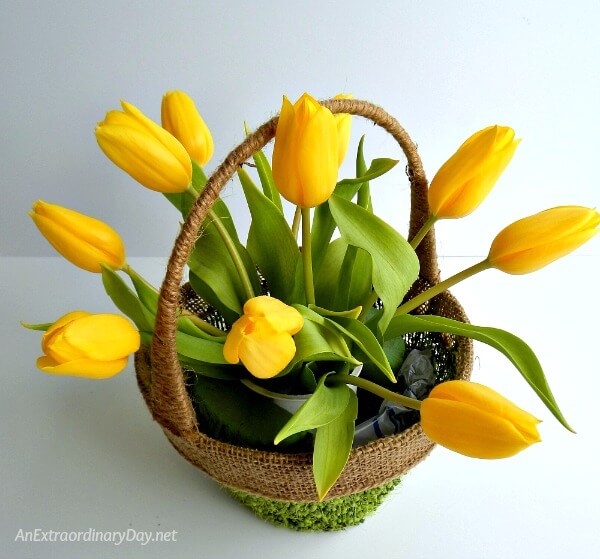 TIP: It doesn't have to be perfect!!! Do not over think this.  If you don't like what you did. Take the flowers out and start again… but give yourself grace. It doesn't have to be perfect!!
The more you play with flowers and tulips the more comfortable you will get.  As with anything… practice does make perfect. BUT…
We're not going for perfect… we're going for pretty.
Once your tulips are arranged, loosely fill in the space between the tulips and the basket with florist moss. I love this look because it makes the tulips appear as if they are growing in your basket as opposed to being arranged in water in the basket.
If you like, add in some pussy willows or twigs for a little visual interest.  This year I cut a huge armload of pussy willows, so I've been having much fun incorporating them in my Easter and spring decor.
Because I put this little arrangement together just before Easter, I re-used the little eggs I decoupaged for the pink tulip basket.  They are not necessary and seriously… I kind of wish I'd left them off so you could see the difference.  But, as with everything, I'm always in a mad dash to accomplish a lot when the sun is shining.
I hope you've been inspired to create your own pretty basket of tulips or other flowers.
There is an abundance of daffodils in our area right now.  The difference is that those skinny stems and fluffy heads will be a bit more challenging to arrange.  In that case, please refer to my super easy flower arranging tip.  It will turn you into a professional flower arranger for sure!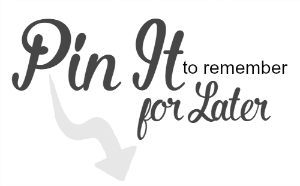 Let me know if I've encouraged you to make a pretty flower basket.
Spring is my favorite season of the year and I'm bringing as much of it inside as possible with what I can gather from Mother Nature along with some grocery store blooms.
Happy flower arranging!
Thanks so much for popping by today!
If you enjoyed this post, please use the sharing buttons to share it with your friends and "pin it," too.

Receive FREE inspiration like this in your inbox!
Looking for more Flower Arranging Ideas?
Check these out…
Super Easy Flower Arranging Tip
Pretty Mother's Day Mason Jar Gift Idea
Casual Simplicity ~ Patriotic Tablescape