Mother's Day comes at one of my most favorite times of the year… flower planting time.
If I could give Mom the ultimate gift for her special day, I'd create an English cottage-style garden with a white picket fence filled with all her favorite pretty flowers. It would be so fun to design, shop for, and create.
Around Mother's Day all the garden shops and greenhouses are brimming over with the most beautiful flowers and plants of the season.  All that goodness makes my heart swell with joy and anticipation.  I don't know that there is anything I like better than to go greenhouse hopping… carefully selecting the perfect combinations of leaf and petal to create stunning container gardens or entry gardens.
Creating that cottage garden filled with pretty flowers would be my ultimate dream gift for Mom.  And that's what it is… a dream.  I'd love to do it… but time and money and then the extra garden tending that I would need to do for Mom really make it…  just a dream.
What could I do instead that would make her day special AND include flowers and a picket fence?
Fill a gorgeous Mason jar with beautiful flowers and dress it up with a bit of washi tape.  And yes…. a picket fence!
This project is easy to do… super fun… and whimsical too.
Give Mom Pretty Flowers and a Picket Fence on Her Special Day
Here's what you need…
Let's Get Started!
To begin you'll need your wire cutters, your Ball® Mason Jar, and picket fence. (The cute bird comes a bit later)
Wrap the fence around the jar.
With your wire cutters cut the wire one or two fence pickets beyond the spot that it comes together.
You'll lose a picket or two in the process. Twist the extra wire around the opposite picket to create a circular fence for your jar.  If you wish, a dot of E6000 will make it more secure.
Put a bird on it!  Remember when we were seeing birds on everything and lots of bird graphics?  I still like the whimsy that adding a tiny miniature bird adds to the garden theme of this picket fence.  I wired the bird to the fence and trimmed his feathers which if you noticed in the earlier images were really long.
Also, at this point, you can add a dab of E6000 glue to attach the picket fence permanently to the Mason jar if you like.
I'm sorry I don't have a detailed photo tutorial for the cute fence banner… but I will tell you how I created mine.
I used aqua blue paper and added stripes of color with Washi tape.  After cutting the little pennants with my scissors, I took an extra fine sharpie and added the M-O-M to the pennants.  After that I used Tacky glue to attach the pennants to some bakers twine, making sure to leave extra at the ends to tie around the picket fence.  It really gives the picket fence a whimsical touch that Mom should love.
I had a few rolls of washi tape in my stash and was happy to see that they were the right width for the Mason jar ring.  It's so easy to roll it around the ring using the lip as a guide.  Overlap the tape, trim, and press down well.
That's it!  Now it's time to arrange some pretty flowers for Mom in your fun and whimsical jar.  It will truly be a cottage garden party by the time you're finished!
TIP: I picked the flowers for this arrangement at Walmart. Many grocery stores have a great selection and fair prices.  If flower arranging isn't your thing… take your picket fence Mason jar to your local florist and have them fill and arrange your flowers for you.  Bringing your own container reduces the cost significantly.
For more inspiration… follow me on Pinterest.
I'm pretty sure Mom is going to LOVE her cottage garden in a jar.
My friend Malia invited me and some our blogging friends to join her in a special blog hop.  In honor of Mother's Day, we have created some lovely Mother's Day themed projects featuring the new Ball® Elite Collection Mason Jars.  (Which I received to use in this post.  I was not compensated in any other way and the flowers and picket fence idea were all mine.)
Visit these blogs and check out all the GORGEOUS Mother's Day Gift Ideas!
A Little CLAIREification – An Extraordinary Day – Cupcakes and Crinoline
Domestically Speaking – My Uncommon Slice of Suburbia
The Country Chic Cottage – The Silly Pearl – 3 Little Greenwoods
Simply Kelly Designs – Yesterday on Tuesday
I'm in LOVE with these beautiful blue jars! As a matter of fact,
Ball® Canning wants one of YOU to win an entire case of them…
and you get to choose the size!
Enter our giveaway below
and be sure to visit all these great blogs and see their fun mason jar ideas!
More Extraordinary Mason Jar Ideas…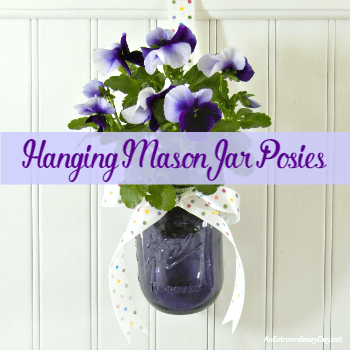 Hanging Mason Jar Posies for Mother's Day
Tablescape :: Vintage Mason Jars & Book Pages
Thanks for stopping by today… I can't wait to hear your lovely thoughts!

Receive FREE inspiration like this in your inbox!
Sign up Now.