Lord… 
I will exalt you in praise…
For you have done extraordinary things.
Isaiah 25:1 NET
Download this frameable 5×7 graphic for personal use HERE.
3 Ways to Overcome Overwhelm

It's a brand-new squeaky-clean week.  Are you excited for what lies ahead?
Sometimes we cannot wait to greet the first day of the week!  We're full of joy, ready to zoom off at full speed.
Other times, we feel used up and worn out and it's just Sunday.  We look ahead and sigh, already worn down with not-so-positive anticipation.
Where are you as we begin a new week?
Not long ago I came across this verse….
O Lord, you are my God!
I will exalt you in praise, I will extol your fame.
For you have done extraordinary things,
and executed plans made long ago exactly as you decreed.
Isaiah 25:1 NET
and had a big realization…
The best way to deal with big time stress… those overwhelming feelings and dread for what lies ahead… is to
Acknowledge God and His Lordship in our lives.

Give Him praise and glory for how He has faithfully done many wonderful things in our lives.

And praise Him for the many things He has planned for us that will take place in His time.
The beauty of it is that when I acknowledge God as my Lord… I quit being the center of my universe.  He takes center stage.  That alone can right a world that seems to be toppling.
Look back over your day or week.  How have you seen God's care played out?
Did He keep you safe while driving?
Did He give you wisdom for a difficult situation?
Did He make your one dollar stretch to become four dollars?
What is it you are facing that seems too large, too impossible?
God has already been at work on your behalf.
He is always with you.  He promises to never leave or forsake you.  And in spite of how things appear, God knew all these things would take place and He is working things out for you.  In fact, way before you got blindsided or stomach punched, He knew it would happen and He started preparing a way for you.
When you have one of those really overwhelming weeks ahead….how are you going to handle it?
Use these 3 tips to Overcome your Overwhelm
Start with acknowledging God as the Lord and leader of your life.
Thank Him for the extraordinary things He has already done.
Praise Him for what He has planned for you.
To do this… could be life changing.
It's Joy Day!
Today is the day we take time to look back over our past week and count the gifts and blessings from the past week.
I'm reminded that some gifts aren't exactly pleasant.  Yet, in all things we are to give thanks.
Please join me in counting just 'seven' from the past week.
I'll start…
God, I'm so thankful for…
Your protection as another driver nearly drove into the side of our car.
three days of unexpected events that turned my days upside down.
the healing properties of homemade broth and chicken soup.
the wonderful test results my dear friend called with this week!!
an unexpected kindness.
all the extraordinary things you have done in my life.
Your extravagant love and generosity (Romans 8:32).
Now it's YOUR turn!!
Scroll down to the comment section…Share Your Extraordinary Thoughts….and list your 'seven.' I dare you!
Thank you for stopping by and taking time to leave your sweet thoughts.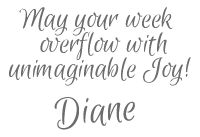 Receive FREE inspiration like this in your inbox!
Sign up Now. 
Thanks to Angie Makes for the watercolor art I used in the printable.