He is risen!
He is risen indeed!
I love this greeting exchanged by believers of the early church.  In our home, when we awake on Easter morning, those are the first words we exchange. It's a wonderful remembrance that Jesus came with a purpose and did exactly what he came to do and said he would do. It lifts our hearts, gives us hope, and reminds us that we can trust and believe our loving God and Savior, Jesus Christ.
But, what about those first followers of Jesus?
They walked and followed and listened to Jesus speak about this new kingdom he was preparing.  They heard him explain the scriptures to those who would listen, and challenge the religious leaders.  And then… everything went haywire.  Jesus was arrested, "chosen" by the rowdy crowds, beaten, humiliated, crucified on a cross, and laid in a borrowed tomb.
In the midst of all the craziness… had they forgotten?
But very early on Sunday morning the women went to the tomb, taking the spices they had prepared. They found that the stone had been rolled away from the entrance. So they went in, but they didn't find the body of the Lord Jesus. As they stood there puzzled, two men suddenly appeared to them, clothed in dazzling robes.

The women were terrified and bowed with their faces to the ground. Then the men asked, "Why are you looking among the dead for someone who is alive? He isn't here! He is risen from the dead! Remember what he told you back in Galilee, that the Son of Man must be betrayed into the hands of sinful men and be crucified, and that he would rise again on the third day."

Then they remembered that he had said this. So they rushed back from the tomb to tell his eleven disciples—and everyone else—what had happened. Luke 24:1-9 
What was it that the women were prompted to remember?
When Jesus came to the region of Caesarea Philippi, he asked his disciples, "Who do people say that the Son of Man is?"

"Well," they replied, "some say John the Baptist, some say Elijah, and others say Jeremiah or one of the other prophets."

Then he asked them, "But who do you say I am?"

Simon Peter answered, "You are the Messiah, the Son of the living God."

Then he sternly warned the disciples not to tell anyone that he was the Messiah.

From then on Jesus began to tell his disciples plainly that it was necessary for him to go to Jerusalem, and that he would suffer many terrible things at the hands of the elders, the leading priests, and the teachers of religious law. He would be killed, but on the third day he would be raised from the dead.  from Matthew 16:13-21
It seems that if the women had remembered and had believed Jesus… they wouldn't have gone to his tomb hoping to attend to his dead body. Yet, that was the purpose of their early morning visit.
Why did they not remember?  
They thought the world of Jesus.  The spent time with him, followed him on his travels, ministered to his needs, and surely loved him.  How is it that they forgot… "He would be killed, but on the third day he would be raised from the dead."
I'm really not sure why those words were not burning in their memories.
Here's what I am sure of…
When Jesus came, he fulfilled all the prophecies in the Old Testament that had been written about him. He spoke the truth and did what he said he was going to do. Jesus gave us a blueprint for living an abundant victorious life.
And yet… we… in the midst of our busy day-to-day lives often forget his truths.  We live as if he never lived.
As we celebrate Jesus' resurrection today… let us remember.  And keep that remembrance alive each day.
Let's remember so that we truly can live transformative, resurrected, victorious lives in the Name and power of Jesus.
He is risen!
It's JoyDay!
And time to get our joy meters soaring!
Please join me in thinking back over the past week and counting seven things for which you are thankful.  This simple exercise of counting and giving thanks together in this space is something we do each week to reset our compasses and put our eyes back on the Lord.
I'll start…
Thank you, God for…
this season of lent that prepares our hearts for the wonder of Jesus' resurrection.
my wise friend and for helping us through a trying situation.
seeing spring bursting forth in bloom!
a creative and productive week.
supermarket flowers that bright my home.
Tessa's hearing miracle!
those stolen moments where we sat on the beach (even at 40 something degrees) and wiggled our toes in the sand.
being our healer, provider, restorer.
Now…it's YOUR turn!
List your 'seven' in the 'share your extraordinary thoughts' section below.
You'll be glad you did.
Thank you for stopping by and leaving your sweet thoughts.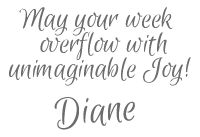 Receive FREE inspiration like this in your inbox!
Sign up Now. 
If you found this post helpful….please pass it on to your friends.