Want to know a secret?
I just figured on how to make the most beautiful… yes… perfect mossy eggs.
Even better… I'm going to share the secret with you.
But, first… let's just look at this pretty spring vignette.
It's filled with some of my favorite things… pussy willows, an old cement planter, moss, birds, eggs, bunnies… and even a little gold.  Okay… maybe a lot of gold.
This year I am all about moss for spring.  It's a great way to infuse life and spring into my home decor without spending a lot of money.
A bag of moss, depending on style and store, can cost anywhere from $4 to $12 and it goes a long way.  Or at least it can if you utilize some of my tricks.
Before I share those tricks, let's talk about this side table which is making, another seasonal appearance on the blog.
When I first started dreaming about what I was going to do for spring and Easter on my side table I knew whatever it was, moss would be involved. I've been crazy about moss this year, using it in small ways in my decor. It all started at Christmas when I put moss in pretty tea cups for my Advent candle "wreath."  I cannot tell you how much I loved that "wreath."  There is even a turkey roasting pan on my deck that has become a beautiful moss nursery… just waiting for me to include those clumps of green velvet somewhere in my home decor.
One day I was at Hobby Lobby with a friend when I spied these golden birds and eggs.  The price was right at 40% off.  I had planned to cover the gold with moss.  But, then there was a happy 'accident.'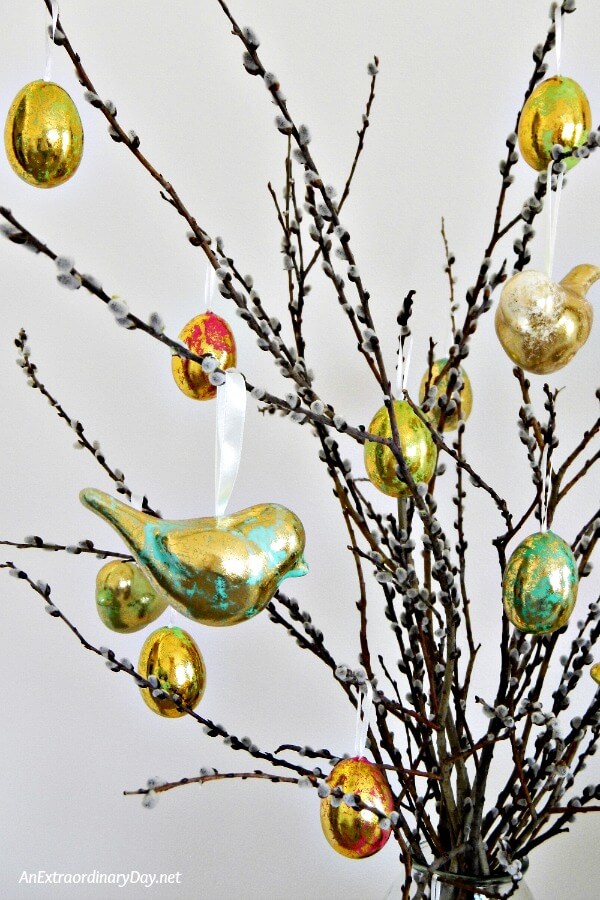 It all started when the pussy willows I had gathered a few weeks earlier were placed in this interesting jar (which I found on clearance at Meijer for $2). All I wanted to do was see what the birds and eggs would look like hanging on the stems of my pussy willows.  I arranged them in a way I thought looked nice and planned to take them off the pussy willows one-by-one as I made them into mossy eggs and birds and re-hang them in their chosen spots.  But, they caught the light and glowed and really were an elegant contrast to the natural woodsy pussy willows. I was in love.  Usually, I reserve gold for Christmas.  But, the longer the gold eggs and birds were up… the more I was happy with my unexpected gold Easter and spring decor.
One day before work, I popped into a local thrift shop.  Just inside the door was this cement urn and it was only $5. The clerk at the store wanted to know if I knew what I would do with it and I told her I was going to put a bird's nest in it. That actually sounds easier than it was. I live in a woodsy area which would seem to have lots of gatherings that would be perfect for making a bird's nest.  All my exploring and I only came up with some grapevine… most of which were a little thick and some twigs from the bushes.  They were all a little bit brittle.  And yes, it was challenging.
Fortunately (or not) I have done a fair amount of basketweaving in the distant past, so that helped me to set up a little form for my nest. But, frankly, I lost patience and didn't fill it all in with twigs or grapevine.  It really doesn't matter, as the bottom of the nest isn't visible anyway. I provided enough support to create a mossy interior, so I was all set, anyway. My favorite feature of the nest is the tiny pussy willow twigs I cut to weave around the outside.
A few weeks earlier I explored stores for inexpensive eggs that I could cover with moss.  I have a sneaking suspicion that my husband was sure I was going to coat our whole apartment with moss.  Everywhere I looked I wondered if the object I picked up would look better covered in moss.
Because repetition is always important in decorating, I knew I needed to have golden eggs snuggled into my pussy willow covered nest. Those eggs which are a fairly large were a dollar store splurge. They are metal eggs and they contained two "Smartie" rolls of Sweet Tarts. If I were a little kid and opened up that large egg to find two small rolls of candies and a whole lot of empty space in that egg… I would be incredibly disappointed.
But, for golden eggs.  They are perfect.  With just a little spray from the best gold spray paint, they look amazing.
Of course, I couldn't have only eggs in the nest.  This sweet gold bunny from Aldi (so much cuter than the Lindt chocolate bunnies and much less expensive) was just the whimsical touch needed.
You'll notice I pulled a little moss out between the cement urn and the nest.  It repeats the moss in the bottom of the glass vase holding the pussy willows and the mossy green of the bunny on the wall and the eggs. Gotta have that repetition thing going.
I brought back the tea towel I had draped over the table in my winter vignette because I need some visual interest to break up that long table and it complements the white polka-dots on bunny's bow and flower as well.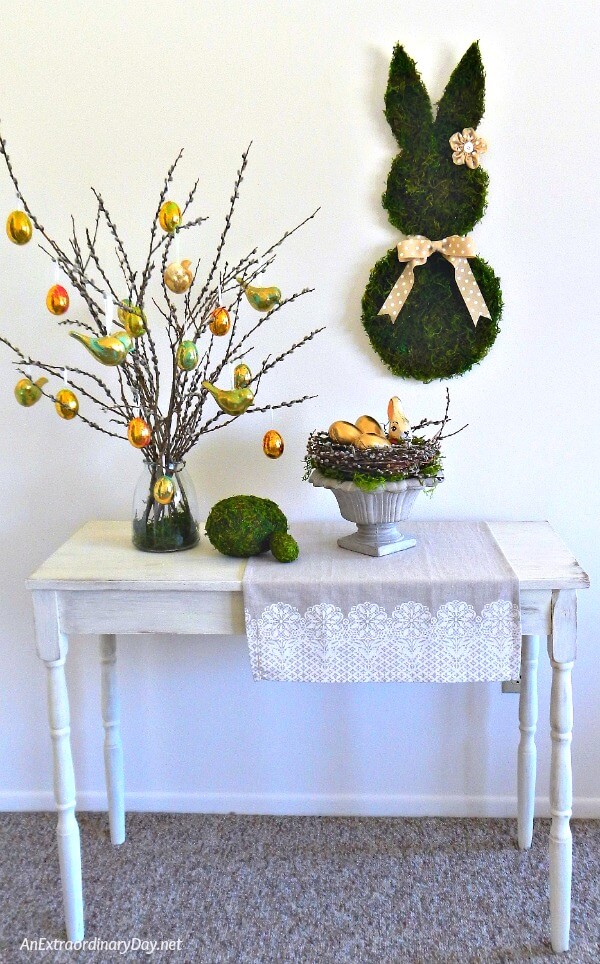 This mossy bunny was so much fun to make and so easy too.  I'll be back with the tutorial.  It's a great way to make a big visual statement, doesn't take a lot of craftiness, and my favorite part, is super inexpensive, too.
Are you still interested in knowing the secret to making perfect mossy eggs?  
I thought so.  Here's a little tutorial…
How to Make Perfect Mossy Eggs

Supplies
Instructions
After placing plastic over your work surface, pull out a small "chunk" of moss, tear it apart so it's loose, and with your scissors, cut it into small pieces 1/4″ to 1/2″ pieces.
Make a little mound of moss on your plastic sheet.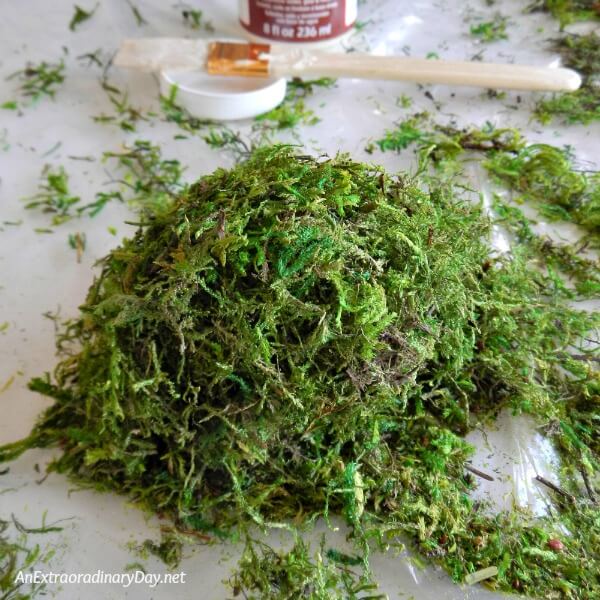 With your paintbrush, heavily "paint" Mod Podge on a section of your egg.
Dip the Mod Podged section of your egg into the mound of moss and press down… firmly.  Make sure to continue until all the Mod Podge is covered with moss.
Repeat… section by section… until the whole egg is covered in moss.
You may not have enough cut moss… cut more as you go… however, the moss really does go a long way.
Once the egg is covered, keep pressing the moss into the Mod Podged egg with your hand until it feels pretty secure.  You're trying to make sure that all your moss is in contact with the Mod Podge so that it will stay glued in place.
Look for any spaces that don't have moss and dab a little Mod Podge into that area and press moss into that spot.
Set aside your egg to dry for a few hours and then check to see that everything is in place.  Feel free to press the moss down on your egg again. If you have any errant pieces… trim them off.
Don't you just love these mossy eggs?
Be watching for another tutorial as I'll be back to share how I made my cute mossy bunny.  Every time I glance her way, she makes me smile.
The springy vignette is such a bright and happy spot in my little apartment.  I'd love to hear what caught your eye and I hope you've been inspired to bring a little spring into your living space, too.
Thanks so much for popping by today!
If you enjoyed this post would you please share it with your friends and "pin it," too?

Receive FREE inspiration like this in your inbox!