You asked for it!!
You got it!!
A tutorial for creating your own Mason jar pleated collars from book pages. 
I confess to having fun dreaming up this one.  You can click to see how I used these sweet pleated collars for a simple snowball viburnum table vignette and for my book page party tablescape.  It all came about as I was creating the book page tablescape and though I wanted the Mason jars to hold flowers…they just looked 'naked.'  The book page collars dressed them up in high fashion.  And besides….I love pleats.   Do you, too?
Are you ready to create your own Mason Jar Pleated Collars?
Let's start!
Depending on the size of your book and your jar, these details may vary a bit.  However, I used a vintage quart jar, so you will have more than enough for a pint-sized jar.
1. Assemble supplies:
A paper trimmer
, pages from a cast off book (mine was 8.5 x 5.5), tape, scissors
, ruler, jute, glue gun
, most important a Mason jar…vintage blue
 is best.  (Note: I am an Amazon affiliate.  The links here are provided for your convenience.  But, if you make a purchase from one of the links here, I will be blessed with a small commission. ~ Thank you!)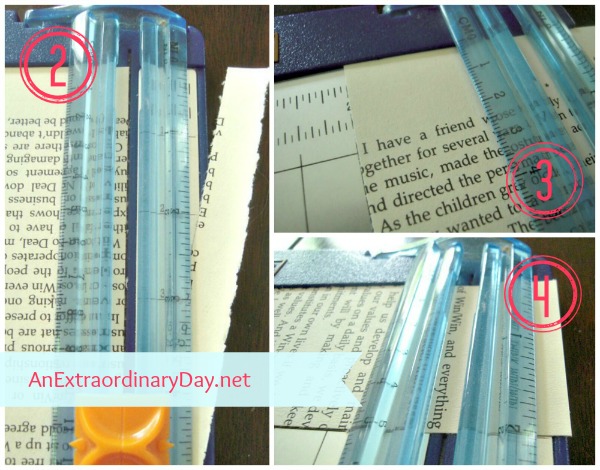 2. Trim off the white space on one edge of your book page.  (Go ahead and do that for all the pages.)
3. Line up your newly cut edge at the 2 inch mark on your cutter/trimmer and trim a 2″ strip. (Note: if you are making a collar for a pint jar, you may wish to make 1.5 inch strips.)  You may choose to make the strips as wide or narrow as you like. Repeat for the second two-inch strip.  You should be able to get two strips from every page.  I used a total of 3 pages giving me 6 strips.
4. Trim the white headers off the strips.  This is optional but gives a more uniform look.
5. When you initially trimmed the white edge off each page you were left with a narrow strip.  Gather two of those and tape them together, end to end.
6. Wrap this long strip around the jar.  Allow for a 1/2 inch overlap and trip the extra with your scissors.  This will serve two purposes: one to give you a guide for how much pleating you need to create and two this will be used in the collar's final assembly as a backing strip.
7. Let's pleat our strips…. Make the first fold about 1/2″  and continue to fold in an accordion fashion, except it's more like a running accordion as the pleats are side-by-side rather on top of each other.  My pleats were about 1/2″ deep here…but you can choose to make them narrower as I did for several other jars.  Eyeball the pleats.  Do not worry about measurements.  These measurements are just to get you started.
8. When you have pleated your entire book page, attach another book page discreetly to the first page with tape.  It all depends on how the fold ends.  You might bury it in the fold or you might attach another piece with tape, end-to-end, or you might create a little 1/4″ fold to tuck and tape.   This is the most difficult part of the whole project…just work with it.  What ever you do…it will be fine.
9. Once you have pleated enough paper and have a strip of pleats that is the length or longer than your backing strip (5 & 6), lay your pleated strip face down and tape your pleats in place.
10. Lay the backing strip on top, about a 1/4″ from the top of the pleated strip and give yourself a 1″ leading strip as shown in the photo.  Tape the backing strip to the pleats.  This will help your pleats to lay down nicely and keep them together.
11.  Trim any excess paper that goes beyond the last pleat.
12. Wrap your collar around your Mason jar.   Trim off any excess:  If your pleated strip is longer than your backing strip (remember the backing strip should have a length that does not have any pleats taped to it) then you'll want to trim off the extra pleats that go beyond the backing strip.  (see photos)
13. Gently raise the pleated collar up over the jar's neck, but keep it together.  Then still keeping it together, lay it down on the table and tape that leading edge (that had nothing attached to it) to the rest of the pleated collar.  Your collar is now complete.
14. Place the pleated collar back on the jar.  Notice how the pleats all stick out.  That is not the look we are going for here.
15. Cut a piece of jute about 36 inches.  Carefully lay the jar on its side .  Using your glue gun, place a tiny drop of hot glue near the top of the back of the collar.  Find the midway point on your piece of jute and attach it to the glue on the collar.  Then draw the ends of the jute to the sides and hold until the glue sets up.  Just about 10 seconds.  Repeat the gluing on each side of the collar. Be sure to pull the jute taut each time.  It's only necessary to glue the jute in three places around the collar.  Start at 12 o'clock and repeat at 3 o'clock and 9 o'clock.  Drawn the two ends of the jute together tightly and make a bow with your just in the center.  Trim if necessary.
16.  That's it!  You now have a lovely Mason jar that makes a fashion statement.
A sweet book page pleated collar to dress up the lowliest Mason Jar.
Why dress up a Mason jar?
"Why be ordinary when you can be extraordinary." ~ Diane Miller
With what will you fill your fashionable Mason jar?
If you already have Mason jars and old books floating around your house, you are in luck.  I love that this project was nearly free.  For the past six months I have been on a spending freeze.  It's amazing, when you look around your house and in your stash, just what you can come up with if you just sit and imagine.  It may not be fun to be in a fiscal stranglehold, but it has been fun to stretch my thinking and see what I can do for free.
When was the last time you solved a decorating dilemma with just what you had around the house?
Click here, and here, and here, and here to see more of my book page ideas.
Wishing you An Extraordinary Day!
Diane
If you enjoyed this post…
You would bless me immensely  if you used the sharing buttons at the bottom to spread the word to your friends.
Receive FREE bits of inspiration like this in your inbox
SUBSCRIBE NOW!