Originally I had planned to give the house a warm and wintry feeling after taking down all the Christmas decorations.  But, when you get smacked in the face with your husband's unexpected unemployment, everything changes.  Decorating doesn't seem important any more.  Packing for a new destination is first and forefront.  Yet, somewhere along the way the sparse sun room, with the bare-branched faux evergreen, beckoned me to do something.  Something that did not involve a bunch of time and certainly no pennies either.
You may remember the sun room from my Very Merry Christmas House Tour.
Though the room had been emptied of Christmas decor, the chair and tree remained.  I liked seeing the tree's twinkling lights at night reflecting in all the windows.  The room was crying out for me to embrace red for a while longer.  So, why not splash it up with some items that hint Valentine's Day….a little bit early?
Why not!
Let me take you on my little journey, a quick and easy transformation…from Christmas to Valentine's Day!
 This post contains affiliate links.

Several years ago I made the heart garland.  It's simple red and easy!
Using a heart punch, punch oodles of red hearts out of cardstock.
Lay your hearts out the way you want them to hang.
Using a Glue Gun, glue color matched embroidery floss to one side.So easy!
Here's my short one photo tutorial!!
I made the garland in short lengths to make it easy to hang vertically on the tree.  It's amazing how much color and joy it gives to the room…and me…as I walk past it.
Heather, a sweet reader of the blog, made a comment on Facebook that inspired me to the following…
Make a Meaningful Heart Garland.
Write blessings or joys for which you and/or your family members are grateful in white ink on each heart.
Place prayers and or answers to those prayers on each of the hearts.
Add the names of people to the hearts whom you want to see move their hearts toward God.
In a more romantic vein….write on each heart one thing that you love or appreciate in your beloved…like their character, or talents, or spiritual gifts.
I'd love to hear your ideas!! Please share them in the comments below.
The red & white bird pillow?  Yes it's my NEW Dollar General purchase.  It was originally only $8, so I went back after Christmas to see if it would still be there and marked down.  It was…50% off!  Only $4!  It looks like an expensive pillow….who would guess?  Well not you…I let the cat out of the proverbial bag.  Haha!  Do you love it too?  I was planning to use it next year in the Swedish Christmas room.  Oh well.  I think it's more wintry looking than Christmasy, so I decided that it would be great out there on the red and white chair right now.
Then there is the little cabinet I painted on a 10 minute whim.  Okay, it took a wee bit longer than that….I still haven't shared that little transformation have I?  Anyway, I decided to leave the red die-cut snowflakes sticky tacked where the handles should be.  I painted the cabinet handles the red of the chair seat…but…that's a story for another time.  In the meantime…we do have snow on the ground…so the red flakes are staying.
The top of the cabinet was bare.  And very white.  So I grabbed my burlap runner that keeps showing up and tossed that on top.  It was too plain, so I topped it with a vintage doily.   Then I started grabbing things from the china cabinet and the bookcase, and topped it off with one of my favorite Longaberger Sweetheart Baskets.
Voila!  A vintage Valentine vignette!  
Those little candy conversation hearts make it.  [smile]  Being sugar, they kept just fine in the pantry.  Yup!  They're from last year.  Convenient?  Yes.
So there you have it!  Nothing fancy pantsy.  Hello to no cost, easy and meaningful home decor…..a quick transformation…from Christmas to Valentine's Day.
All that happy red.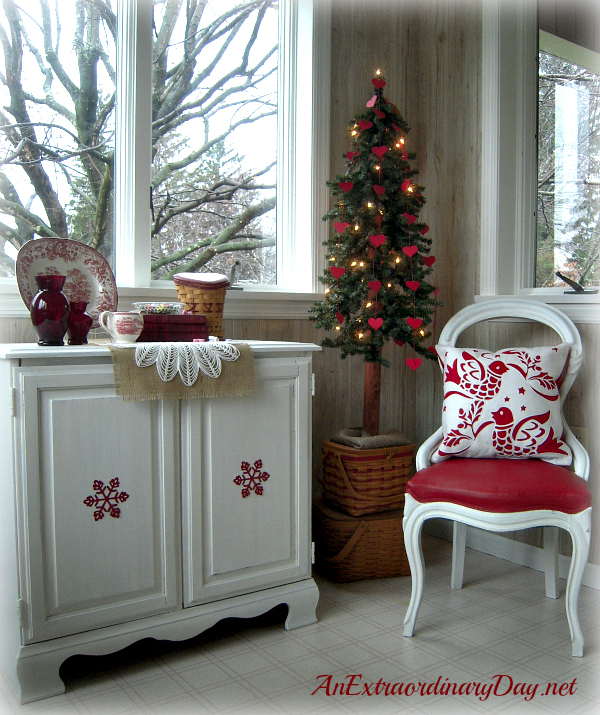 I am trusting God and praying big crazy audacious prayers that I'll have to pack it all up well before Valentine's Day for a fabulous new job.  When it happens, it will totally be a God thing.  I can't wait to see HIM work!
What idea will you take away from this transformation?

What little things are you doing (or will do) to decorate for or celebrate Valentine's Day?
Check out this recent post for some fun ideas for joyfully blessing others on Valentine's Day.
Love,
Diane
To receive FREE bits of inspiration like this
in your inbox or reader, subscribe now.
I'd be delighted if you'd share the goodness here with your friends.
Click any of the sharing buttons at the bottom.