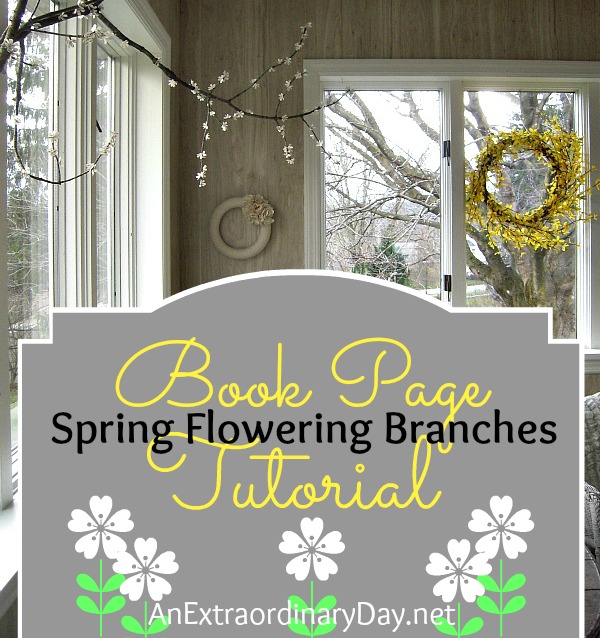 Spring!  Where art thou?
How would you like to bring a bit of spring into your home without it breaking the bank?  Yes, please!!
Patience, please.  I'll get there in a minute.
If you've been a reader for a while you may remember that I stuck branches up in my sunroom this winter for Christmas and hung red snowflakes from them.   It was part of transforming my sunroom into a Swedish Christmas room.   I loved those snowflakes and left them up all winter.  After I cut the snowflakes down I was left with these bare branches.  Oh my…they couldn't stay like that.  I had a choice…either take them down or get creative.
I remembered seeing Martha, or someone, had taken silk flowers and glued them to twigs to create beautiful ever-flowering branches.  Great idea.  Except, I didn't have any flowers hanging for such a project, nor any extra funds to purchase them.
What's a gal to do?  I experimented with some polka-dotted tissue paper in my stash.  That was a fail.  Paper punches and tissue paper do not make a harmonious relationship.  I tore almost every single one.   Back to the drawing board as they say.
Hmm.  My stash does not include paper.  Cardstock, yes.  But that is too stiff for flowers.   Ah…but I have several partial books from making those book page trees for Christmas!  Old book pages and paper punches do make for a harmonious relationship.  Yay!
We need to keep in mind that it is rare that the first creative effort yields the perfect result.  Fortunately, I did not need to keep trying.  I am very happy with my second attempt.  Actually, elated would be the better term.
Now that you know the back story….
Let's get on with the tutorial!
How to Create Book Page Flowers
Supply List:
An old paperback book
Flower paper punch; mine is from Stampin' Up – but you can get a similar one from Amazon – EK Success Medium Daisy Punch
Dull pencil
Glue gun & glue sticks (mini glue dots would also work)
Creating spring-flowering branches with book page flowers is so easy!
You'll have them gracing every corner of your home in no time.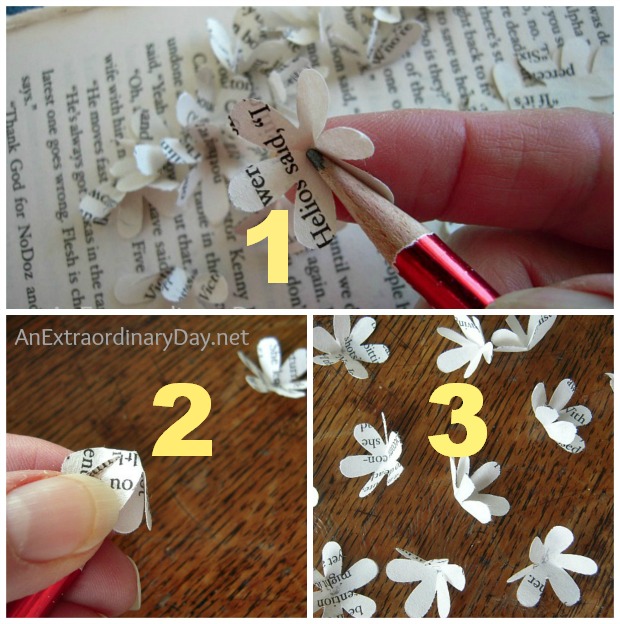 How to Create Book Page Flowers:
After punching out several pages of flowers…
Use a dull pencil and place it in the middle of your book page flower
Fold the flower petals down over the pencil – precision is not necessary here as no flower should be the same
Admire your new fluffy and realistic looking spring flowers
Using your glue gun, carefully add a small dot of glue to the outer center
Attach the flower to the branch
Continue until you have filled your branches to your satisfaction
Invite your family and friends to ooh and ahh over your lovely new spring branches made of simple book page flowers!
To create realistic flowering branches, you'll want to use the branch's nodes as guidelines.  Think about how a branch naturally flowers in nature.  Sometimes they will be grouped in two or threes and sometimes flowers will be all alone.  Mix it up for a natural look.  Also, be sure to place flowers on all sides of the stem.  As I my branches were over my head and I was standing on a stool I had to remind myself of this.
If you use a glue gun, try to use un-stringy glue.  My branches looked like they were full of cobwebs.  A pain to clean up.  That is one reason I mentioned glue dots as another possibility for attaching the blossoms.
Don't you love how my sun room went from winter to spring with the inexpensive addition of simple book page flowers.
I've had limited success forcing my cherry blossom branches.  Maybe I need to play Mother Nature and create my own cherry blossoms.  What do you think?  Hmmm…..
Tell me…will you be extraordinary and take matters into your own hands and create your own spring-flowering branches?
Wishing you An Extraordinary Day!
Diane
To receive bits of inspiration like this in your inbox or reader, subscribe now.
Let's chat!   "Like" An Extraordinary Day ~ A Place of Joy & Inspiration Facebook.