Winter came roaring back this week.  Cold temps.  High winds.  And plenty of those frozen crystals that fall from the sky. Though we would like to be seeing daffodils and tulips….it's still a bit early. With that in mind, I spent this week embracing winter.  Inside.  
This post contains affiliate links. If you purchase a product through an affiliate link An Extraordinary Day will receive a small commission which will help with the costs of this site.  Thank you!
St. Valentine's Day will be here soon.  But, as much as I enjoy hearts I want Winter to be the lead with St. Valentine taking the supporting role.
Since Christmas, we've been enjoying a splash of red with winter white in our sun room.  The red snowflakes I suspended from branches and secured in the window have stayed in place.  I'm not ready to release them.  Not yet.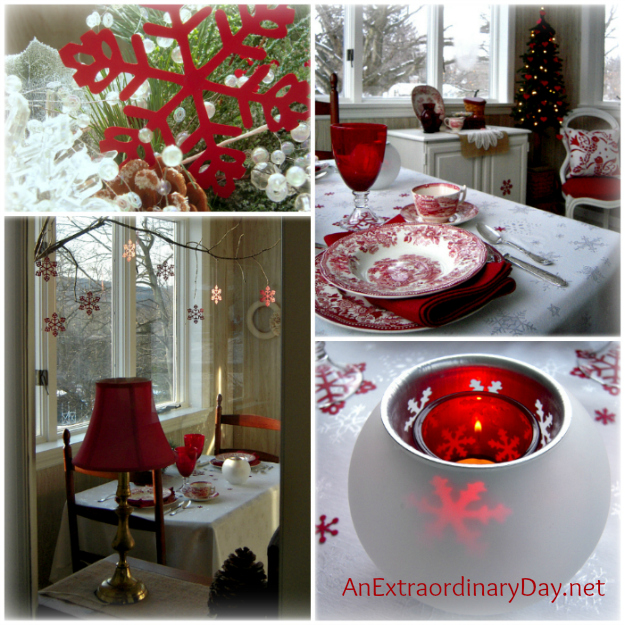 Recently I shared how I transformed one corner from a Christmas theme to a Valentine theme.   We haven't been eating in the sun room as it gets pretty cold, and we're saving our pennies by not heating that room.  However, that doesn't mean that I can't set a pretty table and turn on the heat to enjoy a special meal.
This time of year, we enjoy a variety of soups.  They warm both body and soul, and it's a wonderful change from all the salads we treat ourselves to in the warmer months.   Here the table is set for a Sunday soup luncheon with my aunt's Clarice Cliff Royal Staffordshire
dishes which I love.  They are so filled with happy memories.  And because they were her everyday dishes…I remember eating lots of meals on them at her apartment.  My cousin has the 'good' china and silverware.  Hers may have more monetary value….but to me, my dishes are priceless.
Do have special dishes that have special memories associated with them too?

Do you think about the activities you do each day with family and consider the memories in the making?

Are you intentionally creating happy memories to be savored sometime again?
Winter Table and Red Snowflakes 
A white table cloth purchased to be a tree skirt at Target a number of years ago is gracing the table.  Upside down.  Who says that the shiny side has to be up?  Haha!  This way the snowflakes are more sparkly…just like in nature.
I used a few red snowflakes as coasters under the red water goblets
.  So fun.  These and the tiny red snowflakes were punched with the Sizzix die-cuts
on my cute Cuttlebug Machine.
The round snowball votive holder
was a Christmas gift from my friend Shelly.  Usually, I just slip a tea light in it.  This time I took a red votive holder and dropped it inside.  Red snowflakes glowed on the white orb when it was lit.
My bold red Longaberger Cracker Basket was the perfect match to the red transferware dishes and the Longaberger paprika napkins and the base for a sweet winter arrangement.  It was filled with faux evergreens to which I added some shimmery leaves and pearls and a large dimensional acrylic crystal snowflake.  The red snowflake was the cherry on top!
There you have it!
Simple, elegant, and most of all easy. It really doesn't take much effort to make a simple luncheon for two…Extraordinary!
Why be ordinary when you can be Extraordinary!!  That's my motto.
While the snow gently falls out our window, we'll be inside where it's all cute and cozy enjoying our bowl of homemade Chicken Gumbo.  Mmmmm good.  (I think I see a soup post coming.)
More Extraordinary Tablescape Ideas…
Daily Grace Beyond the Table
Dishing up Encouragement on Wedgwood China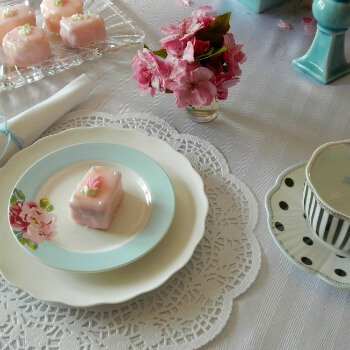 Imperfectly Perfect Petit Fours for Tea
Who knew that one little room could be so much fun to decorate?
Stay warm & decorate!
Diane
To receive bits of inspiration like this in your inbox or reader, subscribe now.
Don't forget to "LIKE" An Extraordinary Day on Facebook, too!