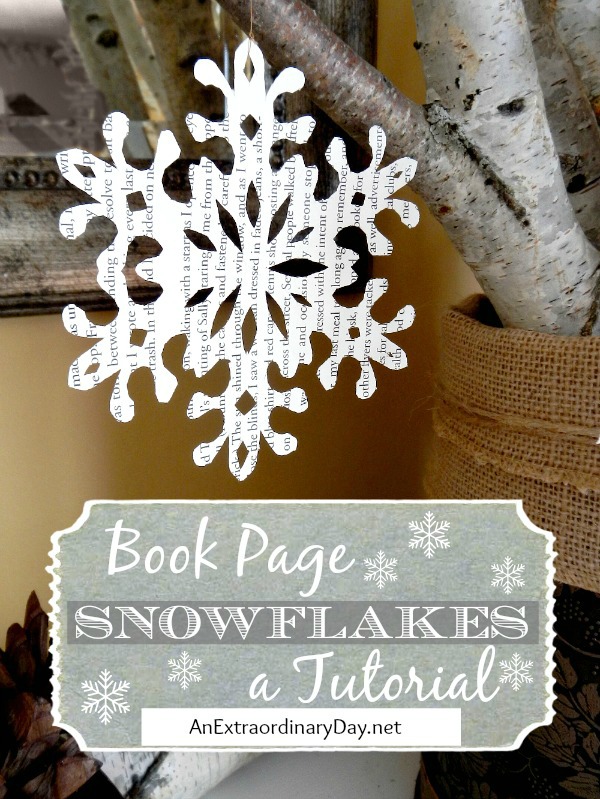 I've been hearing this question a lot lately, "Is there enough snow for you?"
Having lived in West Michigan and in the Buffalo area, I am familiar with snow.  Lots of it.  Record snowfalls.  This year, it snows or seems to snow every day.  Regardless of the amount, it's enough!
Prior to this year's white avalanche, I shared my winter mantel and asked if anyone wanted me to create a tutorial for making pretty snowflakes.  It seems that I am not the only one who did not know that there was a paper-folding technique that would make all the difference in the world.  So, today, just in case you don't have enough snow….here's a snowflake cutting tutorial.
I chose to make my snowflakes from old book pages, because I love decorating and crafting with book pages….a lot….like here and here and here.  You can choose to make yours from any paper.  Keep in mind that thinner paper will be easier to fold and cut.   Mine were a wee challenge…but I won.
Paper Snowflake Tutorial
Supplies:
Paper 

Scissors

Pen/pencil optional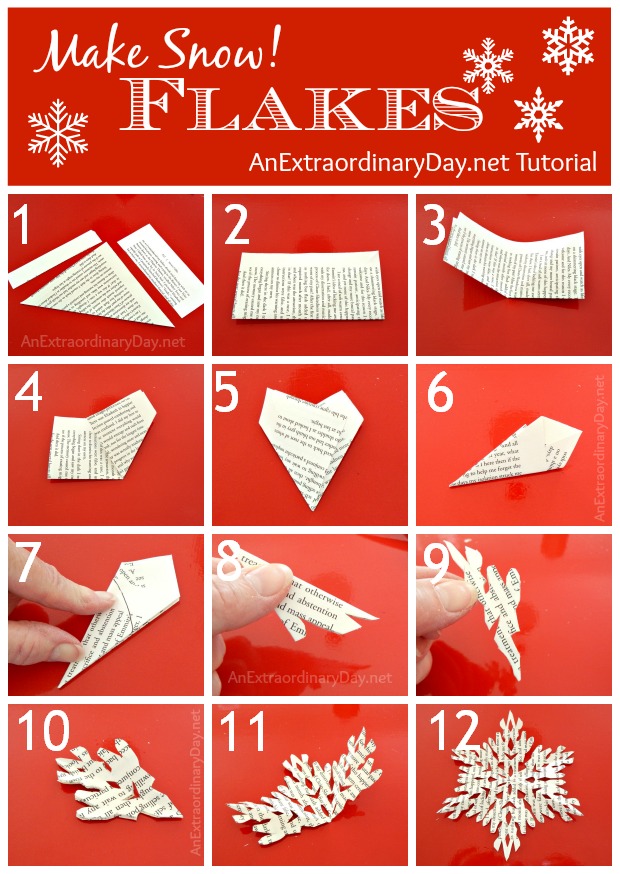 Instructions: 
Trim your paper to a 4 inch square.
Fold paper in half.
Fold paper in half once more and crease it at the point of the fold only.
Make a quarter fold as shown. (It took me a few tries to get them even.)
Make the second quarter fold as shown.
Fold the paper in half.
With fingers on the fold, use a pen/pencil to draw a guideline as shown for the first few snowflakes you cut.  Cut your paper across that line.
Continue to keep your fingers on the fold as you cut small triangles.
This is where it gets more difficult.  Work your scissors as you cut curves into the folds of your paper.  Make a few cuts on the fold line which you have been holding.  This is what a finished snowflake looks like still folded.
Carefully unfold your snowflake.  This is one side unfolded.
Continue to unfold your snowflake.  This is the second side unfolded.
Unfold one more time to reveal your completed snowflake.
Using a hot iron, press your snowflakes so they are flat.
If you wish to hang them, a single thread is a nearly invisible hanger.
These are completed snowflakes prior to being unfolded and what they look like fully unfolded.  Hopefully it gives you some creative cutting ideas.
Note…A1 shows the fold side that you hold on the (bottom) left and B1 shows the folded side on the (bottom) right.
Every snowflake you create is different, no two are alike, just in nature.
If you look closely, you'll see that my snowflakes are not perfect.  The irregularity comes from using the heavier book pages, and my inability to fold paper precisely.  [wink]  I confess…I strive toward perfection and did not achieve perfect snowflakes.
You know what?  It's okay.  When I sat at the table in the dining room and looked over at my bucket of dangling snowflakes I did not notice their imperfections.  Nope.  Instead, I appreciated their individualism and their beauty as a whole.
I guess snowflakes are kind of like us.  We're not perfect….  Each of us excel or flop at different things…  And we are still beautiful.
There's still snow in the forecast.  Will you accept the challenge to make some inside snow? 
If you're like me and never learned, or know some else who didn't take the class to make pretty snowflakes, why not you share or PIN this snowflake cutting tutorial?    It would make my day.
Thank you for stopping by today.
I appreciate you and your sweet comments make my day.
Make extraordinary moments…
Diane
To receive FREE bits of inspiration like this
in your inbox or reader, 

subscribe now

.
I'd be delighted if you'd share the goodness here with your friends.
Click any of the sharing buttons at the bottom.