Every home needs to have a connection with the outdoors through the seasons…
even if all you have is a small apartment with a tiny patio or balcony.

Is your home summer ready?
As I prepare my home for summer, one of the first things I love to do is to make my little apartment balcony both an oasis and an extension of my indoor space.
No matter how large or small your spaces are, making them ready for summer enjoyment is worth the doing and I'm here to help.
Thank you to Wayfair for sponsoring this post. I loved choosing all these lovely items that make my small outdoor space so fun and relaxing.


Tips to help you seamlessly blend your indoor and outdoor spaces together.
First…
Give yourself permission to create indoor and outdoor spaces you'll love to come home to.
No outdoor space is too small or shabby to enjoy. Give yourself a place to get some fresh air, recharge, and enjoy all that summer living has to offer you.
My balcony is only 42 inches deep and 19 feet long. Super skinny and only about 78 square feet!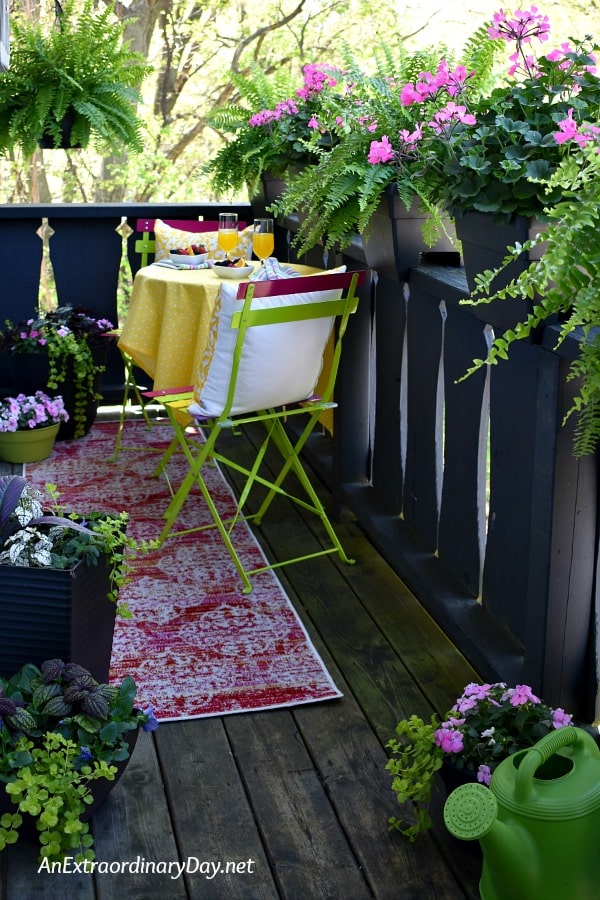 How large is your space? Little spaces can live LARGE so don't let its size prevent you from dreaming and scheming.
Sweep it off… wash it down if necessary… and start envisioning yourself relaxing and maybe even entertaining on your little patio or balcony.
How Do You Plan to Use Your Outdoor Space this Summer?
Will you enjoy it as a sitting area? A place to relax, read, and enjoy a beverage? Maybe you want to enjoy dining alfresco after work or sip your coffee and croissant in the cool of the morning before you rush off for the day? Knowing how you plan to use your space for summer will help you decide what's most important.
We wanted our space to feel like we were in a garden. And because our space is narrow and long, we decided to squeeze two distinct areas into our tiny oasis… a dining area with a bistro set AND a sitting area.
What Look are You After?
Because I knew I wanted a bistro set for dining and entertaining I decided to create the feeling of being in the French Quarter in New Orleans. Now I have never been to that part of the south, but I have seen photos which have been stored in the recesses of my mind. With those mental images, I reimagined my space with that feeling in mind. My treetop balcony was the perfect spot to let my creativity go.
You can do the same with your space. Maybe you would love a beachy coastal flair for your space? If you're more traditional, a simple park-like feeling with a garden bench and potted shrubbery might fit your style? Or how about a colorful and relaxed Boho theme?
Think of Your Outdoor Space as a Room
The best used and decorated outdoor spaces are viewed as rooms when they are created.
What are the dimensions of your outdoor room? Something as simple as measuring your space and giving it visual parameters will help you in your decision making and decorating process. Plus, it will help you when you make purchases. It can be hard to visualize if a chair will fit your space, but knowing your measurements empowers you to make great choices that are perfect for YOUR small outdoor space.
Every room needs a focal point and so does your outdoor space. My French Quarter balcony came to life with the addition of a set of bi-fold doors I picked up for just $10 at the Habitat ReStore shop in town. Secured with brackets to the end of my balcony deck I now have an end wall and a style backdrop for my "room" as a whole and especially my sitting area.
This wall also gave me a place to decorate with art that I made.
Consider adding a rug to your space if you can afford it. A rug will go a long way towards making your patio or balcony feel like a real room. I'm so pleased with the way my long runner rug under the bistro set draws your eye away from the tired and worn decking that needs power washing and actually helps pull all the pinks, yellows, and cream colors together and contrasts perfectly with the bright green color in the bistro set and all the plant greenery.
The same is true for the small rug in the sitting area. It gives that space a foundation and makes it truly feel like a room.
Choose a Color Theme
Depending on how you plan to use your space, your color theme can focus on hard pieces like furniture and accessories OR on your outdoor flowers and plants.
Do you decorate your indoor space with blue and white? You might select outdoor chairs in a pretty blue and add pots of white flowers.
To make your small space live big, add one more color for contrast or a pop of color? Red, white, and blue? Yellow, white, and blue? Pink, white, and blue? All of these are fabulous whether they be pillows, flowers, or something else. By duplicating a color from the indoors on your patio or balcony you are visually mingling your indoor and outdoor spaces beautifully.
At the risk of having you think I'm throwing all this color advice I just gave to the wind… here's how I came up with my color theme.
To begin, my main indoor decor scheme is cream with light grays and dark indigo blue accents against bright white walls. Last spring and summer I punctuated that color theme with pink flowers and pillows. This year I decided to liven it up with yellow in my living room and in my dining room, both of which have windows on to the balcony.
Because my balcony is on the north side of our building, I get very little direct sunlight in the early morning. That means that my choice of flowering plants is very limited. In the few years I've lived here I've been most successful growing (or keeping alive!!) geraniums and impatiens. Yes, geraniums are considered sun-loving plants, but for some reason, they do just fine here, even better than impatiens. There are but a few color choices in these flowers… white, red, coral, and various shades of pink.
Pink flowers are my favorite in the garden, so of course, given this narrow option of color, I selected pink. And then I couldn't resist painting my louvered door/wall the prettiest shade of pink that brings the whole space together truly giving it that lovely French Quarter feel I love.
But the yellow? I was careful to duplicate the yellow from my indoor decor with the single yellow stripe in the bistro chairs, the tablecloth, and the pillows. You don't have to do a lot to bring the spaces together. Paint a few purposeful strokes with your decor brush and you'll give your indoor and outdoor spaces a cohesive feel you'll love.
Add a Bit of Fun and Whimsy to Your Outdoor Room
There are so many ways you can add fun and whimsy to your space with decorative accessories. The bistro set I chose definitely is fun and whimsical with the bright green and colorful slats on the chairs, plus the totally 70's flowers adorning the table top.
Because every room needs lighting, I couldn't resist hanging a string of lights along the edge of the overhanging roof. It makes me smile every night and I get to enjoy the look whether I'm inside or out.
Garden stools are the ultimate whimsical decor pieces in an outdoor room (or indoor room for that matter!). They aren't necessary, but they are a feast for the eyes and can serve a very practical purpose, holding a book or beverage. Oh so fun! And of course, artwork is always a special addition! Even if made from a shopping bag, like mine hanging on a pair of pretty pink doors.
Keep your eyes open for those little touches that personalize your space in a fun way.
Tell me about your outdoor space!
What do you have to work with and how are you going to mesh your indoor and outdoor spaces together to create an outdoor space you truly will want to live in… all summer long?
If you have questions, I'm here to help!
More than anything I want you to love your space!
MORE INSPIRATION FOR ENJOYING SUMMER AT HOME
Please Join Me in My Wonderful Balcony Garden
My Easy Patriotic Farmhouse Tiered Tray And Charming Vignette
Coastal Vintage Window :: Photo Frame
One Room, Three Ways :: The Fourth of July Finale'
How to Make Fun Nautical Buoys with Mason Jars
I'm so grateful to be a Wayfair Homemaker.
Catch up on my past posts…
Two "Green" Thumbs Up for Small Space Container Gardening
9 Easy Tips for a Simple Picnic on the Beach
A Sanctuary To Close Out A Perfect Summer Day
Watch for more posts from me featuring inspiring ways to make your home more lovely with Wayfair.
Thanks for stopping by today!
If you enjoyed this article, please use the sharing buttons to let your friends know and "pin it," too.

Receive FREE inspiration like this in your inbox!
Sign up Now.