Decorating for Christmas has often been one of my favorite things to do.
Yet, some years, we can get overwhelmed with Christmas decor…
Where do we begin and where do we end?
There's the entryway, the tree for the main living area, wreaths, and garlands, and the list goes on.
Today I want to help make Christmas decorating easier for you.
I'm kicking off a weekly series…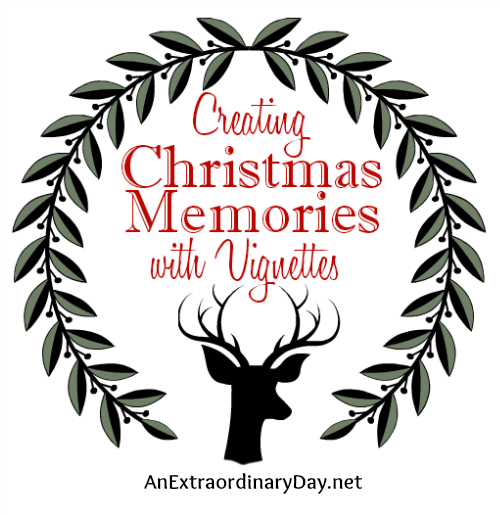 Creating Christmas Memories with Vignettes
Every Wednesday between now and Christmas a different blogger will be stopping by with vignettes they've created to inspire you in your Christmas and holiday decorating.  I'm so excited for this series.  You are in for a big treat!!
Maybe you're wondering…
 "What a vignette?"
I like to think of a vignette as a snapshot.
A capturing of a moment in time…
A lovely decorative moment that catches the eye.
A vignette is usually comprised of a tabletop or other flat surface upon which a few objects in differing sizes relate together to create a theme or visually enjoyable moment for the eye to rest.
It can be as simple as a tray with a few complementary items, to a pretty lamp, a stack of books, and a pair of reading glasses… pleasingly arranged.
On a larger scale it might include a chest, a wreath on the wall, and a large object placed on the floor near the chest and wreath to create a visual trio.
You might place a vignette on the corner on top of a fireplace mantel or the hearth, the corner of your kitchen countertop, a shelf on a bookcase, a coffee tabletop, in front of a focal wall, or maybe a corner that needs some visual interest.  The possibilities are endless.
When it comes to decorating for the holidays, most everyone puts up a tree for Christmas, but the question often is, how do I decorate the rest of my house?
Let me suggest you decorate your home… one vignette at a time.
Like everything we tackle in life, we may or may not have a vision for the whole, but we can accomplish a task, one step at a time.  Or in this case, decorate for Christmas, one vignette at a time, until the whole house is ready for the holidays.
Really it's pretty simple.
Let's begin…
Choose your location.  (Keep in mind we are decorating the house one vignette at a time.)  Start with the areas that will get the most traffic or will be seen the most.  Or, an area in the house where you spend a lot of time.
Decide on a theme or an object that will be the focal point for your vignette.
Let's put a comma here before we continue...
This series is called Creating Christmas Memories with Vignettes.
Let's talk about what I mean by that.
I'm all about stories.  Back when we built our first home we started our landscape and gardens from scratch.  Friends would give me extra perennials from their yards, I started some from seed, and others I picked from greenhouse hopping with my husband.  When guests would come to my house they always wanted to see my gardens, so we would walk around the yard and I would tell stories about the plants.  Over time I came to realize that things were important to me based on their sentiment or story.   I love beautiful home decor, but the real value of an item comes from its story.
As you think about the vignettes you will be creating, think outside of the typical "Christmas decor" box, and think about displaying or grouping items that tell a story or are meaningful to you in some way.
Additionally, there is no reason why you cannot create a vignette for the memories you are wanting to establish now, and cherish forever.  Here is where you might start a tradition with a cocoa station or a nativity or special childhood toys.  In this case you may be creating the story that you hope your family will treasure.
Let's get back to creating our vignettes…
Do you have a collection?  Collections are a great for vignettes.  Here we may not necessarily use the whole collection, but instead pull out a special piece and use it in an unconventional way.
I did that here…
I've been collecting Droste's Cocoa tins for a long time.  Whenever I would attend an antique fair, I had my eye open for one.  This particular five-pound can is a little rough, but I bought it anyway.  You see several years prior I passed up one in pristine condition because I thought it was too much money.  In hindsight it wasn't.  You know those decisions you regret.  So when I finally found one, I had to have it… regardless of the condition.  And it was the same price.  [good grief]   Anyway… I love the cocoa tin not just because it has a story, but because there is an even bigger Christmas memory behind the can.  My mom did not do much entertaining when I was growing up.  But, one Christmas I remember so well.  She decorated the house beautifully.  And on Christmas Eve she invited several of our elderly neighbors over for hot cocoa and cookies.  She served it in an antique cocoa pot and poured it into tiny cocoa cups… all by candle and Christmas lights.  It's a memory I will always treasure.   And yes… it was Droste's Cocoa she served.   Purchased at the local delicatessen, it was the only cocoa we drank.   Isn't that the perfect reason to  place an artificial tree in the an old Droste's Cocoa tin?  Oh… and my mom was Dutch and Droste's is real Dutch cocoa.
To complete the look, I added Swedish straw ornaments to the tree, a nod to my father's heritage.   Now in one item I have reminder of both my mom and dad.  A vignette is not a single item, so I needed to add more to create my vignette.  The pine cone is one I brought back from a Florida trip.  My aunt moved there upon retiring.  On one of my visits I picked it up and it flew home with me.  Once she moved, I missed my aunt at the holidays as she had celebrated every one with us.  So, in this vignette, the pine cone is a small reminder of her.  Because vignettes need at least three items, I added this whimsical angel.  It was given to me by a dear friend, the one who always went greenhouse hopping with me.  I love it because she gave it to me and because it looks sorta Swedish and it's a perfect complement to the Swedish straw ornaments on the tree.  To finish off the vignette I tucked in some sprigs of Frasier fir.  It's just a window vignette.  But, that simple vignette is crammed with meaning and memories.
Let's talk about some objects and how we can put them together to create a Christmas vignette.
Your vignette can be as subtle as choosing a stack of books with red or green spines.  You can even cover books with wrapping paper to give them the color you are looking for.  Then place a glass or silver bowl on top of the books or nearby and fill it with pine cones or glass balls.  To that add a special object, an item you've collected or some other treasure.  Place it on top of the books or arrange with the books and bowl in a pleasing manner.  It's sweet, simple, and meaningful.
I find it's best to work with odd numbers of object… threes and fives are usually best.  Though I frown on fours… as I looked at my photos I was surprised at how many times I used four items.  That tells you… rules are made to be broken.  If it works and is pleasing to the eye… enjoy it!
When using books, I count the whole as one object.  I love that I can easily change their color with paper or paint.  They are great for adding height to a grouping which might otherwise draw the same height line, giving it more visual interest.
Another tip that works for vignettes is repetition of color, shape, texture, or style.  This helps make that moment you create a cohesive vignette rather than a whacky grouping.
Keep in mind that you can create vignettes outdoors as well as inside.  It might be a spot in your entry or a visual corner of the garden that you can see from your window.
I'm delighted to have my blogging friends join me for
Creating Christmas Memories with Vignettes Series.  
You'll want to stop by each one for more inspiration each week:
Week 1 :: Week 2 :: Week 3 :: Week 4 :: Week 5 :: Week 6 :: Week 7
Thank you for stopping by today.
If you enjoyed this post….please pass it on to your friends.
Click any of the sharing buttons at the bottom.
Best wishes for An Extraordinary Day!
Diane

To receive FREE bits of inspiration like this
in your inbox or reader, subscribe now.