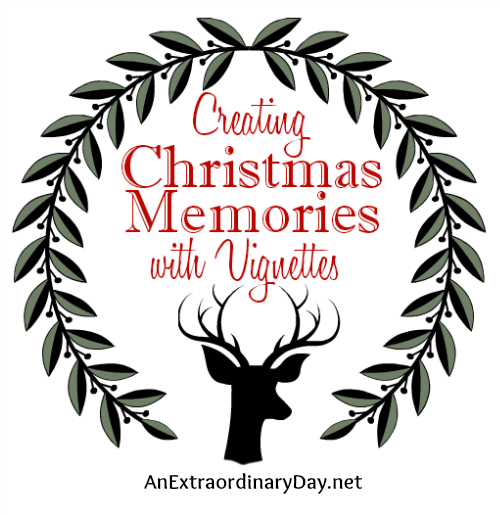 Inspiring Christmas Vignettes
Hello. I'm so happy to be here today on An Extraordinary Day. Diane is such a talented and wonderful blogger and I was thrilled she asked me to share some of my Christmas vignettes with you. As Diane mentioned to me, vignettes are little snapshots or memories and as I combed through my holiday projects to decide what I was going to share here, it was a wonderful trip down memory lane. I hope you enjoy my projects.
 Creative Decor

On the Table

Chocolate Chocolate Chip Butterball Cookies  |  Black Velvet Napkin Rings  |  Little Frosted Trees  |
Peanut Butter Cookie Cups with Salted Caramel Ice Cream  |  Gold Glitter Place Cards
After the Holidays
I wanted to leave you with one last project. After the holidays, making candy cane sugar cubes is a fun way to use up leftover candy canes.
It is an honor to have Carolyn from homework  joining us here today.   I love her inspiring Christmas vignettes.  She is a true artist and shows us how the beauty is in the details.  I remember when Carolyn first posted her Winter Centerpiece which she again shared with us in the first collage.  The simplicity of common elements and mixed textures made my heart sing.   She has always inspired me with her creativity and beautiful projects.  I encourage you to pop over to homework.  Be prepared to get lost in time as you browse her inspiring blog.  And please…take time to leave her your warm holiday wishes.
This is the second in our series Creating Christmas Memories with Vignettes.
If you missed it, the series began here.
I want to remind you that the beauty of decorating with vignettes, is that you can place as many or as few as you like in your home.  It will reduce your stress because wherever you complete a Christmas memory vignette your decorating is done until you have the time or desire to create another.   If you're time-starved this method of decorating is very freeing.
What caught your eye today?
What tips can you take away?
Thank you for stopping by today.
If you enjoyed this post….please pass it on to your friends.
Click any of the sharing buttons at the bottom.
Best wishes for An Extraordinary Day!
Diane

To receive FREE bits of inspiration like this
in your inbox or reader, subscribe now