Do you remember those days as a child when you would collect fistfuls of autumn leaves?
Maybe it was just last week that you found yourself picking up pretty leaves on your walk?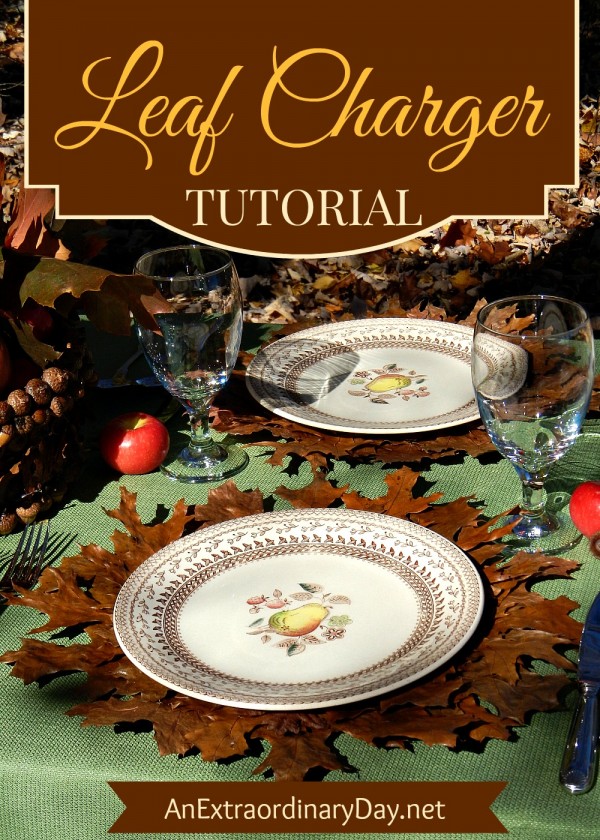 Please… "Pin" – "Tweet" – or "Share" this image!
I'm always on the look out for creating home decor with nature's bounty.
It does seem that Mother Nature couldn't deliver any more leaves than she's been raining down on us the past few weeks.
Actually, it's all been quite convenient for me.
I have been planning an autumn tablescape but feeling like there was an important missing ingredient.
And then it hit me!
All the leaves…
They would be perfect for my tablescape…
Fashioned into natural leaf chargers.
I know you'll want to make some too!
They not only make great chargers, but they also are perfect for vignettes, centerpieces, and more!
So without further ado…
Let's Make Natural Leaf Chargers
Supplies:
Steps:
Begin by collecting leaves.  I used oak leaves because they are super sturdy.
Pick up flat leaves for this project, though you will 'semi' press them.
There are many oak varieties.  Your charger will be more interesting if you can get a few different varieties.
One charger takes at least 25 leaves of varying sizes.
Here's how I prepared the leaves:
The first thing I did was to lay the leaves I gathered on large sheets of Kraft paper and newspaper.
Then I covered the leaves with another sheet of paper.
To weigh them down some, I placed pillows on top of the paper leaf sandwich.
I left it overnight and the leaves dried some and were flattened, but not pressed.
The next step was to take the leaves outside, lay them on newspaper, and spray them with Clear Coat.
The Clear Coat dries fairly quickly.  When the leaf is dry to the touch, turn it over, and spray with another Clear Coat.
Allow the leaves to dry for a short while before gathering them up.
Get ready to create your leaf charger.  Lay your Kraft paper on your work surface.
Find a large bowl of lid from your kitchen that is about 10-11 inches or about the size of your dinner plate.
Lay your round object on the Kraft paper and with your pencil draw around it so that you have a circle.
With your scissors, cut out the circle.
Repeat for as many leaf chargers you will be making.
Because you will be gluing, protect your work surface.
Place a Kraft paper "charger base" on your work surface.
Gather a variety of leaves in sizes from your collection of leaves.
Trim the stems off your leaves so that they will be flatter.
Do a test run before gluing leaves in place.
Lay leaves around the edge of the charger.
Then lay a second round of leaves, in between the first layer, being careful to hide the brown Kraft paper with the leaf tips.
Continue adding leaves to cover the brown Kraft paper and create a lovely design for your charger.
Now that you have a feel for it…repeat the process only this time, using your low temp glue gun, add a dot of glue to the leaf and glue to the Kraft paper repeating the process.
Here's how it will look on the back of the charger.  A very clean look.
That's it!  Four chargers can be made in an hour or two.
I plan to keep mine for another year by storing them in an envelope I make from the roll of kraft paper I purchased.  If you have two larger pieces of cardboard…all the better.
There's still time to create gorgeous oak leaf chargers for Thanksgiving.
If you are already set for your Thanksgiving table, be sure to "pin" this post for next year.
I love natural elements in home decor for fall.  Hope you do too!
In what ways have you used oak leaves or other natural elements in your fall or Thanksgiving home decor?

Tell me what you're working on.  I'd love to see.
Thank you for stopping by today.
If you enjoyed this post….please pass it on to your friends.
Click any of the sharing buttons at the bottom.
Best wishes for An Extraordinary Day!
Diane
p.s. I recently joined Twitter…if you're there too, would you follow me?  I'll return the follow.  It's imperative that I grow a following quickly….if you can help….you'll make my day!!  Thank you!!!

To receive FREE bits of inspiration like this
in your inbox or reader, subscribe now.
Let's connect!  Facebook  ::  Pinterest  ::  Google +  ::  Twitter  ::  Shop-Longaberger Lifestyle
**AnExtraordinaryDay.net is a participant in the Amazon Services LLC Associates Program,
an affiliate advertising program designed to provide a means for sites to earn advertising
fees by advertising and linking to amazon.com