Sigh!
I just wasted two hours of a perfect day.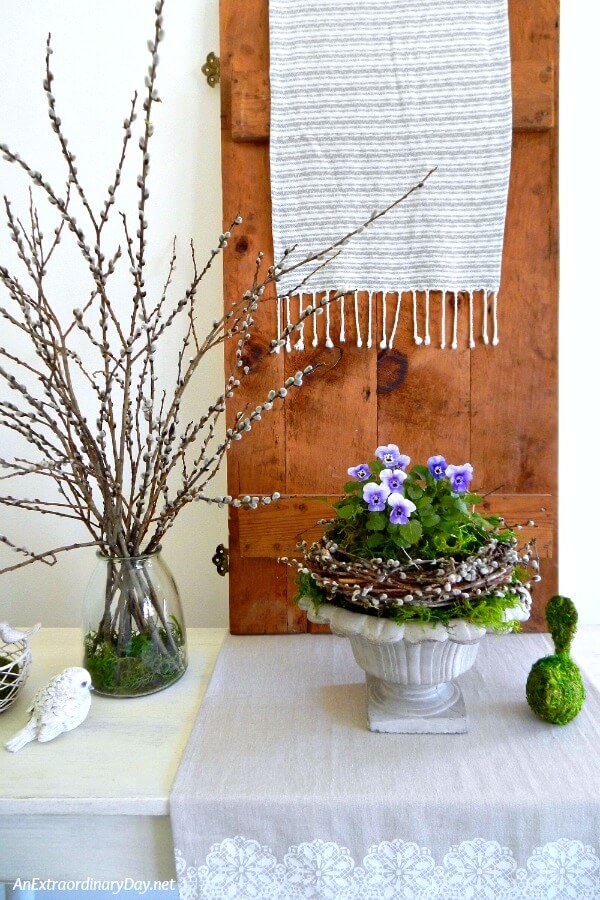 The kind of day you wait for because it's sunny and energizing and everything you need to get a lot of work cranked out.
You should have seen my goals for the day.
I even gave myself permission to take care of all the after breakfast chores at lunchtime today, just so I could knock out my work.
But, it didn't happen. Instead, I allowed myself to easily be distracted.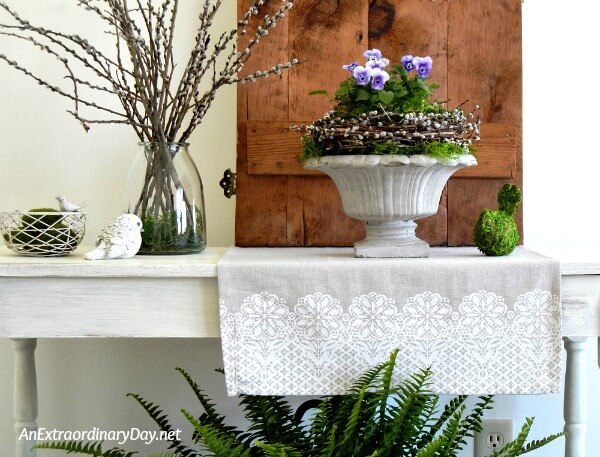 Once I get focused on a project or my day, I can accomplish a huge amount of work.
But if I get distracted… it's like a chain reaction… it almost always doesn't stop until there's a thirteen car pile-up. And then it's ugly.
Today, I caught myself after just two hours.
At first, I wanted to get out my baseball bat. You know, that imaginary one we all carry around hanging off the side of that invisible backpack filled with guilt.
And then I realized…. I already gave myself grace to have a messy kitchen so I could get started with the best energy of the day. If I could do that once… why can't I extend that grace?
I don't know about you. But, I'm much better at extending grace to others than I am to myself.
Sure sometimes we have to dig in to extend grace, but most of the time, it comes pretty freely and easily.
Why do I hold myself to a higher standard?
Why am I so hard on myself?
That's a hard question. You might want to think about it a minute if that's your issue, too.
It was a question I had to answer.
It didn't require a long drawn out therapy session to figure out.
The answer came almost immediately. (Remember how they tell you to always write down the first answer that comes to mind when you take a test? Yeah… that one.)
I'm trying to please an imaginary perfectionist.
There are two things about this that should jump off the screen immediately.
First… I'm trying to please "someone."
Life rule #23… Don't live to please others.
Second… The person I'm trying to please is imaginary.
Yeah. Imaginary.
Now that I've completed my 10-minute therapy session… I feel pretty silly for carrying around that imaginary knapsack with the ball bat and guilt.
Good grief!
Time's a wastin' and I'm not going to waste any more of it by beating myself up.
Instead… I'm going to lovingly give myself grace.
Funny thing… the minute we offer ourselves grace… we can breathe. We quit being all bound up in guilt and we can relax.
What a good feeling!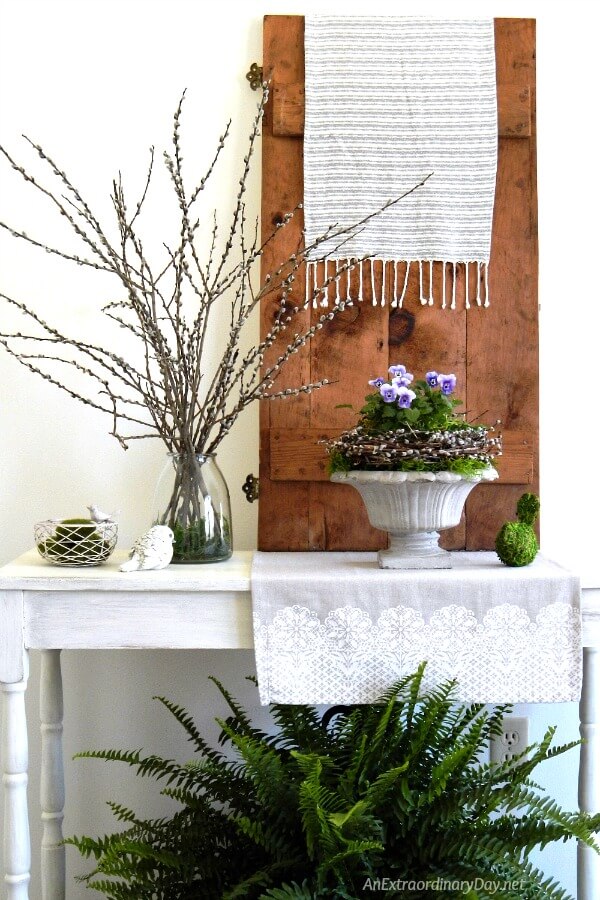 Not that we've gotten that out of the way… how do you like this pretty pansy vignette I created on my lovely transformed roadside find side table?
Every month or so I have been changing up the vignette on this side table and the one I created for Easter was my most favorite… until this.
I knew this was perfect when I returned home from work and opened the door and a wonderful happy peace came over me as I looked at this pretty spring vignette with the pot of pansies.
Because I'm working with the smallest of budgets and thrifting nearly everything, all within the framework of this is just temporary, finding my temporary decorating style has been a wee bit challenging.
At first, I was going to go all coastal. I love the colors and the feel and I have two huge armloads of driftwood that I've collected and dried. But, frankly, between the hideous carpet in shades of puke and the plaid chair and ottoman in the popular 80's mauve and green I could NOT get the coastal look to fly. It's okay. Really okay. Because if it's not working, I'm not going to make it work. I'll just change gears and go a different direction. And this is a direction I LOVE.
I live in a wooded area with leafy tree tops right out my writing window. The greenery is so relaxing. And since 'greenery' is the Pantone color of the year I'm on trend naturally. (A little punny, huh?)
This was such a fun vignette to put together.
I brought back this rustic door Tim found for me and kept the tea towel and the vase of pussy willows AND the cement urn filled with a pussy willow nest I created for Easter. Sometimes the biggest changes are small changes and this change cost no more than a small pot of Johnny Jump-ups from Meijer.
Here's a quick pictorial tutorial to see how I planted my pretty pansies bird's nest….
To prepare the nest for planting… cut a round from a plastic shopping bag and place in the bottom of the nest.
If you want to allow for drainage, make a couple of small snips in the bottom/center of the plastic round.
Fill the plastic-lined nest with potting mix
.
My nest was much more shallow than the pot of pansies I purchased. If yours is like that, use a sharp knife to cut the root ball down to size and then plant them in your nest.
Water your pansies.
Gently nestle florist moss
around the pretty pansies.
Step back and admire your lovely new planting.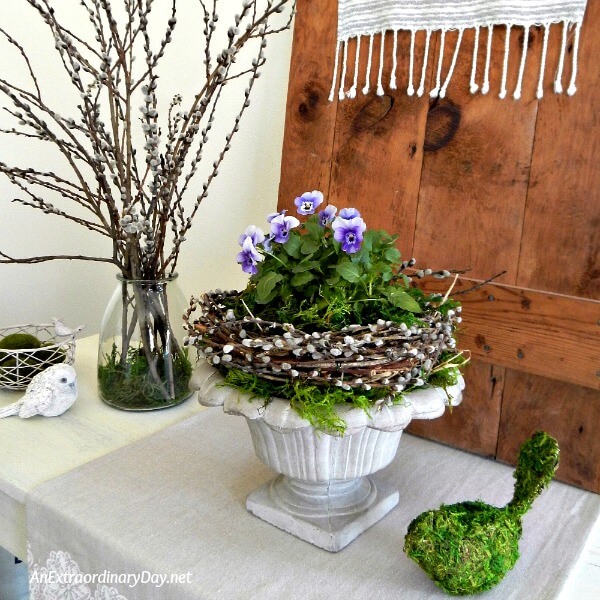 Do you struggle with giving yourself grace?
Do you have trouble getting focused or with time management?
I'd love to hear how you make the most of your day.
Thanks so much for popping by today!
If you enjoyed this post, please use the sharing buttons to share it with your friends and "pin it," too.

Receive FREE inspiration like this in your inbox!
MORE SPRING DECOR IDEAS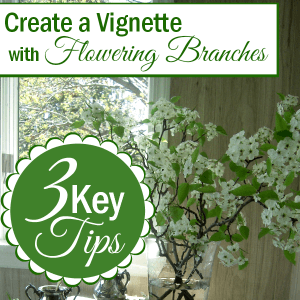 Create a Vignette with Flowering Branches
5 Quick and Easy Steps to Making a Spring Vignette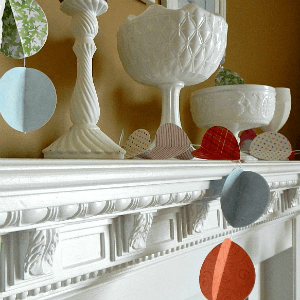 Simple, Dramatic White Mantel for Spring with Color Pops